Champion boxer-turned-mixed martial artist Julaton is proud to represent the Philippines on the biggest MMA stage in Asia
First Filipina boxing world champion Ana Julaton has already created a name for herself in the world of boxing and is now making waves in the sport of mixed martial arts (MMA).
With a record of 13-4-1 in professional boxing, the American-born Filipino cemented her status as one of the top pound for pound fighter in the world when she won both the Super Bantamweight belts of World Boxing Organization (WBO) and International Boxing Association (IBA) in 2009.
Aiming to repeat that success in her ONE Fighting Championship (ONE FC) career, Julaton, 34, got off on the right foot when she aced her debut with Asia's largest MMA promotion. In May, she nailed a late-round TKO against veteran Egyptian opponent Aya Saeid Saber at ONE FC: RISE OF HEROES.
This was a very sentimental fight and "a dream come true" for Julaton as it was held in Manila, the Philippines, home of her heritage. Julaton has competed in countries like Canada, Argentina and Mexico but it was ONE FC and MMA that created this opportunity for her to fight in front of her kababayans (fellow Filipinos).
Support from Homeland
Later this month, she will have another chance to fly the Philippine flag high at ONE FC: REIGN OF CHAMPIONS held in Dubai for the first time. There are at least 700,000 Filipinos based in the United Arab Emirates (UAE) and Julaton plans to dedicate her performance to them, to thank them for the unity and the support that backed her up.
"I carry my kababayans with me in the arena and I dedicate this fight to all my kababayans. I am training hard and my life is devoted to fighting. My kababayans have watched me fight through adversity throughout the years and it's all about giving them a spectacular fight," she said.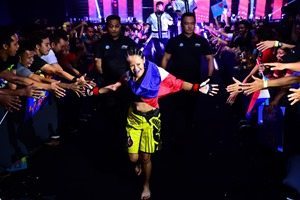 "The Philippines have been my biggest supporter as a combat athlete and I am honoured to carry the flag of the Philippines with me into the ring or cage.  In the States, women's boxing has not been supported on the same platform with men's boxing so I am thankful to have the support of Filipinos worldwide.  It is because of them that I am able to pursue my dreams as a fighter."
"There is a strong presence of the Filipino community in Dubai and I am proud to represent the Philippines on the biggest MMA stage in Asia. Dubai will be my biggest fight so far.
"I've fought in arenas of my opponents' hometowns, fighting for world titles in Mexico, Argentina, Canada, even in the United States. "Each time, kababayans from all over the world have shown me great support and it makes me proud to be a Filipina.  Through difficult situations and adversity, we Filipinos band together."
Made for Boxing
Born a natural boxer, Julaton's middle name is Bonifacio, which she shares with Andres Bonifacio, a national hero of the Philippines who fought for independence for the country from Spanish colonial rule.
She grew up surrounded by fighting arts – her late grandfather Cesario Julaton Sr. was a boxer, her granduncle Amang Pedring is an Escrima practitioner and a teacher in Aikido in Guam, and her father practised Hung Gar and Wing Chun under Kenneth Chung, one of the top three students of Yip Man.
Naturally, she started practising martial arts since she was a child, learning Wing Chun from her father, and then going on to attain a black belt in Taekwondo and Kenpo karate. Introduced to boxing by her martial arts instructor, she then started cross-training it with Jiu-jitsu.
Her boxing achievements did not come easy.
When she was an amateur boxer, the Olympics Games did not allow women boxers, but she continued to spend tremendous amounts of her own money and time competing at big tournaments to better herself. Finally when she turned professional, she invested more of her own money and time to seek the best trainers in boxing.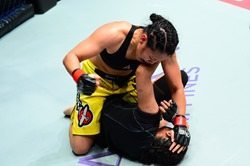 Despite the lack of support women boxers received in the States where she was raised, her "black belt mentality shone in boxing" and she earned the nicknamed 'The Hurricane' for being one of the "quickest" boxers ever to win a world title, with just five previous professional bouts before winning the IBA Super Bantamweight title.
"My career has been an uphill battle since the beginning, both inside and outside the ring. I have been trying to make my mark as a woman in a male-dominated sport and I'm glad the fight culture has dramatically changed over the years to involve more women in combat sports," she said.
She added, "When I decided to become a professional fighter, I made it into my career.  I'm not a weekend warrior and I made fighting my life. I have no other job and that's not the norm for many female fighters."
Crucial Test
Fighting for ONE FC, an organization that produces high level competitive match-ups, is a crucial test for her as a fighter. Julaton will be pitting all of those skills against Ann Osman, Malaysia's first female MMA fighter, who is also taking her second fight for the promotion.
The battle is expected to go down hard as Julaton draws from her experience in professional boxing against Osman's all-rounded abilities.
This highly anticipated match is one of many exciting bouts on the biggest fight night in Asian MMA history, including the title fights of Shinya Aoki and Kamal Shalorus for the Lightweight belt, as well as Nobutatsu Suzuki and Ben Askren for the Welterweight belt.
ONE FC: REIGN OF CHAMPIONS will be held on 29 August at Dubai World Trade Centre. Fans can purchase tickets for the blockbuster event at www.platinumlist.net or sign up for online streaming for US$9.99 at www.onefc.livesport.tv.
*Story by Andrew Lanot
*Photos provided by ONE FC