Are you ready to walk a sky-high plank, ride an epic roller coaster adventure, explore an alien world, or blast your way through scores of zombies? All of these exciting experiences await you and your friends at Arena Games, a virtual reality gaming attraction at the Dubai International Financial Centre (DIFC).
Spanning across 128 square metres of gaming space, Arena Games features several games using state-of-the-art virtual reality (VR) technology. These are brought to us by Zero Latency, one of the world's leading developers when it comes to virtual reality entertainment. Let's get to know more about this exciting Dubai attraction!

What is Virtual Reality?
Virtual reality or VR technology has actually been around for quite some time. Basically, a virtual world is a computer-generated simulation that mimics reality, a place where you can move your body and interact with other players. It is much like playing a video game, except that instead of simply staring at the computer screen, you are "immersed" into the game itself!
Arena Games offers the ultimate virtual reality gaming experience, with several games that can be played solo or with a team of up to 8 players. Each player will be given a VR headset, headphones, a military-style backpack, and a "gun" for shooting the bad guys!
To be able to join the games, players must be 12 years old or above.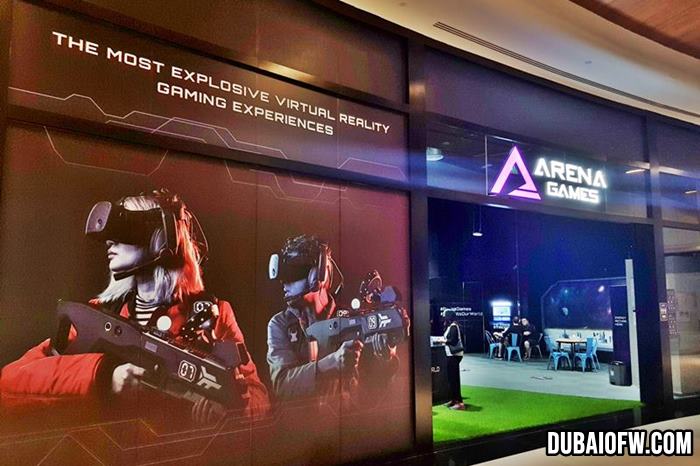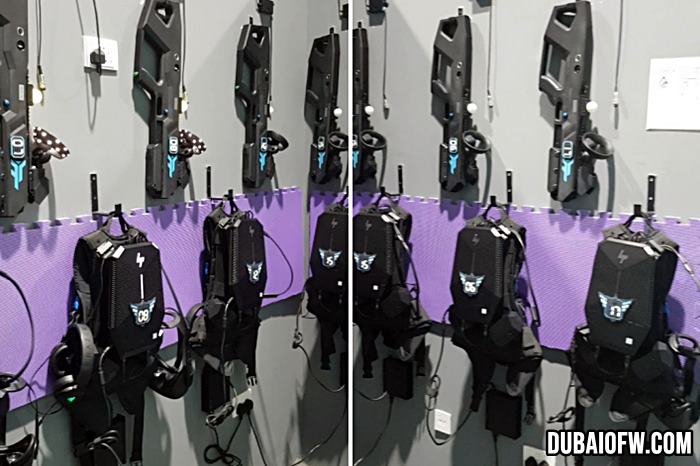 What Can I Play at Arena Games Dubai?
There are different types of games at the venue, designed for players of all ages. Here is a quick overview of some of the virtual experiences at Arena Games:
Arizona Sunshine. A game where you battle your way through hordes of zombies.
Beat Saber. A rhythm game where you "slash" the beats of music as they come.
Engineerium. This game features an ancient alien world for you to explore.
Epic Roller Coasters. As the name says, here you get to ride the most epic roller coasters!
Far Cry VR: Dive into Insanity. An adventure game set on on the sinister Rook Islands.
Fruit Ninja. A classic, fruit-slashing game, now transformed into a VR experience.
John Wick Chronicles. An action-packed game based on the hit movie starring Keanu Reeves.
Scary Girl: Mission Maybee. A VR adventure game for kids, and kids at heart! The mission is to reach a city that is fiercely guarded by the robot tower of Dr. Maybee, whose toxic goo has poisoned plants, animals, and so on… the entire planet!
Outbreak Origins. A truly intense zombie shooter game, which is actually one of the most advanced "free roam" multiplayer zombie games out there. It involves an important mission: looking for clues that could eventually lead to a cure for the virus.
Richie's Plank Experience. Overcome your fear of heights with this plank game.
Singularity. A science-fiction shooter game set in the depths of space. You will find yourself in a ghost-military spaceship, with a mission to find answers about what happened. The catch? The space ship is filled with numerous killer robots!
Sol Raiders: Player vs. Player. A team-based combat game across 3 diverse settings. It features a post-apocalyptic world wherein aliens have left Sol, a power source. Different squads will have to battle each other for control of Sol.
Zombie Survival. A classic shooter game where you can fight wave after wave of the undead! Armed with an assault rifle, a sniper rifle, and a pump-action shotgun, you'll be battling zombies and building defensive barriers, together with your team.
Zombies: Undead Arena. A post-apocalyptic game show set in the retro world of the '80s.
Some of these games may require a certain age for their players depending on the appropriate rating.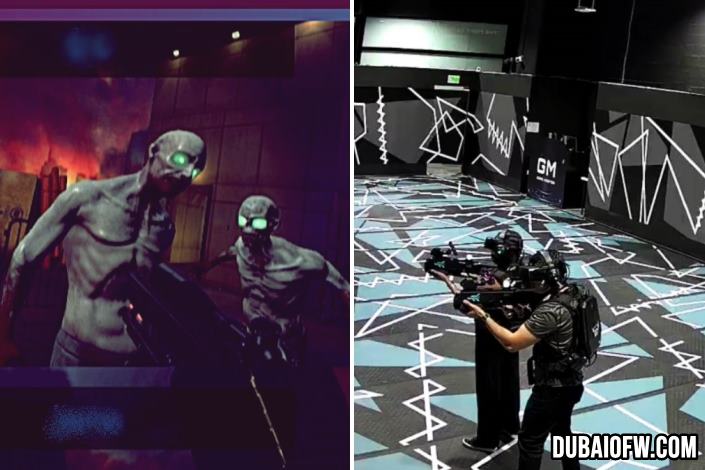 Opening Hours and Ticket Prices
Arena Games is open from Sunday through Saturday, between 1:00 pm and 10:00 pm. As for playing time, each game has different lengths of game time (the actual length of time in the game) and experience time, which includes preparation and a crash course with the game masters. For example, Outbreak Origins has 25 minutes of game time and 45 minutes of experience time, while Zombie Survival has 15 minutes of game time and 30 minutes of experience time.
Below are the prices for some of the games, which require online bookings:
Engineerium – AED 90
Scary Girl: Mission Maybee – AED 90
Zombie Survival – AED 90
Zombies: Undead Arena – AED 90
Far Cry VR: Dive into Insanity – AED 115 (for 15 years old and above)
Outbreak Origins – AED 115
Singularity – AED 115
Sol Raiders: Player vs. Player – AED 115
On the other hand, the following games are available for in-venue booking only: Arizona Sunshine, Beat Saber, Epic Roller Coaster, Fruit Ninja, John Wick Chronicles, Richie's Plank Experience, Space Pirate Trainer, and Tales of Escape. Each game costs AED 60 for 30 minutes, or AED 100 for 1 hour.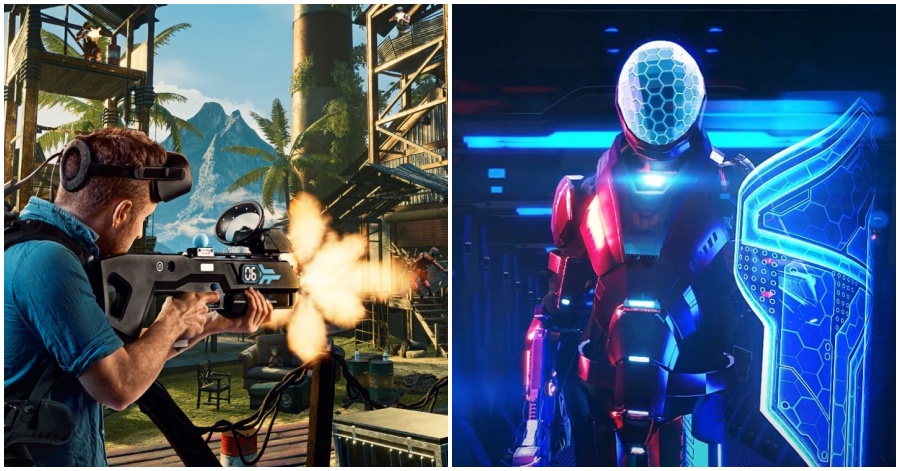 Additional Reminders for Players
Whether you booked a game online or at the venue itself, do take note of these reminders:
Be sure to arrive at least 20 minutes before your start time.
Upon arrival, you will be given a headset, goggles, backpack, and other equipment.
Before the game starts, the game master will teach you how to use the equipment.
After the game, the staff will help you as you take off your gear.
Because of the current pandemic, certain health and safety measures have been put in place at Arena Games. These include social distancing, hand washing, and other measures. If you are not feeling well, then it's best to reschedule your game for another time!
Video: Full Outbreak Origins Game at Arena Games DIFC
Check out this video recording of the game called Outbreak Origins at the gaming center:
Check out this video featuring Far Cry VR: Dive into Insanity, a truly exciting VR experience, as shared by the Arena Games UAE YouTube page:
Contact Information – Arena Games
For more information about the games, or to make online bookings, you can contact Arena Games through these details:
Address: Gate Avenue, Zone D, Ground Level, DIFC, Dubai, UAE
Telephone: +971 4 546 7748
Email: info@thearenagames.com
Website: https://www.thearenagames.com/
Facebook: http://facebook.com/arenagamesuae
Instagram: https://instagram.com/arenagamesuae
Google Map Location
Arena Games is situated at the Ground Level of the Dubai International Financial Centre (DIFC). Below is the location on Google Maps, for your reference:
Whether you're a beginner player or a seasoned gamer, you are bound to enjoy the immersive experiences offered by Arena Games. And speaking of fun activities, check out this list of things to do in Dubai, which you certainly shouldn't miss while you're here!