Filipinos in Dubai and Northern Emirates, a new advisory has been announced by POLO-Dubai regarding the AED 730 cash assistance to those affected by the coronavirus. Initially, we reported that there will be a cash aid worth 200 USD (730 AED) including those who have 'no work no pay'. However, this program has been temporarily suspended.
The reason for the suspension is subject to the availability of funds. The full advisory was posted on the POLO-Dubai website.
For those who are in Abu Dhabi, as of April 20, there is no update yet from the POLO-Abu Dhabi website if there is also suspension of cash aid for Abu Dhabi Filipino residents.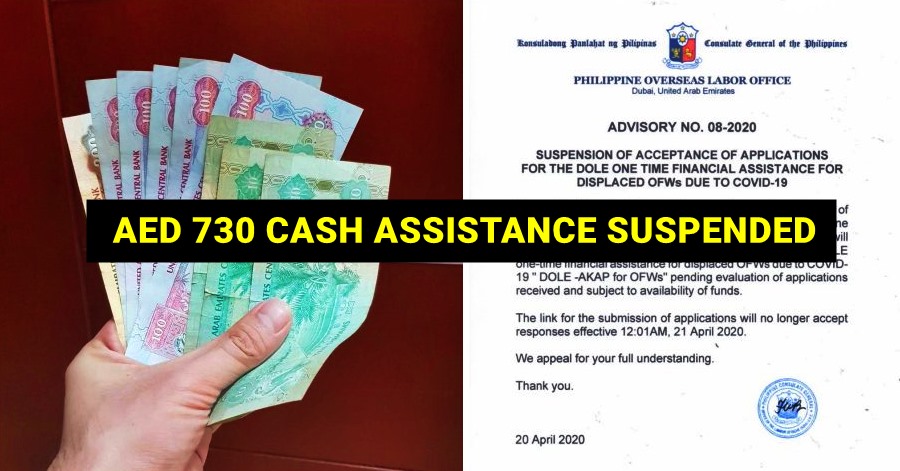 POLO-Dubai Temporarily Suspends Acceptance of Applications of DOLE-AKAP for OFWs
Please see the full statement below:
The public is hereby informed that pursuant to the directive of the Department of Labor and Employment, the Philippine Overseas Labor Office Dubai and Northern Emirates will temporarily suspend acceptance of applications for the DOLE one-time financial assistance for displaced OFWs due to COVID-19 "DOLE-AKAP for OFWs" pending evaluation of applications received and subject to availability of funds.
THE LINK FOR THE SUBMISSION OF APPLICATIONS WILL NO LONGER ACCEPT RESPONSES EFFECTIVE 12:01 AM, 21 APRIL 2020.
We appeal for your full understanding. Thank you.
Source – http://www.polodubaiportal.org/important-advisory-suspension-of-acceptance-of-application-for-the-dole-one-time-financial-assistance-for-displaced-ofws-due-to-covid-19/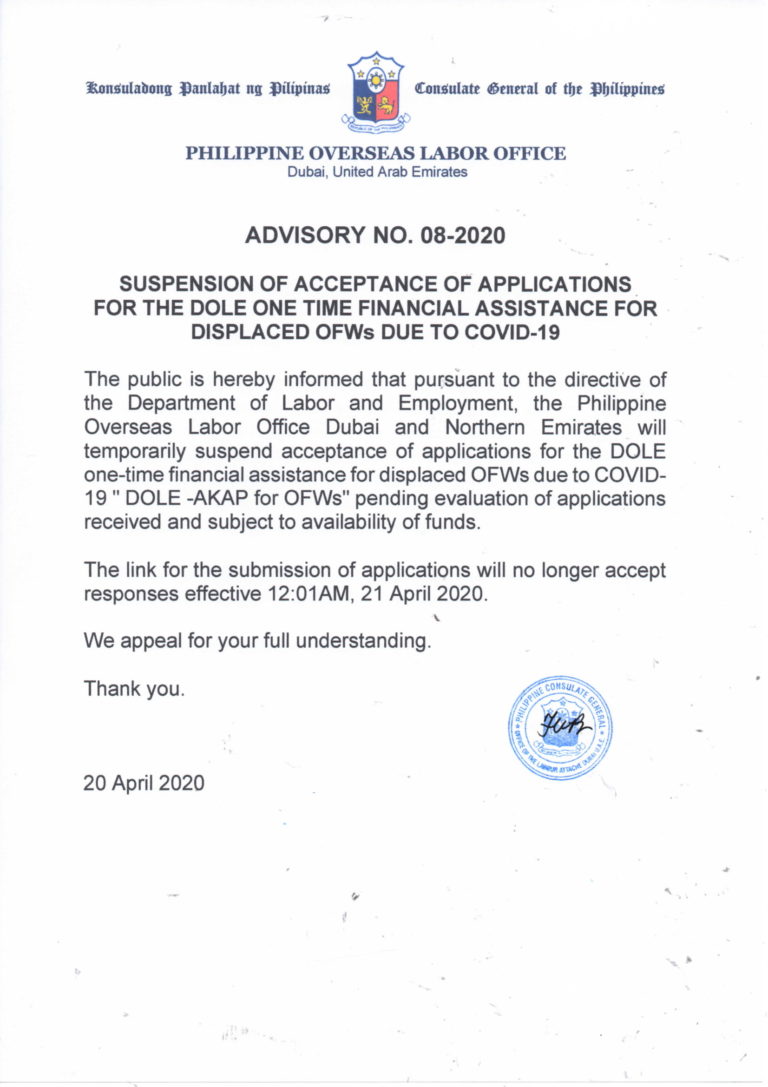 Note: Be advised that this news was just posted on April 20 via POLO-Dubai website. We don't have updates yet from POLO-Abu Dhabi if they are also suspending the cash aid. Stay tuned for more updates.