Expo 2020 Dubai may have officially ended, but its amazing structures and inspiring legacy shall certainly remain in our hearts… and on site! At this very moment, the expo site is being transformed into a "smart city" that's unlike any other in the world: District 2020.
Before Expo 2020 Dubai ended, it was decided that 80 percent or four-fifths of the infrastructure will remain and be "repurposed" into a mixed-use community. It is envisioned to become a "15-minute city," which means that all parts of the city — residences, offices, schools, parks, attractions, etc. — can be reached in just a few minutes… simply by walking or riding a bike! Let's get to know more about District 2020!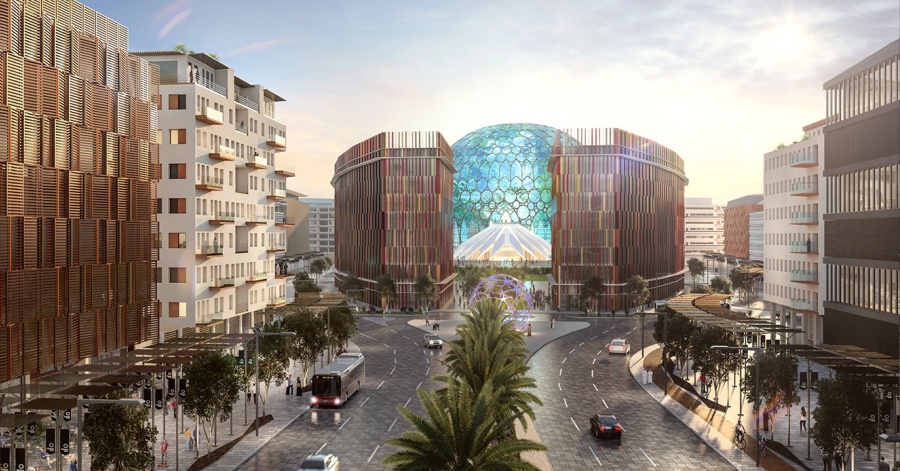 What is District 2020?
As mentioned earlier, District 2020 is an integrated, mixed-use urban community that is currently being developed at the Expo 2020 Dubai site. It aims to be a "smart city," making use of physical infrastructure and advanced digital technology as part of a "human-centric," diverse, health-conscious, environment-friendly, and sustainable community.
The city is expected to be handed over to residents and tenants later this year — by October 22 — around six to nine months after Expo 2020 Dubai officially ended.
Things to Know About District 2020
What can we expect to see at District 2020? What are the infrastructures that will remain at the site, and how will they be used? To know the answers to these questions, read about these exciting things that we can all look forward to in this "world-class" smart city:
1. Central Gathering Space and Events Venue
Throughout the world expo, Al Wasl Plaza has been the main staging area for official ceremonies, concerts, and other unforgettable events. As part of District 2020, it will continue to serve as the central gathering space for various events and performances.
In other words, we can expect to visit Al Wasl Plaza all year round, and not just for a limited period! With its distinctive dome and unique features, this structure designed by Adrian Smith + Gordon Gill certainly deserves to be a permanent part of the community!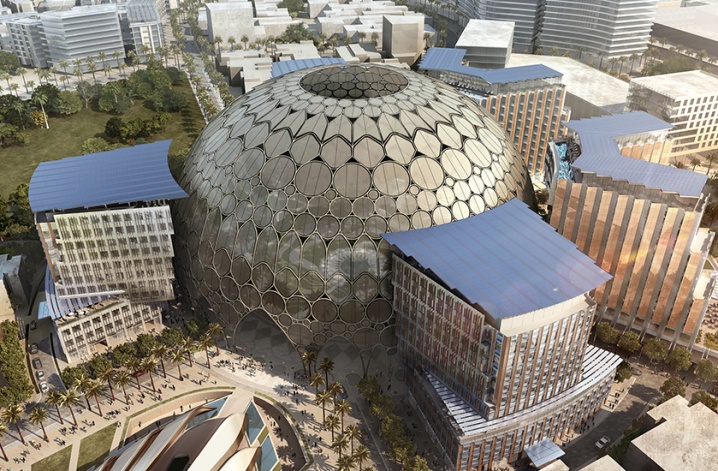 2. Dubai Exhibition Centre
The Dubai Exhibition Centre has been used as a venue for international trade events and competitions such as the World Chess Championships. It is conveniently located near the Dubai Metro Route 2020 station, and you can easily walk from here to either of the two hotels on the site.
Moving forward, the Dubai Exhibition Centre is intended to be an event space for conferences, exhibits, concerts, award ceremonies, and special occasions like weddings.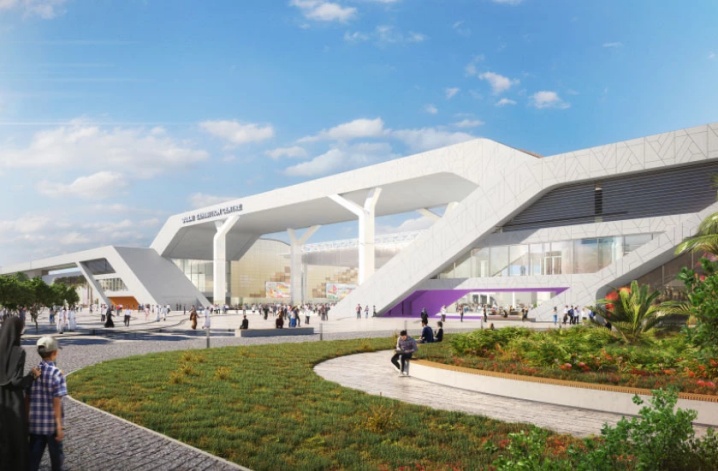 3. Offices and Exhibits
Designed by Foster + Partners, the Mobility Pavilion — Alif — shall continue to focus on promoting mobility and state-of-the-art technology… long after the expo has ended.
Aside from this, the building will also house corporate offices. So you can just imagine the surprise and excitement of visitors and tenants when they ride the building's lift… it can carry more than 160 people at once — making it the largest passenger lift in the world!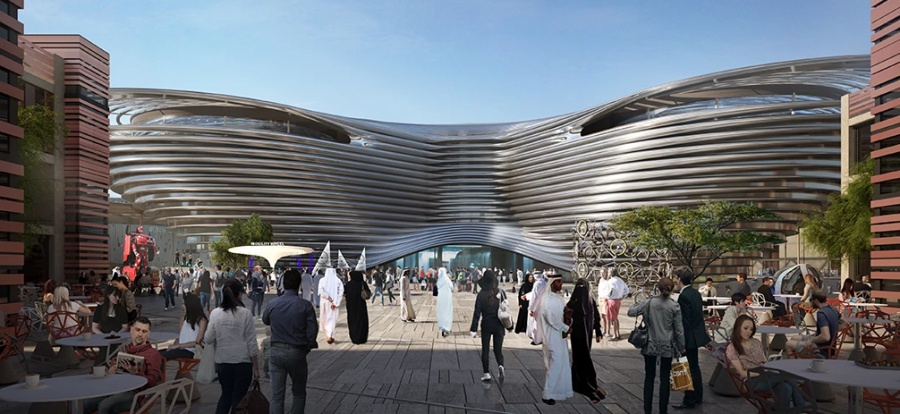 4. Human-Centric Community
District 2020 includes loft-style, urban, and co-living residential units, as part of being a "human-centric" community — with the comfort and well-being of residents in mind.
The city will also remain open to regional and international visitors, so there will be a variety of hotel options, including the popular Rove Expo 2020. These accommodations are conveniently located within walking distance of restaurants, shops, and other amenities.
5. Children's and Science Centre
After Expo 2020 Dubai, the Sustainability Pavilion — Terra — will be used as a Children's and Science Centre. It shall serve as a venue for workshops and exhibits about the environment, while inspiring young children to make wise choices in their daily lives.
Designed by British firm Grimshaw Architects, Terra features a sustainable design. Indeed, it will continue to inspire and raise awareness about water reduction, recycling, and other strategies related to caring for the environment and sustaining ecosystems.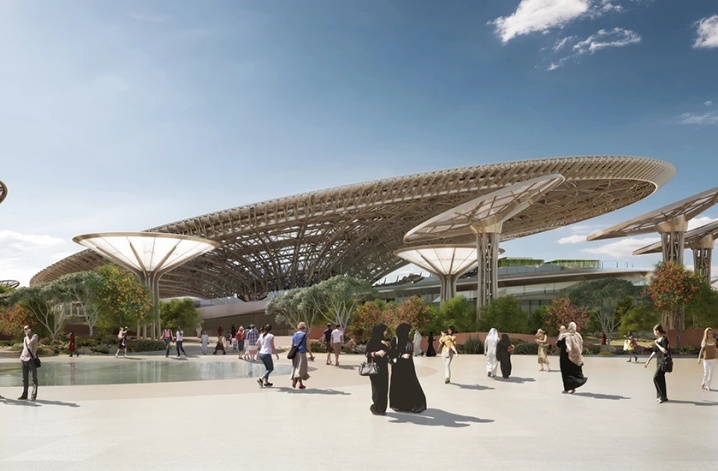 6. Jogging and Cycling Tracks
One of the key themes of District 2020 is healthy living; hence, it will feature areas for jogging, cycling, leisure, sports, and outdoor activities. There will be a 5-kilometre path for joggers as well as a 10-kilometre track for cyclists. Moreover, the city will allot a 45,000-square-metre space for parks and gardens. Now that's what we call "green" living!
It is also worth noting that at District 2020, the residents can easily walk to nearby places, which will include a school, two hospitals, and two mosques. So you not only get to save money on transport, you also get to "exercise" while you explore the city!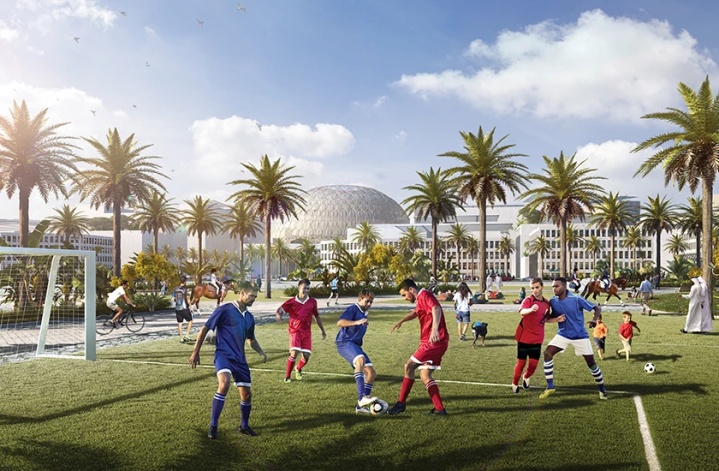 7. Autonomous Vehicle Routes
Modern transport is something that Dubai has always been keen on developing, with flying taxis, autonomous vehicles, and sky pods, to name a few examples. At District 2020, there will be a four-kilometre track that will be dedicated to autonomous vehicles (AVs), making the city a pioneer in self-driving transportation, as well as clean and efficient mobility.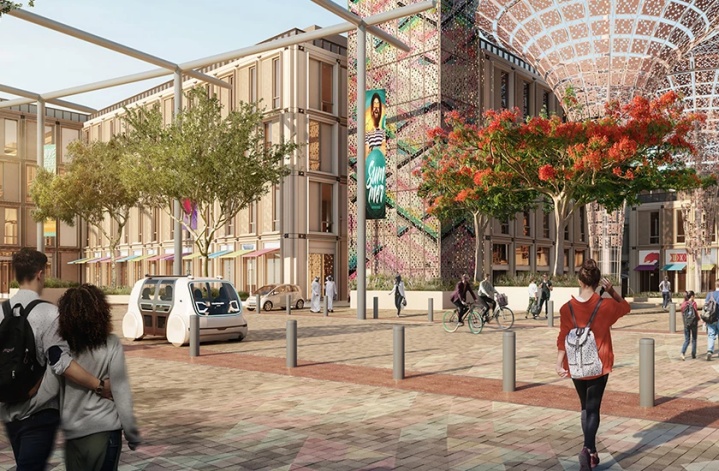 8. Creative Space for Artists
The Firdaus Studio is the result of a collaboration between Dubai Expo 2020 and AR Rahman, a world-renowned musician and composer. Today, the studio shall remain as a state-of-the-art venue for musicians and artists from around the world, who can come together to create and record music albums, film scores, and multimedia projects.
Notably, the studio will also be the home of the Firdaus Orchestra, an all-female orchestra that is known for combining Arab music and Western style music. Amazing!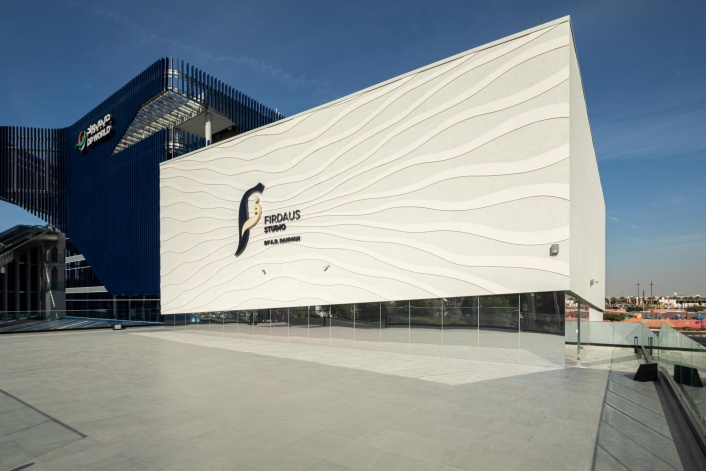 9. Attractions and Cultural Meeting Places
A number of country pavilions will remain as attractions and cultural meeting places at District 2020. One of these is the UAE Pavilion, a four-storey structure that was designed by Spanish architect Santiago Calatrava.
The UAE Pavilion design resembles a "falcon taking flight," and for good reason. The falcon is a popular cultural symbol of the UAE. Hence, it is a fitting design for a pavilion that will continue to feature exhibits about the history, culture, and bright future of the country.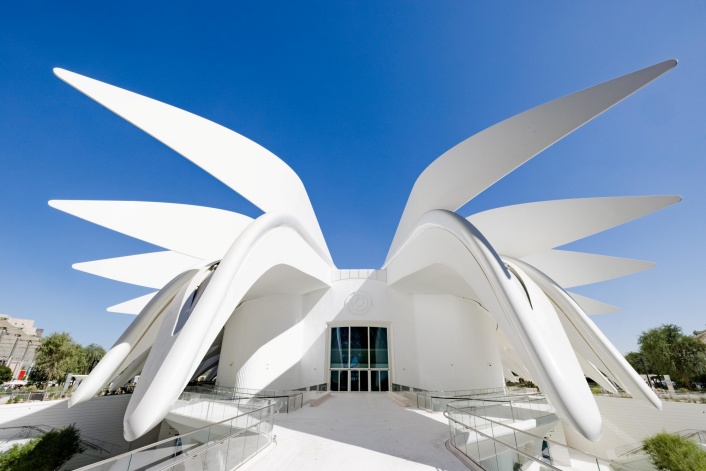 10. Surreal Water Feature
Without a doubt, the Surreal water feature was one of the expo's most popular attractions. It was built by WET, a Los Angeles-based firm that also designed the famous dancing fountains at Burj Khalifa and the Bellagio fountains in Las Vegas.
Surreal showcases the illusion of water rising upwards, and then rushing down before disappearing at the feet of visitors who are standing by the structure. It also releases fire and fog from the centre, with a special musical score as the background. This music was written by two-time Emmy award winner Ramin Djawadi, who happens to be a musical composer for Game of Thrones! How cool is that?!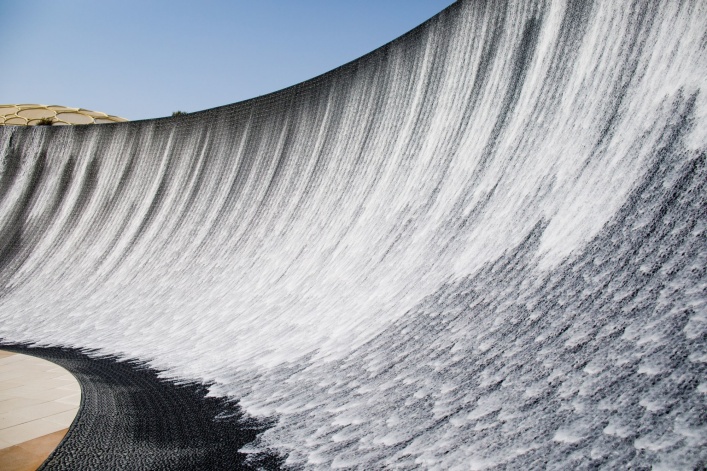 11. A Legacy Structure
The Saudi Pavilion is another country pavilion that will remain at District 2020. Spanning an area equivalent to two soccer fields, the pavilion is the second-largest pavilion at the site, after the UAE Pavilion.
Interestingly, the Saudi Pavilion looks like a "giant window" that opens to the sky. It features an enormous LED mirror screen, an interactive water feature, and around 8,000 floor lights. The six-storey structure was envisioned as a legacy structure that will become a permanent part of the expo, which is now being transitioned as District 2020.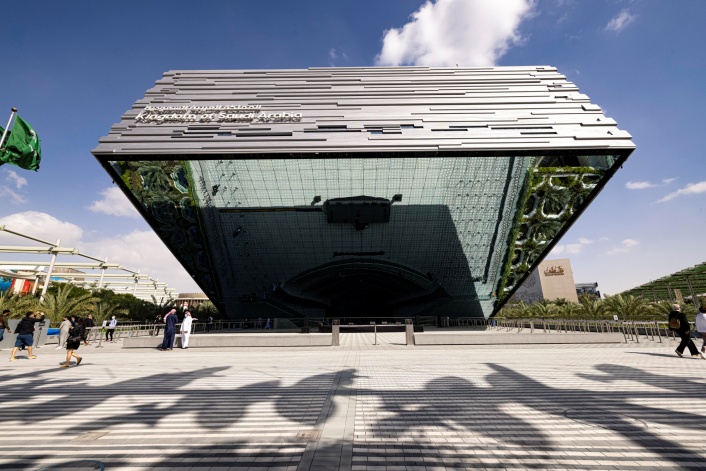 12. Garden in the Sky
Last, but certainly not the least, District 2020 shall include Garden in the Sky, a rotating observation tower that stands at 55-metres high. Prepare to be mesmerised as you are lifted to the tower's upper deck, which is lined with trees while offering breathtaking panoramic views of the city. The tower was designed by London-based designer Asif Khan.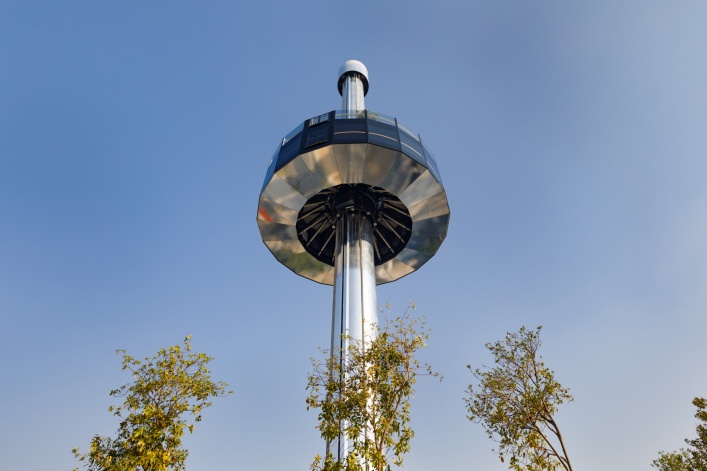 Video – Planning and Building a Smart City
Are you wondering how a smart, sustainable, and "futuristic" city like District 2020 is designed? Have you ever imagined what would it be like to live and work in a smart city? To know the answers to these questions, check out this video created by @cnnarabic, as shared by the official Facebook page of District 2020:
Contact Information – District 2020 Main Office
If you would like to know more about District 2020, or if you are interested in becoming a tenant or resident there, you can get in touch with their main office through the following contact details. Please take note that their office hours is between 8:00 am and 5:00 pm, from Sundays to Thursdays.
Address: Expo Road, Dubai South, Jebel Ali, UAE
Telephone: + 971 4 555 2020
Email: connect@district2020.ae
Website: https://www.district2020.ae/en
Facebook: https://www.facebook.com/district2020
Expo 2020 Dubai was certainly a spectacular global event that we will never forget. Fortunately, its transition into District 2020 shall ensure the continuation of the amazing technology, global connections, and shared experiences that started at the expo. We are definitely looking forward to discovering and exploring District 2020 in the near future!
Speaking of "smart cities," Dubai has actually been in the forefront of modern technology and digital innovations for many years now. One great example is the Smart Park, which was established in 2018 as the first of its kind in the world! Do check it out!