Dubai's flagship carrier, Emirates, has announced that it is set to operate a one-way flight from Manila to Dubai within the week, catering to overseas Filipinos with residence in the United Arab Emirates (UAE) on May 30.
Expats who wish to book a flight must meet the requirements set by the flight carrier and must get an ICA number through the Federal Authority for Identity and Citizenship.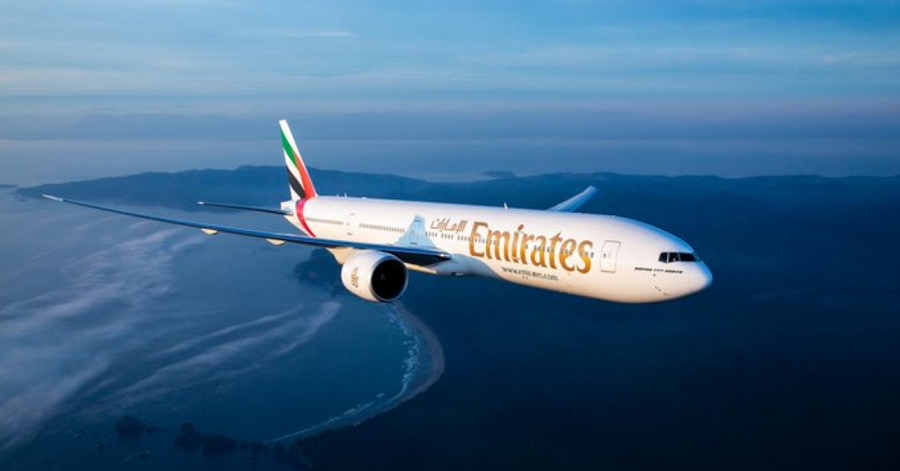 Stranded OFWs Can Return to Dubai via Emirates Flight on May 30
In a statement, Emirates announced that the initial flight will depart Manila at 11:55 p.m. on Saturday, May 30, as shared in a report by GMA News Online.
On May 18, the UAE's Ministry of Foreign Affairs and International Cooperation and Federal Authority for Identity and Citizenship announced that expatriates who have been stuck abroad amid the coronavirus outbreak will be able to return to the UAE from June 1.
Additional flights may be held starting June 1, subject to regulatory approval. 
We tried checking the flight today (May 28) and there's one available flight from Manila to Dubai on May 30th. There have been no scheduled flights on succeeding dates. As rules are constantly changing, we advise UAE residents to keep posted with the latest updates from authorities.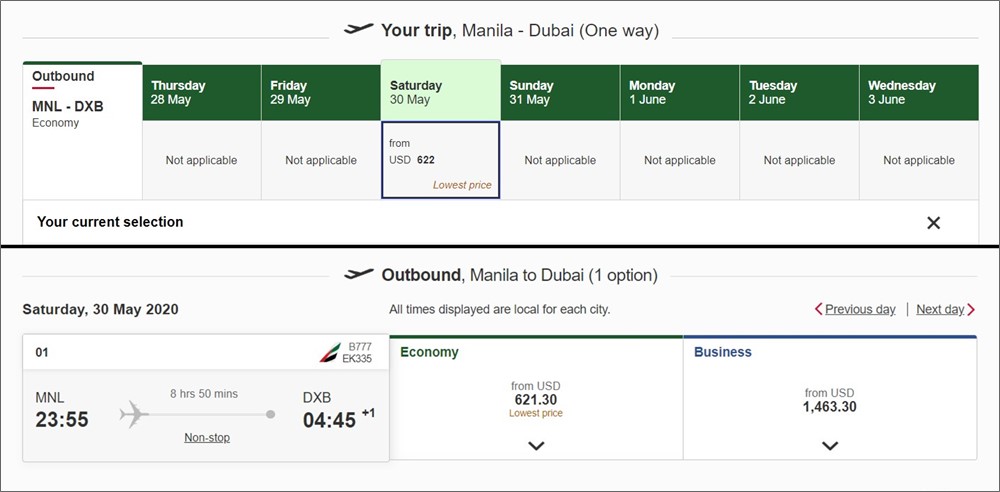 According to GMA News, as per the official announcement of Emirates, those who wish to avail of the initial flight scheduled within the week must meet entry requirements mandated by Federal Authority for Identity and Citizenship to obtain an entry permit.
The flights are available to Filipinos with valid residence visa in the UAE and have obtained approval from the Federal Authority for Identity and Citizenship (ICA).
According to officials from Emirates, "Only passengers holding a UAE residence permit in addition to an entry permit from the UAE authorities will be allowed to board."
Also, passengers will be subjected to a mandatory DHA test on arrival, a mandatory 14-day quarantine at the passenger's own expense, and a follow-up test before they are released.
Residents who meet the aforementioned criteria can then apply for approval or permit.
ALSO READ: Ministry Launches "Tawajudi" App for UAE Residents Stranded Abroad to Facilitate their Safe Return
Those who wish to book a flight with Emirates on the initial schedule given will need to provide an ICA token number.
As of Wednesday (May 27), there were only five seats left on the Economy class of flight EK335. A one-way ticket costs $621.30. Business-class tickets were still available for $1,463.30.
Dubai's flag carrier said there may be additional flights from Manila to Dubai in June, but this will be subject to UAE government approval.
Cabin baggage will not be accepted on the flights, and carry-on items will be limited to laptop, handbag, briefcase, or baby items. All other items will have to be checked in.
And finally, passengers are advised to arrive at the airport at least four hours before departure to comply with health screening checks.
Emirates has been operating flights to Europe, Asia, and America since April, and has recently listed limited flights throughout May.
ALSO READ: Emirates Enforces Strict Safety Policies for Passenger Flights