If you applied for a Philippine passport renewal and have already gone to the Consulate in Al Qusais for your appearance, all you need to do is wait from 6-8 weeks for your new passport to be issued to you.
Now the question is how will you know if your passport is ready for pick-up? It can easily be checked online rather than having to go to the Philippine embassy again or calling them just to clarify if your passport has been released.
Note: If you have not renewed your passport, you can read the steps to do so here  – How to Renew Your Philippine Passport in Dubai
Passport Application Status Online
To check if your passport has been released, you can simply visit this website and click the dates on the calendar. These are links where you can view the list of names whose passports are available for pick-up.
This page is updated on a regular basis once the government office has received the new batch of passports from DFA-Manila.
http://www.dubaipcg.dfa.gov.ph/index.php/services/passports/available-for-release-2015
Additional Tip: You can also Like the Facebook Page of the PCG Dubai and make sure to get notifications whenever they release an announcement when there are new passports being issued.
Here's their FB Page: PCG Dubai and Northern Emirates Facebook Page
Note: Once your name is listed, please proceed to the Consulate General with your OLD PASSPORT AND OFFICIAL RECEIPT to claim your new e-passport.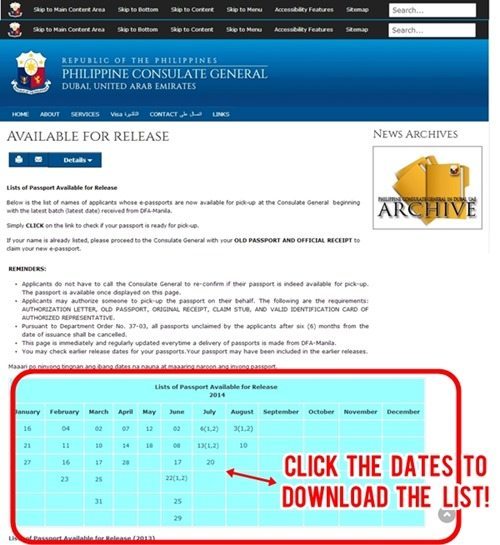 Note from the Website

Applicants do not have to call the Consulate General to re-confirm if their passport is indeed available for pick-up. The passport is available once displayed on this page.
Applicants may authorize someone to pick-up the passport on their behalf. The following are the requirements: AUTHORIZATION LETTER, OLD PASSPORT, ORIGINAL RECEIPT, CLAIM STUB, AND VALID IDENTIFICATION CARD OF AUTHORIZED REPRESENTATIVE.
Pursuant to Department Order No. 37-03, all passports unclaimed by the applicants after six (6) months from the date of issuance shall be cancelled.
This page is immediately and regularly updated everytime a delivery of passports is made from DFA-Manila.
You may check earlier release dates for your passports.Your passport may have been included in the earlier releases.
The Philippine Consulate General of Dubai and the Northern Emirates is located far from the city and you have to ride the metro train to Rashidiya and then hail a taxicab which to the location. As far as we have know, there's no bus going to the Philippine Consulate in Dubai yet, so you have to pay about 20 Dirhams for the taxi fare.
By checking the status online, you don't have to worry if your passport is available or not and you can save money and time. Hope this article helps mga kabayan!
Other Helpful Articles: