A new 63 cases of the outbreak was announced by the UAE Government on March 28, 2020. This brings the total reported cases in the UAE to 468. This announcement was made on the official Twitter account of the government of UAE – @UAEGov. This was also announced by the Ministry of Health and Prevention.
Also Read: UAE advises everyone NOT to go out except for absolute necessity, Punishment for violators
The number is quite alarming because it's less than 24 hours before the previous 72 cases were reported. Now another new 63 cases were confirmed.
63 Cases – The nationalities of the new cases include: one person each from Kyrgyzstan, Somalia, Algeria, Saudi Arabia, Iran, Syria; two from each of Afghanistan, Kuwait, and Nepal; three from each of Egypt; four from Britain; six from Pakistan; eight from UAE, and 30 people from India.
Total Number of Cases in UAE as of March 28, 2020
Confirmed Cases – 468
Recoveries – 55 
Deaths – 2
Below is an update from the Ministry of Health and Prevention: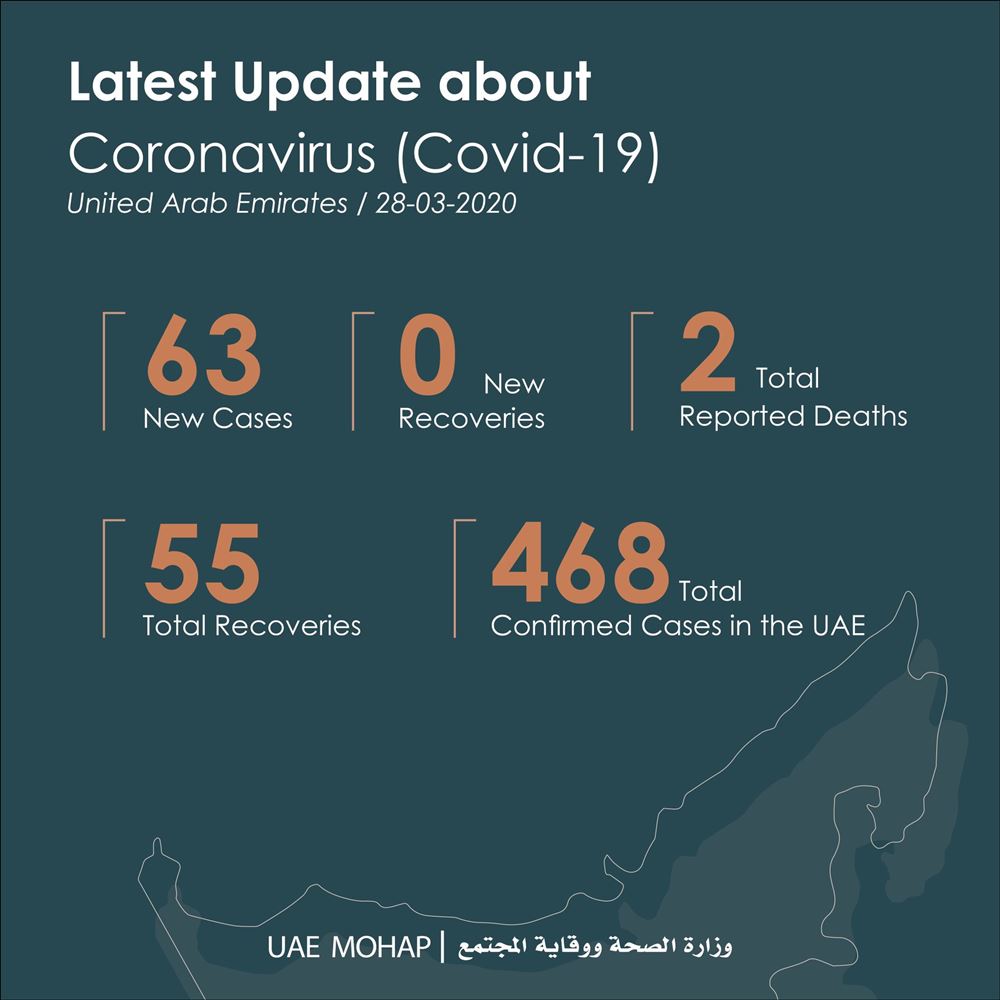 آخر الإحصائيات حول إصابات فيروس كورونا المستجد (كوفيد 19) في الإمارات
.
.
The latest update of Coronavirus (Covid 19) in the UAE#خلك_في_البيت#ملتزمون_يا_وطن#فيروس_كورونا_المستجد #كوفيد19#وزارة_الصحة_ووقاية_المجتمع_الإمارات#stayhome#coronavirus#covid19#mohap_uae pic.twitter.com/tTCfoHHsjj

— وزارة الصحة ووقاية المجتمع الإماراتية – MOHAP UAE (@mohapuae) March 28, 2020
Below is the Tweet from @UAEGov regarding these 63 new cases:
Dr. Al Hosani announced 63 new cases of coronavirus, bringing the total number of cases to 468 in the UAE. The cases are in a stable condition and are undergoing treatment. #UAEGov

— UAEGov (@uaegov) March 28, 2020
تسجيل 63 إصابة جديدة بفيروس كورونا المستجد، ليصل العدد الإجمالي لحالات الإصابة في الدولة حتى الآن 468 حالة.

— UAEGov (@uaegov) March 28, 2020
Below is the translation:
UAE Disinfection Program extended until April 4 – 6am
On another announcement, the sterilization program has been extended. MoHAP and the Ministry of Interior on Saturday announced that the National Sterilisation Programme has been extended.
The country is currently on a National Disinfection Program for 3 days where residents are advised to stay home between 8pm to 6am. Those who need to go out will require to get permission and register via website. So please be advised that the program will continue until April 4 – Saturday.
Below is an announcement from Dubai Media Office:
Extension of The National Disinfection Programme until April 5 across the #UAE . #StayHome pic.twitter.com/E2BrgIOVL2

— Dubai Media Office (@DXBMediaOffice) March 28, 2020
Below is the Tweet of the said extension:
د. فريدة: تمديد فترة #برنامج_التعقيم_الوطني لغاية يوم السبت المقبل لتغطية أكبر عدد ممكن من المرافق والمنشآت والمناطق، وتحقيق الأهداف المرجوة من البرنامج.

— UAEGov (@uaegov) March 28, 2020
Below is the translation: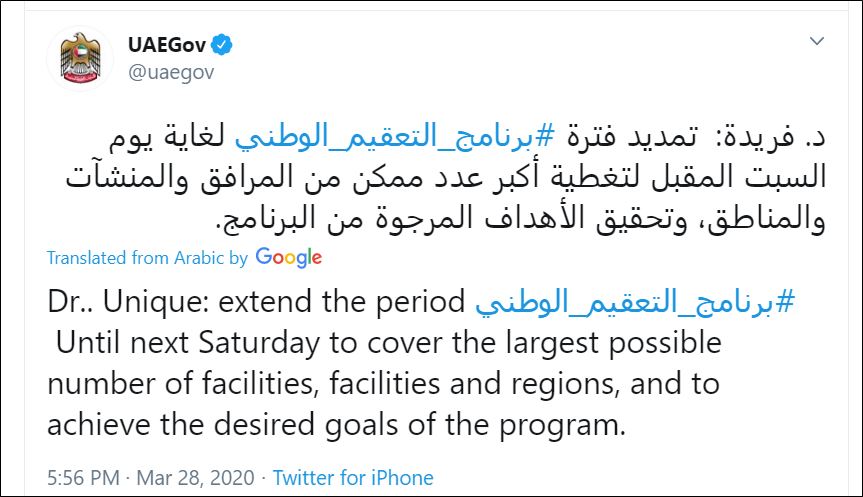 Please see the sudden increase in numbers. In less than 2 days, a jump of 100 new cases were reported. So to everyone please stay home:
Because we are all responsible for all#stayhome#coronavirus#covid19#mohap_uae pic.twitter.com/TyKvgS5jLj

— وزارة الصحة ووقاية المجتمع الإماراتية – MOHAP UAE (@mohapuae) March 28, 2020