Our Dubai history timeline mentions how the emirate has transformed from a desert-filled landscape into a bustling metropolis. Just thinking about this truly amazes us, but have you ever wondered how Dubai's transformation looks like… from outer space?
Fortunately, the answer to this question is here! The National Aeronautice and Space Administration (NASA) has released satellite images of Dubai over the past 34 years. They combined these into a single GIF that showcases how much the emirate has changed.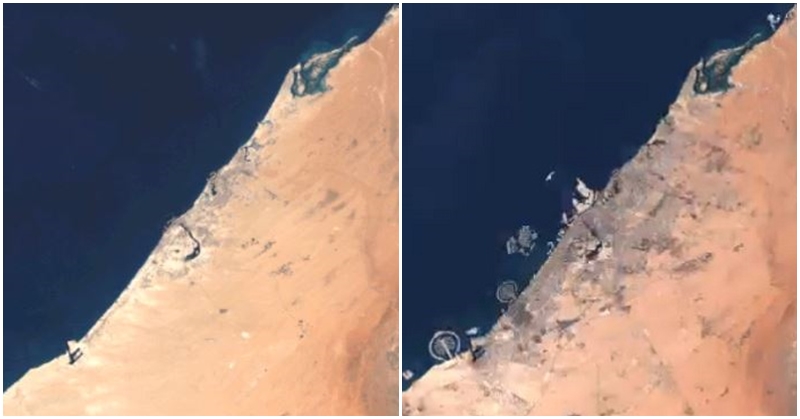 Dubai's 34-Year Transformation at a Glance
The Dubai Media Office shared NASA's images on social media, describing how the city has grown over the past 34 years.
"From 1984 to 2017, the city has grown from 350,000 to just over 3 million people," Dubai Media Office tweeted. "With its growth, you can see just how much Dubai has altered their coastline, adding artificial land, buildings, and ports."
فوربس: ناسا تنشر صوراً تظهر مدى التطور الحضاري في #دبي على مدار 34 سنة بين عامي 1984 و2017. نمت المدينة من 350.000 شخص إلى أكثر من 3 ملايين شخص، ومع هذا النمو يظهر جلياّ مدى تغير سواحل دبي وأراضيها ومبانيها والجزر الاصطناعية فيها. pic.twitter.com/F28RQPL2Z5

— Dubai Media Office (@DXBMediaOffice) June 16, 2018
Incredible Changes Over the Decades
Looking at the images, Dubai's incredible changes are obvious. Numerous buildings and structures have been built, including the world's tallest building, Burj Khalifa, and the only seven-start hotel in the world, Burj Al Arab.
Of course, we cannot help but notice these "additions" to the Dubai coastline: the majestic Palm Jumeirah and the massive World Islands.
Pretty soon, we're gonna see the next global icon on the list — the Dubai Creek Tower, which will stand at 3,405 feet high — making it the tallest tower in the world. It will open in 2020, as part of the Dubai Creek Harbour development.
There's no doubt about it… these images from space clearly indicate how the emirate has changed. Speaking of space, did you know that Dubai is spearheading an ambitious project? Read more about Mars Science City, a city that is set to be built on Mars by 2117.