Two teens, aged 17 and 14, were recently hailed as top winners at the recently held Emirates Literature Festival for the Spoken Poetry and Story Writing competition for their respective age brackets.
READ ALSO: POLO, OWWA Recognizes 14 Dedicated Filipino Nurses in UAE
Hayden Christian Villarico bested over 700 competitors from different nationalities across various UAE schools with his entry, Joy Harjo's "Remember" for the spoken poetry competition, English category, under the 14-18 age group. Meanwhile, another young Filipino teen, Charles Samuel Vitug, also won first place at the Oxford University Press Story Writing Competition for 2021 for the 12-14-year-old age group for his piece, "Transforming the Narrative".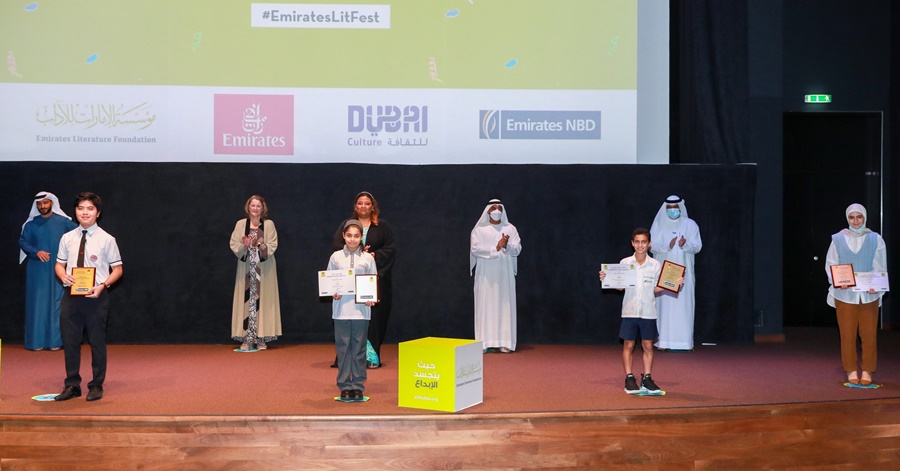 Pinoy Teens Bag Top Spots at Emirates Festival of Literature 2021
In an interview with The Filipino Times, Hayden shared he chose the piece because of its relevance to the present times, with words that strike a chord with the masses with a message that centers on the importance of remembering and living your memories and the true value of an individual's existence.
According to Hayden, "The success of writing a poem or reciting one does not rely solely on complexity and aesthetic, but rather the connection you as an artist have towards your own work. Though we are just restricted to words, this is an art form; you are in charge of adding color and shapes. Please write or recite from the heart, from what you are feeling; it can be uncomfortable, but you are offering a piece of yourself to a vast audience that is willing to listen and be healed with your message. If you are passionate, your capabilities will push you further in doing good."
تهانينا للفائزين في مسابقة بنك الإمارات دبي الوطني – "الشعر للجميع"، دار جامعة أكسفورد لكتابة القصة، مسابقة مونتيغرابا لكتابة الرسائل الخطية وبكأس شيفرون للقرّاء!

إنه من الملهم للغاية رؤية الطلبة يتغلبون على الصعوبات وأن يكونوا قادرين على تغيير الحكاية! pic.twitter.com/waRiddd8iF

— EmiratesLitFest (@EmiratesLitFest) March 17, 2021
On the other hand, Charles said that he came up with his story based on his experience, dealing with writer's block, and how he managed to overcome the challenge.
Meanwhile, this is what Charles has to say to young Filipinos who also would like to improve their writing and passion for their craft: "Read a lot. Read everything you can read. Read the good, the bad, and everything in between. Learn how to recognize what makes stories enjoyable, and what makes them not. Most importantly, take your time, it took me an entire day just to write 960 words. Diamonds may be formed under pressure, but dough rises when you let it rest. Don't worry if it seems like your skill is lacking, you CAN improve."
Indeed, some of the most inspiring stories come from young minds, and their experiences can also leave an impact on their generation but also on the rest of us, who can relate and recognize a part of ourselves in the words and writings they share with the world. We truly hope that you two would continue to pursue your dreams as you refine your skills and talents in your chosen field in the arts. Also, we hope that your voices continue to serve as an inspiration to the Filipino youth, wherever they may be in the world, and whatever their circumstances are.
READ NEXT:  Lamentasyon Filipino Movie Review, Showing in UAE Widescreen on April 8 & 9