The world's largest indoor theme park, IMG Worlds of Adventure, has just announced a summer offer – If you purchase a full-priced IMG Worlds of Adventure ticket at 299 AED, you will get to fly to over 21 countries for FREE.
Also Read: List of Theme Parks in Dubai
They're calling it UAE's biggest summer giveaway and it seems like it actually is. After all, where can you get a return flight ticket as a freebie? Some of these destinations include: Amman, Athens, Bahrain, Beirut, Bucharest, Cairo, Cebu, Colombo, Delhi, Istanbul, Karachi, Kiev, Lahore, Manila, Mumbai and Muscat, etc.
We are quite happy that there are plenty of offers being announced especially this summer season. One offer is a Kabayan Fiesta Weekend by Laguna Waterpark and for those who love to shop, the annual Dubai Summer Surprises. But for those who would like to know more information about this particular free flight offer by IMG Worlds, below are more details how you can avail this promo.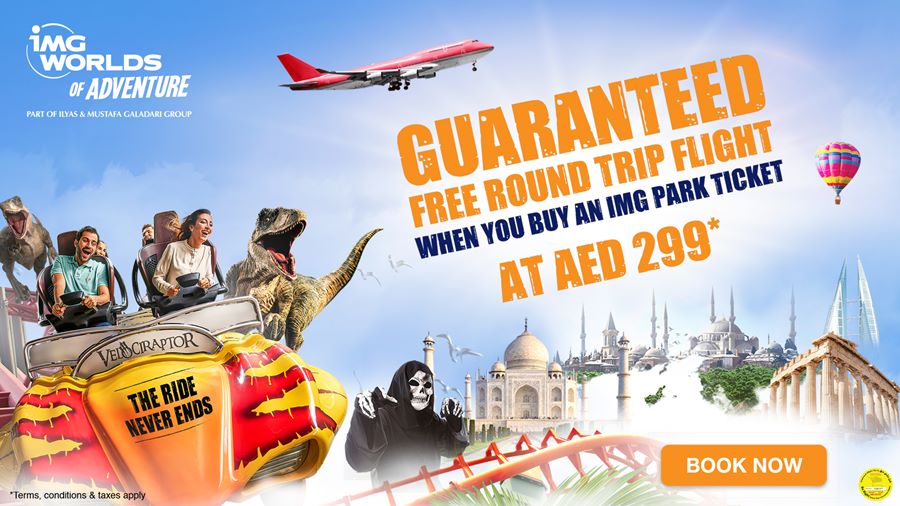 Buy an IMG Worlds of Adventure Ticket, Get a FREE RoundTrip Flight to Over 21 Countries
FLY AWAY TO A WORLD OF ADVENTURE THIS SUMMER WITH IMG
The World's Largest Indoor Theme Park Announces UAE's Biggest Summer Giveaway
 Visit Over 21 Destinations with The Launch of 'Fly Free with IMG' Campaign
Dubai, UAE, Sunday 14th July. IMG Worlds of Adventure is upgrading all its guests this summer and rewarding thrill-seekers with the opportunity to convert their park entry ticket into a boarding pass for a return flight to over 21 countries
With the launch of the 'Fly Free with IMG' promotion, guests who purchase a full-price ticket for AED299 can register their voucher code on https://flyfreewithimg.com/.
Every customer who purchases a ticket to IMG Worlds of Adventure from 14 July will have the chance to fly for free to over 21 spectacular locations including Amman, Athens, Bahrain, Beirut, Bucharest, Cairo, Cebu, Colombo, Delhi, Istanbul, Karachi, Kiev, Lahore, Manila, Mumbai and Muscat, amongst many more
Fly Free with IMG includes departure airports across the UAE and beyond – as well as Dubai, Sharjah and Abu Dhabi, those redeeming a flight ticketing can also fly from Riyadh, Delhi, Mumbai and Athens amongst others.
Customers will have the opportunity to provide three preferred travel dates and three preferred destinations
Video: How to Book FREE Flights with IMG Worlds this Summer
Here's a guide how you can get a free flight ticket via this summer offer:
"As leaders within the UAE entertainment industry, we're thrilled to announce the launch of our 'Fly Free with IMG' promotion. Our ongoing objective is to deliver once-in-a-lifetime experiences to our guests and by collaborating with some of the worlds premium airlines, we're going above and beyond, taking them to wish-list destinations across the globe.  We look forward to continuing to bring our customers' imagination to life and helping them to fulfill their dreams of an unforgettable holiday whilst creating lifelong memories", comments Lennard Otto, Chief Executive Officer, IMG Worlds of Adventure.
Up to four free flight vouchers can be combined at any one time, with four different booking options available – allowing you to fly with up to three additional passenger. Customers can use up to two vouchers together for two free flights, and an additional two vouchers can be used for a 50 per cent discount on the best rate guaranteed.
IMG Worlds of Adventure, as the region's first mega-themed leisure and entertainment destination, has been extremely popular with both tourists and residents alike since it opened on 31st August 2016. Offering a fully immersive theme park experience, IMG Worlds of Adventure has over 20 signature rides and attractions, including live shows and a 5D cinema experience and is the first park to bring together global brands Cartoon Network and MARVEL, in addition to three unique zones Lost Valley-Dinosaur Adventure, Haunted Hotel and IMG Boulevard.
Whether you're a thrill or a chill-seeker every visit to IMG Worlds of Adventure is like a new adventure, offering endless hours of fun spread over 1.5 million square feet, meaning you can discover something new with every visit. Moreover, with the 28 different dining options and 13 different cuisines, you can try a different world flavor with every visit. Plus, each time guests come to the park they can enjoy a new experience due to IMG Worlds of Adventure's incredible calendar of live entertainment and events, which provides something new and unique for guests of all ages.
The limited-time promotion will run from Sunday 14th July 2019 and further details on how to claim the return flight can be found on the FAQ section of the website. For more information please visit https://flyfreewithimg.com/