Turkey is fast becoming a top travel destination these days given that it is just a few hours away from Dubai. More and more tourists are coming to see the historic Hagia Sophia in Istanbul, the Hot Air Balloon in Cappadocia, the hot springs of Pamukkale, the Greek statues at Mount Nemrut, and many other exciting attractions.
If you are planning to visit Turkey on your next vacation, the first step would be to apply for a tourist visa. Read on to know more about the required documents, the e-Appointment System via VFS Global, and the latest alternative, e-Visa.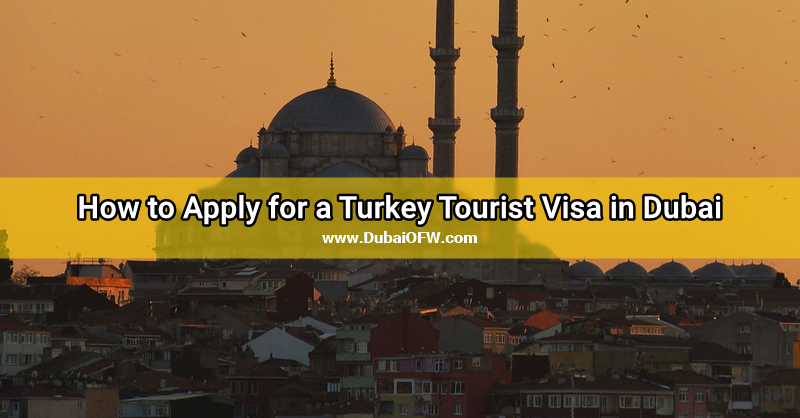 Turkish Tourist Visa Application in VFS Global WAFI Mall
e-Appointment System
UPDATE: Turkey visa application in Dubai is now managed by the VFS Global (located in WAFI mall). VFS Global will be the ones handling the administrative process (processing of papers and submitting of documents to the Consulate General of Turkey), but it will still be up to the Consulate to determine if your visa will be approved or not.
If your UAE residence visa was issued in Dubai / Sharjah / Ajman Ras Al Khaimah / Umm Al Quwain, you need to schedule an appointment at the VFS Global in Dubai.
If your UAE residence visa was issued in Al Ain or Abu Dhabi, you need to apply at the VFS Global in Abu Dhabi.
Once your initial application is approved and you have an interview appointment, bring the required documents to the VFS Global office.
Required Documents
Here are the requirements in applying for a Turkey tourist visa:
Travel Health Insurance valid for 1 year – you can apply this at the VFS Global office as they have a 3rd-party insurance provider. The fee was about 270 AED valid for 1 year.
Filled out Application Form (the form is now an online form and you need to fill it out on the site) – https://www.konsolosluk.gov.tr/Visa
Two Photos (5cm x 6cm) — Attach one photo to the application form. The other photo will be given to the visa officer.
Original Passport — Make sure that it is valid for at least 180 days before the date of travel.
Copies of your Passport and UAE Residency Visa — You may want to bring the original documents as well, just to be on the safe side.
No Objection Certificate (NOC) — From your employer or sponsor
Bank Statement — For the last three months; original and stamped. If you are unemployed or do not have a bank account, you can submit the bank statement of your sponsor instead.
Salary Certificate — If you are unemployed, submit a copy of your sponsor's passport.
Copies of Booking Round Trip Tickets and Hotel Reservations
Letter from the Travel Agency (only if your trip is organized by a travel agency)
Invitation Letter from the Turkish Host — This may be required by the Consulate General when you submit your application. The letter should include your host's name, Turkish identification number, address, and contact information. It should also include a declaration from your host, stating that he / she will cover all the costs related to your visit.
Application Procedure
For those who need to apply for a Turkey passport, please follow the procedure below:
Step 1: The first step in getting a Turkey tourist visa is to schedule an appointment at VFS Global. You can schedule an appointment using this link – http://www.vfsglobal.com/Turkey/UAE/schedule-an-appointment.html
Step 2: On the day of the appointment, submit all the paper documents.
Step 3: Wait for the results of the application, you can track it here – http://www.vfsglobal.com/Turkey/UAE/Track-your-application.html
Step 4: Collect your passport from the VFS centre to pick up your passport (hopefully with your newly stamped visa).
Important Reminders
Make sure that you have medical insurance that will be valid during your trip to Turkey.
For best results, apply for a tourist visa at least 4 weeks before your date of travel.
Upon approval of the initial application, the processing of your visa will take 7 working days.
The visa fee may vary from 220-330 AED. All fees must be paid in UAE Dirhams. Credit card transactions will not be accepted.
Below is a photo of my single-entry tourist visa valid for 30 days. This visa was issued within 7 days after I applied for it at the VFS Global WAFI Mall office.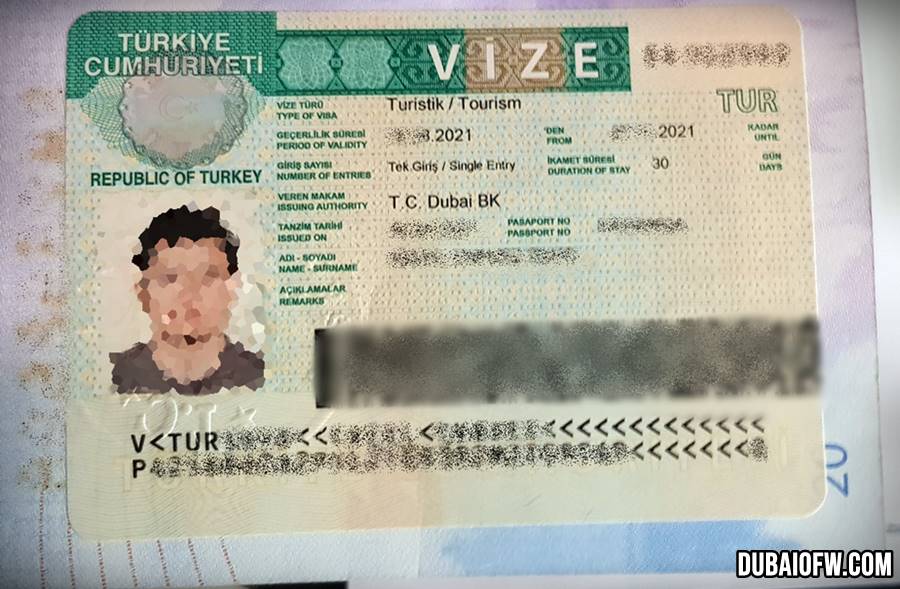 Turkey e-Visa Application Online (Single-Entry)
Aside from visas issued by the Turkish Embassy, you may obtain an e-Visa instead. This is an alternative official document that you can use to enter Turkey. It is offered to certain countries / travel documents (Philippine passport included), as long as you meet the requirements.
Requirements
The minimum requirement as we checked is that you need to have a valid residence visa/permit from one of the Schengen Countries, USA, UK or Ireland — if you do not have this, you need to apply via normal process).
Application Procedure
As the term suggests, you can apply for the e-Visa online
Step 1: Go to the Turkey eVisa website to sign up for the eVisa – click here to apply
Step 2: Enter the required information.
Step 3: Pay fees using a credit or debit card (i.e. Mastercard, Visa, or UnionPay).
Step 4: Once your application is completed, you will receive a link from which you can download your e-Visa. This will be checked by passport control officers at the port of entry.
Important Reminders
Make sure that you keep a softcopy of your e-Visa on your smartphone, tablet, laptop, etc.
Print out a hard copy of your e-Visa before your trip, just in case!
For more information and an updated list of requirements, you can contact the VFS Global Turkey office in Dubai through the following:
Contact Information
VFS Global Turkey
Address: Turkey Visa Application Centre, Wafi Mall, Level 3, Falcon Phase 2, Umm Hurair 2, Dubai, UAE
Contact Center: +97142055720
E-mail: uae@gateway.com.tr
Website: https://www.vfsglobal.com/Turkey/UAE/
Google Map Location
Here's a location map of the WAFI Mall where the VFS Global Turkey application center is located:
Check out our other Turkey Adventure articles here: