Those who are planning to visit Lebanon, here is a guide written by one of our contributors on how you can apply for a visa for. She visited the country for a spiritual retreat and here she outlines the steps she took in order to get a Lebanese visa. She was there to visit for 'business' purpose and not to travel as a tourist. We hope you find her step by step process useful.
Disclaimer: Please make sure that you check out news and safety & security of the country where you are planning to travel. Read travel advisories online and be updated of current events before visiting any location so you are aware of risks and the precautions.
———————
Last January, I travelled to Lebanon for a quick 4-day trip to attend a spiritual retreat.
And while I was still able to squeeze in some sightseeing around Beirut, Byblos and Harissa, I highly discourage you from ever going to Lebanon… for just 4 days, that is!
If you're ever in Lebanon, immerse yourself in its culture, history and food (lots and lots of authentic Lebanese food).
Related Posts:
Jordan Tourist Visa Application in Dubai
Schengen Tourist Visa Application in Dubai
Armenia Tourist Visa Application in Dubai
Turkey Tourist Visa Application in Dubai
UK Tourist Visa Application in Dubai
USA Tourist Visa Application in Dubai
Romania Tourist Visa Application in Dubai
Egypt Tourist Visa Application in Dubai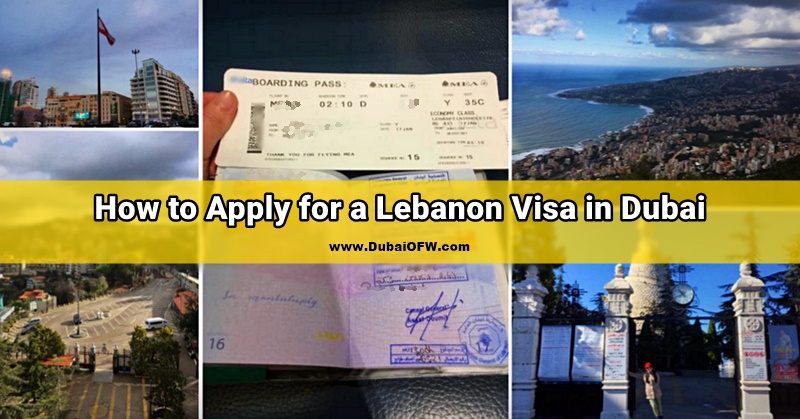 How to Apply for a Lebanese Visa in Dubai, UAE
Step 1: Prepare all the required documents.
Passport with UAE Residence Visa – Original and photocopies (of the data page and visa stamp)

Tip: If you have just renewed your passport and your UAE visa is still in your old passport, bring both passports. It shouldn't be a problem.

(1) Passport-sized photo
If employed, a No Objection Letter stating:
If self-employed (i.e. resident partner/trader), a copy of your company's Trade License

Tip: Even though I am not a resident partner, I still asked for a copy of my sponsor's company trade license, just to be on the safe side.

Round Trip Airline Booking
Hotel Booking (if you are going for tourism) OR Invitation Letter from your Lebanon-based host (if you are going for business)

Tip: If you will be presenting an invitation letter, make sure to tell your host to include: (1) his/her exact address and (2) that you will be staying with him/her in that address for the duration of your trip

Bank Statement – Issued by the bank and dated from the last 3 months

Tip: While other Consulates/Embassies may accept a Salary Certificate as a substitute for the Bank Statement, I know some people who got their first Lebanese visa application denied because they failed to present their bank statement. Make sure to present this to avoid losing your visa fee (which is non-refundable even if your application is denied).

Visa Fee

AED 130 for Single entry
AED 185 for Two entries
AED 260 for Multiple entries
Step 2: Submit your requirements at the Consulate General of Lebanon (or Embassy of Lebanon).
Please check whether you will be applying at the Embassy of Lebanon (Abu Dhabi) or the Consulate General of Lebanon (Dubai) before visiting their physical location to avoid wasting time. Since I am based in Dubai, I applied for my visa at the Consulate General of Lebanon in Burjuman area (Bur Dubai)
If you are travelling by Metro, take Exit 1 of Burjuman Metro Station, where you can either hail a cab or take a 10-minute walk.
Tip: There's a shortcut behind Medeor Hospital. Just open Google Maps on your phone and walk under the shade of the many residential buildings in the area to avoid the summer heat.
The Consulate opens at 8:30 a.m. from Sundays to Thursdays and accepts visa applications until 12:00 p.m.
Tip: Come early to avoid a potentially long queue. I came in with a friend at 8:30 a.m. so we didn't need to file for a leave from work.
The afternoon hours (1:00-2:00 p.m.) are for visa releasing only.
The Visa Officer will ask you a few travel-related questions.
He/She will then give you claim stub and advise you to return after 5 days.
Step 3: Collect your passport and Lebanon visa stamp.
 I applied on 18 December 2018 and was asked to return on the 23rd (between 1:00-2:00 p.m. only). But as you can see on my visa stamp, my application was actually approved on the 19th. Still, I wouldn't advise you to apply for your visas on such short notice.
Lebanese Visas are valid for 90 days before the date of entry to Lebanon. Residence validity ranges from 15 days to 6 months from the date of entry.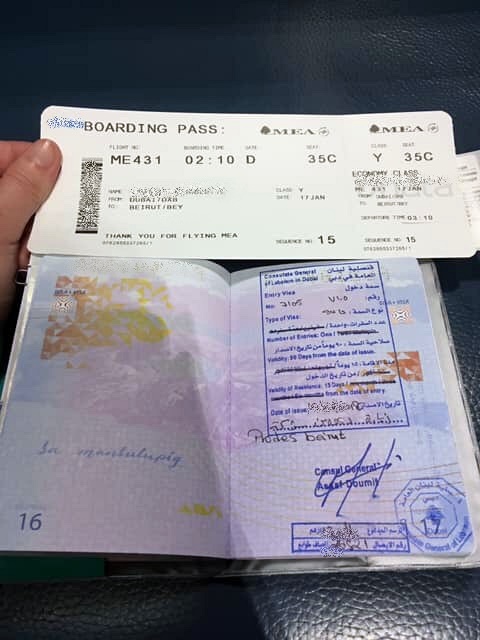 Lebanon Consulate in UAE Contact Information
For more information, you may contact the Consulate General of Lebanon :
Address: 3rd Street، Umm Hurair 1, Bur Dubai – Dubai
Telephone Number: +971 4 3977450
Fax:  +971 4 3977431
Email: info@lebanonconsulate-uae.com
Website: https://www.lebanonconsulate-uae.com/en
Opening Hours: from Sunday until Thursday
— Submitting time from 8:30 until 12:00 pm
— Collection time from 13:00 until 14:00 pm
Location: Consulate General of Lebanon in Dubai
As an added reference, please check out a map guide where the Consulate Gen of Lebanon in Dubai is located. The nearest metro station is Burjuman Metro Station and take Exit 1.
---
About the Author: Nicholette

Nicholette retired from teaching hormonal teenagers at the tender age of twenty-two to pursue a career in adulting in Dubai. From an early age, she has struggled with an incurable case of sarcasm, which she now channels through her writing. She reads fiction voraciously, eats anything edible heartily, and travels every chance she gets. She is less of a writer and more of a collector of stories penning her travels, thoughts, and things in between in her inappropriately-titled blog: http://thegrammarfuhrerin.wordpress.com
---
Share your thoughts. Contribute an article to DubaiOFW.com
Want to publish your experience? Share your everyday stories, food trips, travel, photo stories, or tips in Dubai to our growing community. More information here – Become a Dubai OFW Contributor