Zareen Shah is not just an ordinary makeup artist. There's more to that title than meets the eye; Zareen isn't the type of woman you'd put in a box; with her broad history and career, she's as colorful and inspiring as they come. So prepare to go skin deep with her remarkable stories and words of wisdom.
Zareen has been working in the beauty industry long enough to cut through the shallowness and bring out the best of you. She has seen the ugly and the beauty in being a makeup artist, and her road to success is not smudge-free.
Born in Bahrain but raised in Dubai to a Pakistani father and a Filipina mother. She's also a single mom to a beautiful daughter.
Labels do not define her since she has grit, a strong work ethic, and creativity as her tools to success, making her one of the top makeup artists in the industry specializing in bridal and editorial makeup.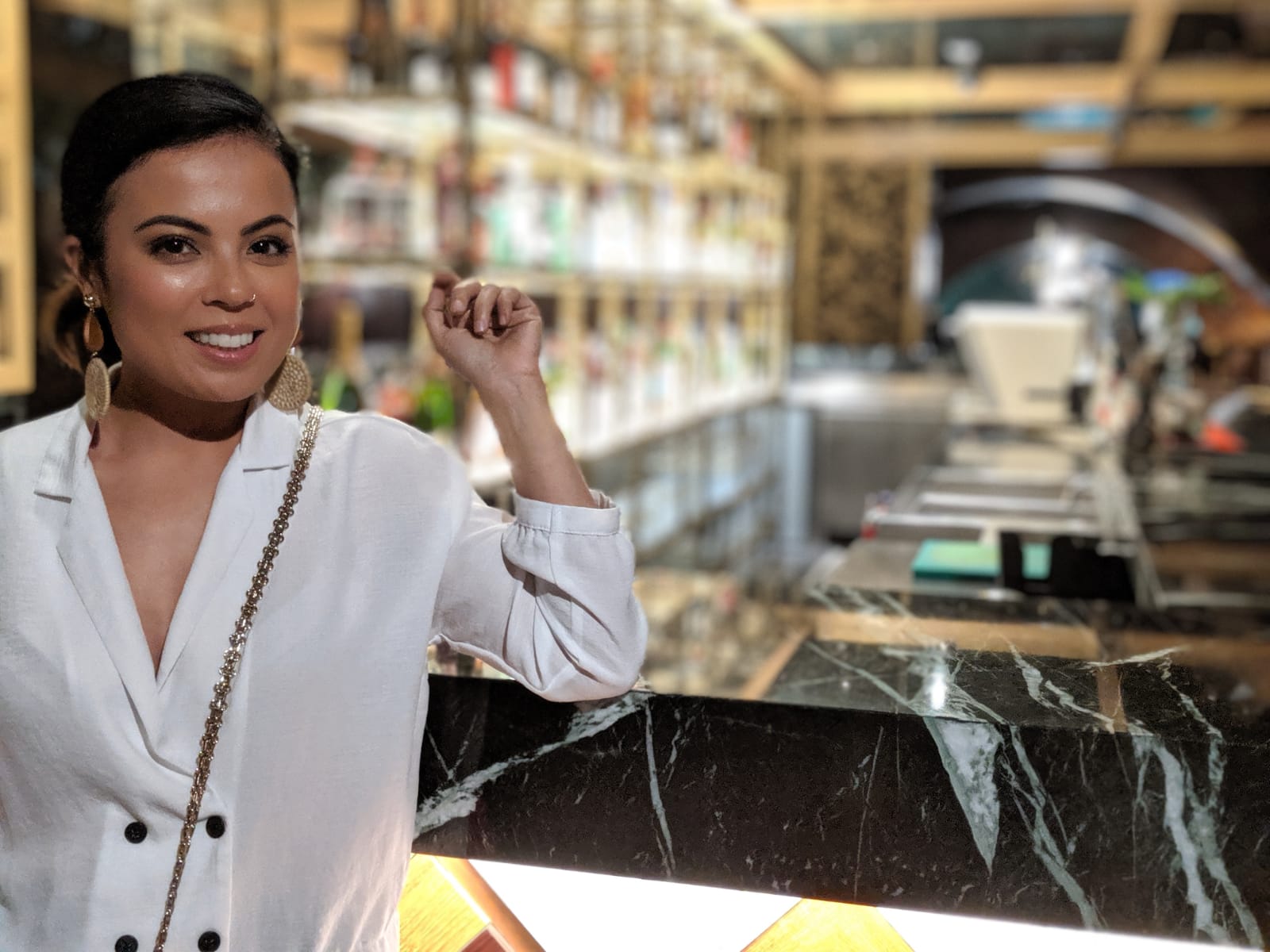 She prefers to be called a makeup artist and beauty entrepreneur despite having over 19 years of experience with makeup artistry and having a high-profile clientele within the Emirati and Asian community. She had the privilege to walk into palaces and worked for the Royal families of the UAE and Qatar.
This time we sit back and listen to her stories and let the magic of her words do the work. We may not be able to be her muse, but this time it's her time to shine, putting a spotlight on her life as a loving mom, dedicated daughter, Spanish Latte- addict best friend.
Behind the scenes, when she's not holding a makeup brush, Zareen is a single mother to a beautiful and extremely chatty daughter. She's also a daughter to a loving mother who recently turned 69. Mommy duties and aftercare sessions, household chores, and running an online beauty store are all a part of her busy schedule. But Zareen is no stranger to navigating a demanding lifestyle with her career. She's usually booked for appointments for Bridal makeup/engagements or party makeup.
According to her," While most people look forward to relaxing on the weekends, this is when I'm the busiest. From Thursdays-Saturday, I am usually booked with appointments for Bridal makeup/engagements or party makeup. In addition, I'm usually rushing from one house to another, and sometimes it's between different emirates within the same day. As a result, my weekends are anything but relaxing."
She makes time to go out of a spontaneous coffee shop hunting around the city, watching Netflix, reading, or having Zoom sessions with her friends abroad. Let's go right at the beginning before the hustle and bustle of her life as a makeup artist.
Zareen is a product of the Gulf; her parents met in Bahrain in the '80s. Her mom is a Filipina, and her dad, a Pakistani. When she turned 7, her parents decided to make a move to Dubai. Aside from living in Pakistan for a year during the first Gulf War in 1991, She has otherwise always been raised in the Middle East.
Zareen stated," I came from a typical Middle-class background and had two working parents who I hardly got to see because they were almost always working. So if I wanted something, I had to save up for it. Nothing was ever handed out to me, at least not easily."
Why did you come to Dubai? ( Since you studied in Cambridge High school -Dubai) Can you walk us through your experience studying and living in Dubai for years? And how did it shape you as an entrepreneur or a beauty mogul?
The best thing about the U.A.E. is the diverse group of nationalities that came together because they saw a place to raise their kids better than how they grew up.
Growing up here, I had friends from all backgrounds. In high school, my close group was of 3 girls:- A Yemeni, an Indian, my bestie ( East African Asian raised in Houston), and there was me, this hybrid – a Pakipino. This is what comedian Russell Peters called me when I bumped into him in Wafi Mall the night of his show.
We were this confused-looking mixed group, and that was the norm in Cambridge High School. It had a diverse mix of Arabs, Asians, and Brits, and that's what the U.A.E. is all about Diversity.
What's the starting point of your journey as a makeup artist/ beauty entrepreneur?
Everyone in high school had the common goal of graduating from College or University. However, my mom had a very difficult marriage and ended up raising my sister and me solely. Studying Art and Illustration in the U.S. was out of the question for me as it became pretty clear that my mom was struggling financially. She took up a six-month course on animation and started to look for part-time jobs.
One of my mom's friends was handling a Japanese cosmetic company, and they needed a Sales Rep part-time to handle the makeup counter. It paid by the hour, so I was totally up for it. Growing up, my dad was highly conservative. When he lived with us, I was never allowed to wear makeup, let alone own anything of the sort. So it was pretty ironic that I was selling makeup to women while I still didn't own lipstick myself.
Zareen is the artsy type since one of her paintings was featured in Gulf News for emerging young artists in the U.A.E. At a young age, she was always drawing, painting and sketching. But, little did she know that that interest would lead her into the world of makeup artistry.
Zareen shared that when she realized she wanted to get into makeup and beauty, she started to look for brands that had any openings. She began as a beauty advisor for Guerlain, a French luxury beauty brand famous for its extensive skincare and perfume line. She was the youngest on the team and barely 18 at the time.
Around 1999, Zareen heard that M.A.C. had opened in Deira City Centre. It was a makeup brand that fit her artistic aesthetics. "All the makeup artists at M.A.C. wore black and trendier looking than other beauty brand advisors who were all subjected to wearing a uniform. I loved the brand's creed of All Ages, All Sexes, All Races, and I couldn't get over the extensive range of eyeshadows and lipsticks. This is where I knew I belonged."
Her perseverance paid off despite the constant battle getting the right people to recognize her value and worth. Finally, in 2004-2005, she was offered the position of Resident Trainer for U.A.E., Oman, and Bahrain. At 24, Zareen was the youngest trainer that M.A.C. had globally. She was traveling to Fashion Week in India, Lebanon and part of the team for DIFF (Dubai International Film Festival), where she worked on various Arab and Asian actors and actresses.
When she was based in stores, she'd be busy training team members on perfecting their makeup skills, customer service, and product knowledge. However, she made sure to make time for clients that wanted makeup services for their events or weddings and built a loyal clientele that would constantly ask for her.
Towards the end of 2006, Zareen decided to quit M.A.C. and branch out on her own. "When I left, I was earning over 11k a month and was one of the highest-paid amongst the trainers in the U.A.E.Making the decision of leaving M.A.C. was not something I decided overnight. I made sure I had six months' worth of savings to fall upon just in case things didn't go as planned."
Before those six months, Zareen made sure that she's ready as ever by starting with her makeup kit supplies, and she had enough products to sustain her for a year or more. She saved the contact numbers of all her clients and messaged every one of them to let them know that she would be freelancing.
According to her," It was scary and intimidating to leave a job where I was at its peak and gaining a steady income, but deep down, I knew I deserved much more than they could offer. I firmly believe that one of the keys to my success is the never-ending desire to learn and excel. Even with 20 years under my belt, I attend masterclasses, seminars, and lectures by other leading M.U.A.s. The death of creativity is when you believe you know it all. Therefore, I constantly re-invest myself."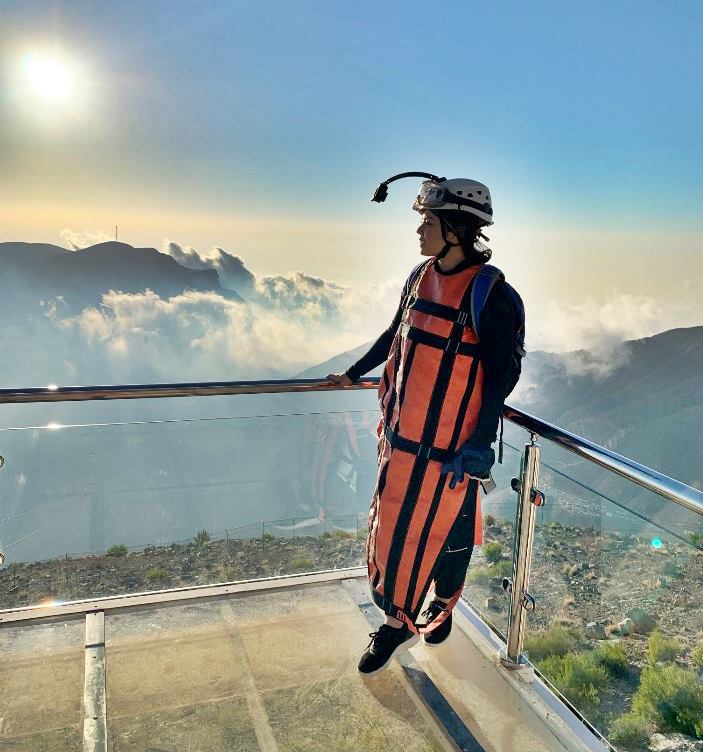 Dubai, the city now in 2021, is far from where it was 10 years ago. I think saving was much easier when I had no dependents. I mean, private schooling alone is just incredible. The average British school costs about $10k annually, on average (that's actually a minimum). I doubt my mother paid anywhere close for my sister and I when we were in high school.
Yes, I could put my daughter in a cheaper school; however, I'm invested in giving her a better education than I had. I'm over the whole facade of designer brands. My focus is on more important elements like her education, travel, and personal development.
If you want a certain lifestyle, then spending in Dubai is much easier than saving. I'm very careful about where I spend my money. Before Covid, I'd do all my shopping for clothes when I visited my mom in Manila. Also, I used to go to N.Y.C. annually for makeup conventions, so I'd make sure that I'd save up for my trips.
Because I invest a lot of what I earn into my businesses, I mostly shop during Sale season or scour online stores with better deals than here. After my mom suffered her stroke in 2010, I knew I'd be visiting the Philippines more often, so I invested in a two-bedroom condo in Makati.
We would stay there when I was in town and then rent it out when I'd leave. I also wanted to ensure that I had a property for my daughter when she grows up, so I bought a studio in Sports City a few years back. When business returns to normal here, I plan on purchasing a family home for us here in the city.
Is it challenging to live in Dubai? What are your struggles?
Every city comes with its challenges. I consider the U.A.E. as home. I've been here for close to 33 years. The hardest part of living in Dubai is how transient this city is.
People come and go all the time. However, I've had a majority of my close friends eventually pack their bags to go back home due to a lack of finances or better opportunities.
It's saying goodbye that's quite painful. I've always kept a small intimate social circle of friends. As I've gotten older, that circle has gotten smaller. I'm just glad that Zoom calls are accessible to us all now.
When my mom had to resign from her company, I was about 27 years old. I was always under her sponsorship and never really thought about my residency or my visa status. I just knew that I lived here.
Suddenly I had to figure out something if I wanted to stay in the city that I felt was home. It was a significant mind shift because I wasn't a citizen, irrespective of how many years I'd stayed here.
This wasn't a permanent place for my family or me. The only real solution at the time was for me to invest in a business license, which I did, and it cost quite a substantial amount. There were a lot of walls that broke down internally.
I went from being completely secure in my mindset to questioning my sense of belonging. This is a common challenge that every expat child raised in the G.C.C. goes through. I call us the 'in-betweeners.' We're not local enough to adjust to living back home, and we're also not local enough to be considered one of the 'locals.'
What do you like about Dubai?
As a Muslim, I love the fact that I can practice my religion freely without any prejudice. I believe that we live in a city that is very tolerant of other religions and practices.
There is a sense of safety that you get here that doesn't exist anywhere else. I can leave my car unlocked, run into a store, and know that I'll come back to my car.
What do you not like about Dubai?
Easy, the Summer heat!
I feel that there's been a massive shift with the tolerance initiative and has improved many inequality issues. However, you can still see the discrepancies that South Asians and Filipinos face in the workforce.
I saw that you're active in advocating for women and speaking about the power of makeup and storytelling. Do you personally support other advocacies? and why?
I am all about female empowerment and owning yourself. I remind myself and my clients to embrace imperfections. It's what makes us unique. When I talk about beauty on my social media accounts, I always remind my followers that makeup is just an outer layer. To look good, we need to feel good first, including a healthy diet and lifestyle.
I'm very conscious of the earth that we've been blessed with. I'm not a vegan, but I don't support fashion or decor items like crocodile/alligator skin, mink fur, ivory. I'm completely against animal testing for beauty products. I prefer spending my money on brands that give back to communities and are conscious of their ecological footprint.
You can start normalizing, seeking help, and being better by practicing self-love and having therapy if needed; take it from Zareen, "It's not really the norm with Asian culture to go for therapy. But I think it's extremely important, especially if you've experienced childhood trauma and abuse."
I've recently enrolled on a platform called www.betterhelp.com that has a huge portfolio of therapists and counselors. I have a therapist with whom I have weekly video sessions. I've always wanted to have a professional judgment on clearing certain mental blocks, and this platform is quite affordable.
I practice self-love by saying No to things or people that don't feel right. I don't pressure myself anymore to make commitments with work, family, or relationships. If I'm tired and can't make it to dinner, I just say no. I'm giving myself time to regenerate. I'm learning to walk away from anything or anyone that gives me negative vibes. Saying NO has been a very long journey for me, but it has been one of the biggest steps towards self-love.
What is your favorite book? And can you recommend the top 3 books with themes of female empowerment and leadership in the workplace?
I made the biggest changes in my life, personal and financial, including deciding to leave M.A.C. to freelance after reading "The Success Principles" by Jack Canfield. If you're ready to make a change in your life, then this is that book that clears a lot of mental blocks. In fact, I keep going back to it as a refresher.
Books written by women that I found enlightening and inspiring are:
#Girlboss – Sophia Amoruso – She took on a hobby and turned it into an internationally recognized clothing E-store when digital commerce wasn't even a thing.
2.What I know for Sure – Oprah Winfrey – This is a heartwarming insight and perspective of a woman who has now become a household name. Oprah talks about her childhood struggles, relationships, self-love, work, and spirituality. It's not specific to work, but I believe many of us women have some everyday struggles, and Oprah addresses them perfectly in her book.
3.The Eleven Commandments of Wildly Successful Women – Pamela Boucher Gilberd – this is a collection of "Commandments" from selected female entrepreneurs, visionaries, C.E.O.'s, etc. When you learn from successful women their mindset toward obstacles, then it is easier to understand and battle our obstacles.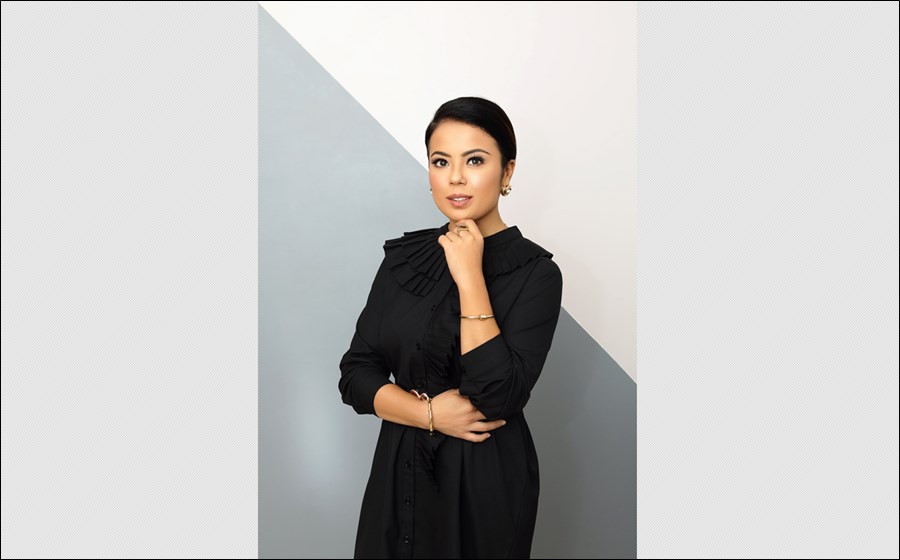 On Business & Career
How did you start your business Ezeenah?
In 2013, I launched Ezeenah, my online makeup & beauty store. I noticed that there weren't any makeup stores that catered to makeup artists. So whenever I needed certain tools, bags, accessories for my makeup kit, I'd have to wait till I traveled to the UK or the US.
It was a gap that I felt I needed to fill and created Ezeenah. I'm obsessed with discovering new and better brands that provide value for money, so sourcing out products for Ezeenah came naturally to me.
I've always wanted to do more for the makeup community, so in 2019, I created the very first Pro Artistry event called THEMAEKUPCLASS. (Sounds exactly the same as makeup, but I switched up the words AE to represent the UAE). I brought down two fantastic makeup artists that had created a unique niche within the industry.
Being an entrepreneur isn't as fancy as it sounds. It includes a lot of tossing and turning in your sleep. I'm juggling between being a mom, a daughter, a working MUA, running an online store, and I'm working on several projects as I type this. It doesn't end. It's extremely intimidating at times because it's only natural to want to succeed with every single venture.
I've learned, though, that sometimes success is defined by starting something that no one else bothered to do. You may not always get the financial gains you're expecting, but you're learning, overcoming, and adapting no matter what. You slowly face your fears and realize that they're not that scary.
If you want to start something, give yourself a realistic deadline. Start small and then build. Don't believe the hype that you see on social media. People barely showcase their pitfalls and failures on social media.
Success is not an overnight story, but consistency will get you there eventually. I didn't get to where I am because of the color of my passport. I got here because I work with ethics, a sense of self-respect, professionalism, and, most importantly, passion.
How is Ezeenah & TheMaekupClass doing right now since we're currently undergoing a pandemic?
I am currently rebranding Ezeenah. The website will have a completely new look and feel. I've been pretty busy changing the direction of my store. As my obsession with skincare over the past year has grown, I'll be featuring more beauty tools and Asian beauty brands.
I'm currently working on an E-book catered towards makeup artists and professionals, which will be available on both my platforms very soon and Amazon. The pandemic may have slowed things down a bit, but it's given me a new perspective that I'm injecting into my businesses.
What's next for your career or business? Do you have current projects working on?
I have a few ideas that I've been brainstorming on. I plan on launching a new project before the end of the year. Make sure you follow me on @zareenshahco on my socials to find out more.
What are the common misconceptions expats have about working as a makeup artist or in the beauty industry in the Middle East?
That it's easy, it's not easy at all. This is a physical job. You're on your feet for hours on end. When I'm in the middle of glamming up a group, I sometimes hold my pee for hours until I've finished the last person.
Because of the way we stand when we're working, this creates a lot of issues with our backs and necks. Doing this for 20 years, I feel the effects on my body.
You'll be an overnight success. This is so far from reality. Building a loyal clientele takes time. I have the clientele that I have because I've shown up, and I've been consistent.
It's not a full-time job. If you're a freelance makeup artist, this is a full-time job. Just because you don't work a set of hours every day, in the exact location, doesn't mean this isn't a full-time job.
There are times when I don't have clients for an entire week or even a month (especially in Ramadan), but when it gets busy, it can be non-stop. I've worked on certain projects that were for 16-18 hrs a day for an entire week.
When we're not physically working, we're answering calls, replying to DMs, emails, WhatsApp messages. It takes commitment when you're self-employed.
Many brands or companies are currently joining the bandwagon on female empowerment and other advocacies online; how do you feel about that? What's your take on that?
If they've been about the cause before it became a trend, I think those companies are trustworthy. For example, we've seen an increase in Hate crimes towards Asians, particularly in the West.
There are plenty of beauty companies pushing the Stop Asian Hate agenda. It's great that they're encouraging with their support and awareness, but is that where it ends.
Are they working with Asian artists and influencers and paying them the same rates as their non-Asian counterparts? Have they increased recruiting or endorsing more Asians in their campaigns and projects?
Personally speaking, a few posts and memes are just the bare minimum. However, I want to see the support after the "hashtag" or advocacy movement is no longer trending.
My social media accounts are strictly business for me. I may add a coffee shot or a breakfast pic here and there. Still, my content is primarily based on product reviews, launches, networking events, the weddings I work on, tutorials, quotes on self-love, business, and motivation.
I don't repost things until I'm 100% sure about them.
I'm fortunate to have a very respectful and supportive online community. However, you always get the occasional know-it-all or hater. I no longer respond or engage with disrespectful individuals. I block them.
How can makeup enthusiasts in the UAE find a job, or do you have any tips on making a mark globally?
I tackle this question extensively in my E-book, which I'll be launching very soon.
I will give a pointer on this. Having a niche will easily set you apart. People need to recognize what your talent is immediate. The makeup industry is a massive industry with so many different categories.
There's fashion, editorial, special effects, bridal, TV & Film, retail. It's not one big bubble. Figure out what you want to specialize in and master it. Only by mastering your skill will you start getting recognized and acknowledged.
What are the current top makeup or beauty trends happening right now?
With the emergence of young Tiktokers creating waves in the makeup industry, it is no longer about a specific set of nude shades and colors. It's about individuality.
Eyeliners are no longer just black and no longer just a cat-eyeliner flick. There's been a push towards individuality and creativity, like never before. We're seeing graphic liners in shades of blues, pastel pinks, yellows. Shades that no one would consider wearing a year or two ago.
The beauty industry is a massive industry, so I'll cater this question towards my expertise i.e, Makeup Artistry.
Here are some of the ups:
It is now a highly respected and sought-after profession.
There are many MUA's that have expanded on their talent by creating their makeup lines, starting up their salons, becoming International Trainers and speakers in their field of expertise.
There is gratification and recognition from peers, family, followers when they see who you've worked on, the places you get to visit, the projects you've contributed to.
The downs are:
This can be a stressful and frustrating environment as you are expected to please every client to a 100% max. You are serving clients where the expectations of delivery are very high. Clients can be over-demanding and unrealistic of how they want to look despite how they look.
Especially with social media, your clients and their relatives now think they're makeup gurus because they've watched a few YouTube tutorials and follow certain 'beauty influencers.' Everyone has an opinion now on what shade will look better or how to apply it.
People will always compare your prices with other MUAs. Sometimes clients will tell me that X charges less than I do. It's a constant cycle of having to justify your rates irrespective of how good, talented or professional you are.
What are your top makeup or beauty tips for your clients? What's the most common beauty tip you keep hearing from your clients that are not effective?
BEAUTY TIPS :
If your skin looks good, you will end up using fewer products. So the key is to focus on your skin first. I always encourage my clients, first and foremost, to keep their bodies hydrated, especially with factors like AC and the extremely hot climate.
Cleansing is the most crucial step to achieving youthful and clear skin. Unfortunately, women do not spend enough time cleansing their skin, which slows down the process of your skincare being absorbed properly.
You also clog your skin's pores if there is makeup residue, leading to breakouts and acne. If you want your skin to look younger and clearer, the key is SPF.
Regarding your second question, many clients will say they purchased a certain product because they saw so and so use it on Tiktok or Snapchat, etc. I feel like women purchase blindly because someone has X amount of followers, and they want to feel included.
The majority of influencers, particularly here, don't have a loyalty code or ethic. If they get paid for it, they'll promote almost anything. I always remind my clients that what works for someone else may not necessarily tick the boxes for them.
If you're looking to buy a skincare product, for example, I suggest asking the brand to give you some samples first so that you can try them. Then, if they don't have samples, bring your mini-jar and ask them if you can scoop some product in.
There's no need to rush, particularly with foundation and concealer. Instead, try the product first, leave it on for a few hours, and then see if it works on your skin tone and texture.
What do you think is the change happening right now in the beauty industry in the UAE or GCC regarding female empowerment and beauty?
I know for a fact that more and more Emirati women are taking the route towards being self-employed. I'm seeing more hair and makeup artists from the Emirati community now more than ever before. Women are being encouraged to follow their passions and their interests. The social stigmas of serving people are also being broken.
There are homegrown brands from the GCC, such as Shiffa, Lash Dubai, and Izil, created by women. In addition, I see an emergence of expats making their lines because they've noticed a gap in the industry and region.
What do you think will happen after the pandemic regarding Dubai's beauty industry or businesses?
The pandemic has caused a lot of shifts, particularly in the beauty industry. There's more attention given to sanitization practices now, which is excellent. People are also looking more into holistic practices and more healthier options when purchasing products and services.
In general, I also feel that people are looking for more value with the shift of the economy. So brands now have to be a bit more creative when it comes to customer retention.
Do you have any tips for fellow expats working/finding work/living in Dubai?
I'm usually very surprised when I meet people and hear that they don't know much about the country, history, traditions, and culture. One of my best friends is Emirati, and she was a previous client. Now we talk about our kids, relationships, daily struggles over a cup of Spanish latte.
Don't be shy to make friends with the Emirati community or other communities that are not your own. This place is a melting pot, so make use of the diversity.
I understand that many Filipinos who come down here for work have a certain timeline in their mind of how long they want to stay here. However, if you're going to grow financially, then forget about how long you're going to stay here and instead focus on how much you can achieve while you're here.
This tiny mindset shift will create a different perspective on how much one can earn. Focus on your potential and how much you can grow and learn. That's how you can excel and succeed. Dubai is a highly competitive city, and it isn't for the weak. If you believe that you have the potential to grow and excel, then prove it.
Just because you work a 9-5 shift doesn't mean you have to remain there. You can have your side hustles. Not all of us have the freedom to earn from our passions. But it doesn't mean that you have to limit yourself to only one thing. Be creative and explore. If your goal is to be financially successful, think outside of the box because a 9-5 won't get you there.
Check out other Filipino in UAE interviews here:
———————————-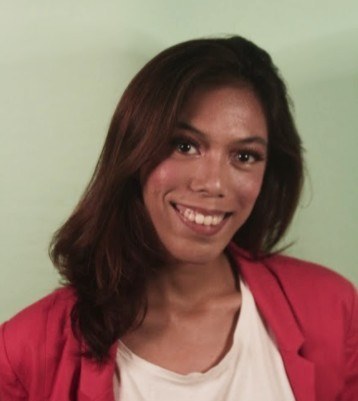 About the Author: Nicole Marie Valdez
Nicole Marie Valdez is a seasoned writer, editor, and publicist for over four years now. She's a mental health advocate and passionate about writing purpose-driven stories.
———————————-
Want to become a Dubai OFW Contributor?
Want to share an experience? Share your everyday stories, food trips, travel, photo stories, or tips in Dubai to our growing community. More information here – Become a Dubai OFW Contributor!