The UAE cabinet has approved holidays for the public and private sectors for 2019-2020. This might be a good time to think of a good place in case you have any travel vacations breaks you want to plan.
Last March 2019, the UAE has announced a decree that unified the holidays for both public and private sector. This means that both government offices and private companies will have the same number of holidays.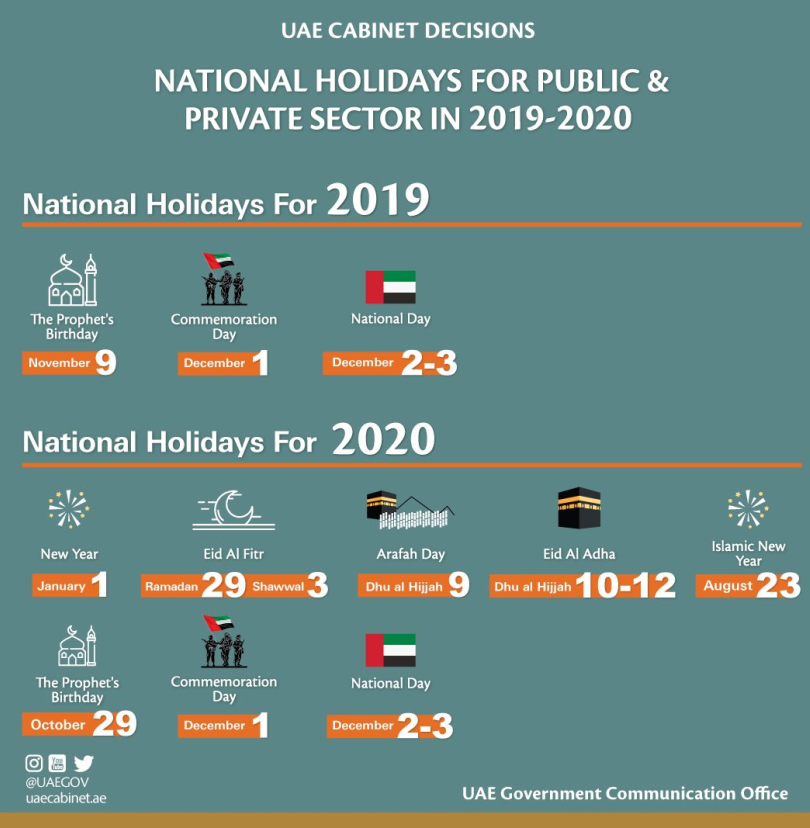 UAE Announces Holidays for 2019 and 2020
In an announcement posted through the official Twitter handle of the UAE Government Communication Office, the decision cites November 9, 2019 as a holiday on account of the birthday of Prophet Muhammad (PBUH).
While on December, there will be 3 holidays. December 1 as the Commemoration Day and December 2-3 as the UAE National Day. During this time will be a long weekend for both working sectors. December 1 falls on a Sunday and December 2-3 is on Monday and Tuesday. If you'll the weekends prior to these dates, the total break for residents and expats will be five days!
Here's the post from the @UAEGov Twitter Account
The UAE Cabinet approves the national holidays for public and private sector in 2019-2020. #UAEGov pic.twitter.com/f99wEFMCud

— UAEGov (@uaegov) October 31, 2019
2020 Holidays in UAE for Public and Private Sector
During year 2020, here are the following holidays:
New Year: January 1
Eid Al Fitr: Ramadan 29-Shawwal 3
Arafat Day: Zul Hijjah 9
Eid Al Adha: Zul Hijjah 10-12
Islamic New Year: August 23
Birthday of Prophet Muhammad (PBUH): October 29
Commemoration Day: December 1
National Day: December 2-3