Do you sometimes long for the luxury of a hotel, yet you also need the familiarity of home? Why not combine them both? This is exactly the kind of amazing experience that awaits guests at Aparthotel Adagio Dubai Deira (BOOK HERE), which is located right in the heart of Dubai.
As its very name suggests, Aparthotel Adagio Deira Dubai brings together the comfort of home and the elegance of a hotel. Whether you're checking in for a day, a week, or even a few months, you're bound to enjoy staying in this hotel and exploring nearby attractions.
Check Hotel Prices at Adagio Deira Dubai Here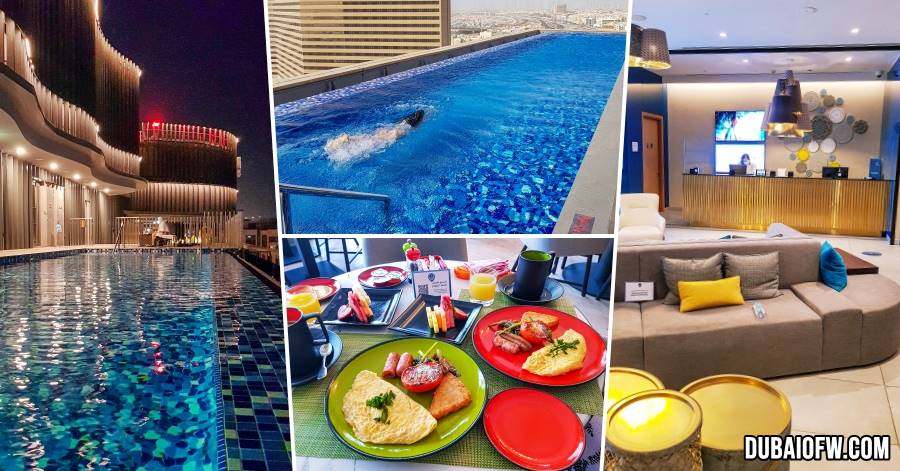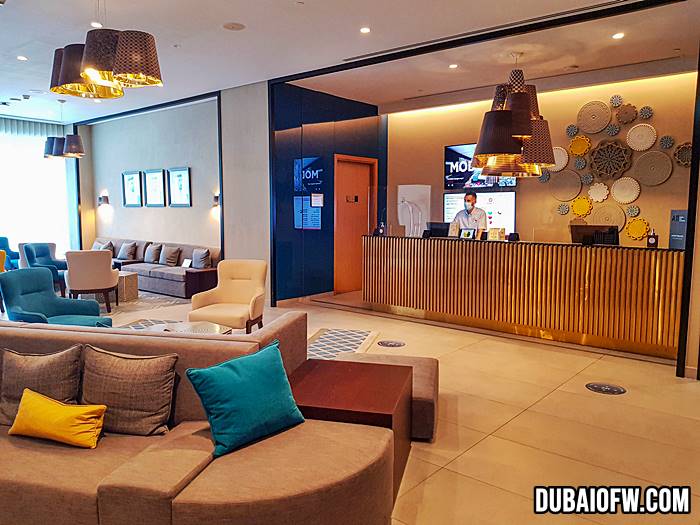 Hotel Review: Apartment Hotel Adagio Deira in Dubai
This new apartment hotel offers guests a relaxing and peaceful stay while still being in the city. It is just located in Gold Souk metro station (Green Line) and guests can access many of the Old Dubai tourist spots which include the Gold Souk, Dubai Creek, etc.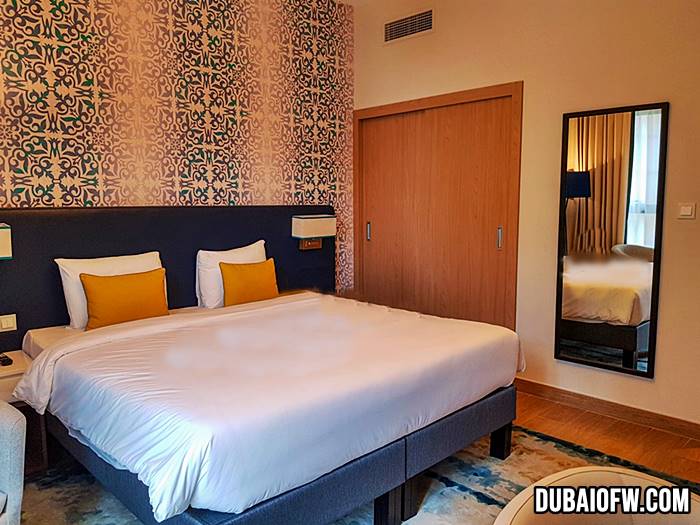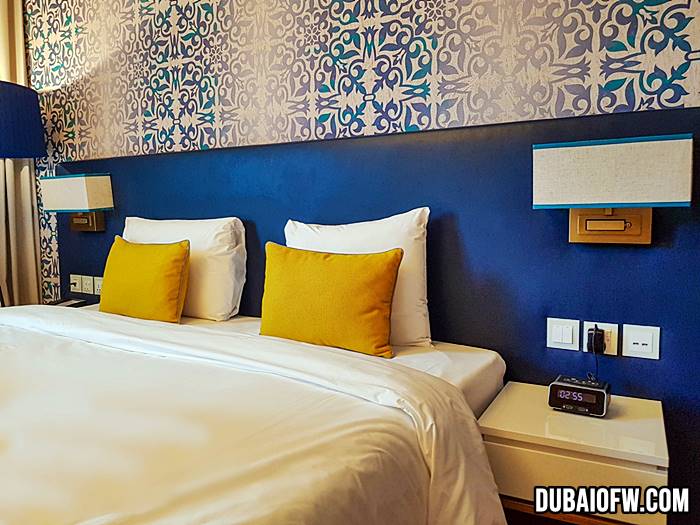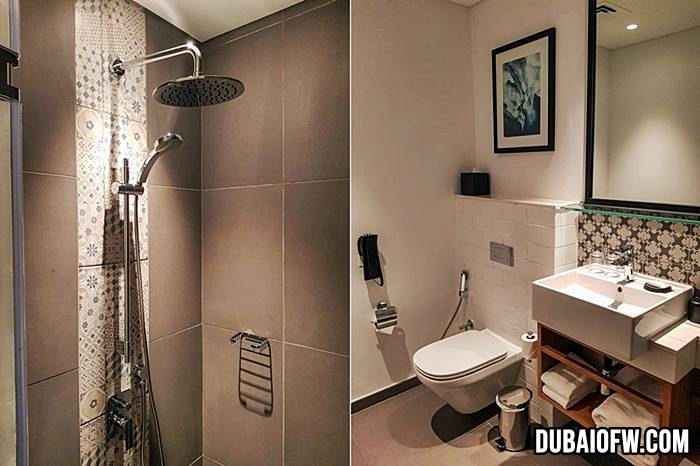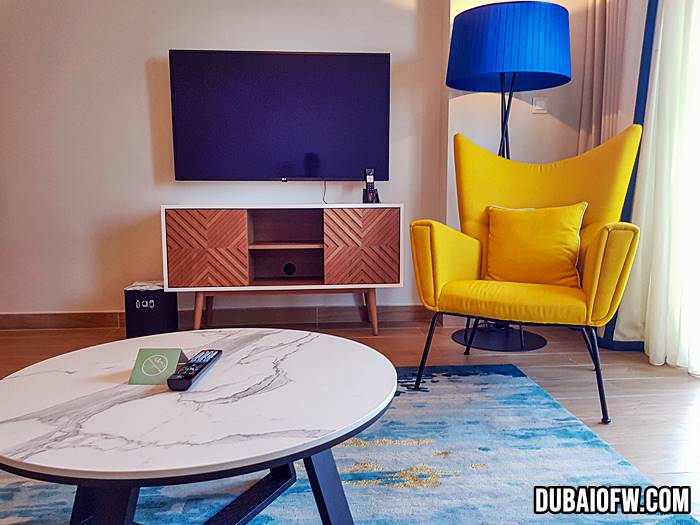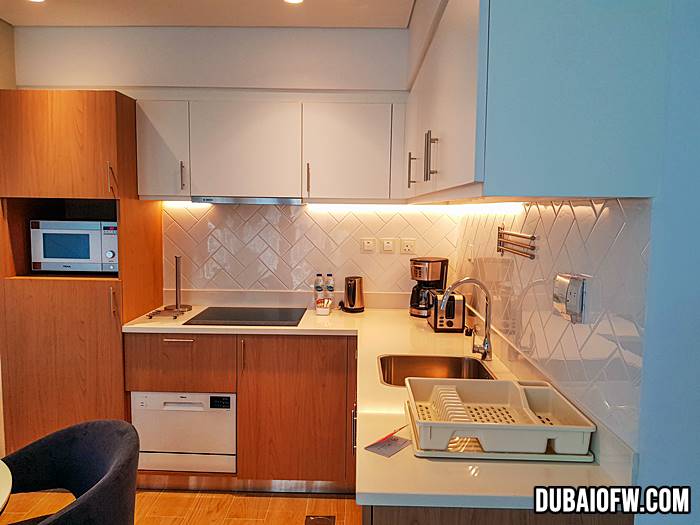 Adagio Deira Dubai Hotel provides the following facilities:
189 Apartments
Swimming Pool
Fitness Centre
Child Facilities
Meeting Rooms
Car Park
Highlights
Guests staying at the hotel can look forward to these experiences:
Comfortable Stay. The accommodations at Aparthotel Adagio Deira Dubai include studio-type apartments, one-bedroom apartments, and two-bedroom apartments. Each of these is air-conditioned, with a fully-equipped kitchen, bathroom, working area, TV, Wi-Fi Internet, and other amenities.
Dining Options. Guests can enjoy breakfast at their all-day restaurant – World of Curries. As this is an apartment hotel, guests are also free to cook their own meals. The great thing about staying in this "aparthotel" is that you can prepare your own food, in accordance with your preferred diet, taste, and budget. Cooking your own meals also means that you can avoid the crowd in restaurants.
Check Hotel Prices at Adagio Deira Dubai Here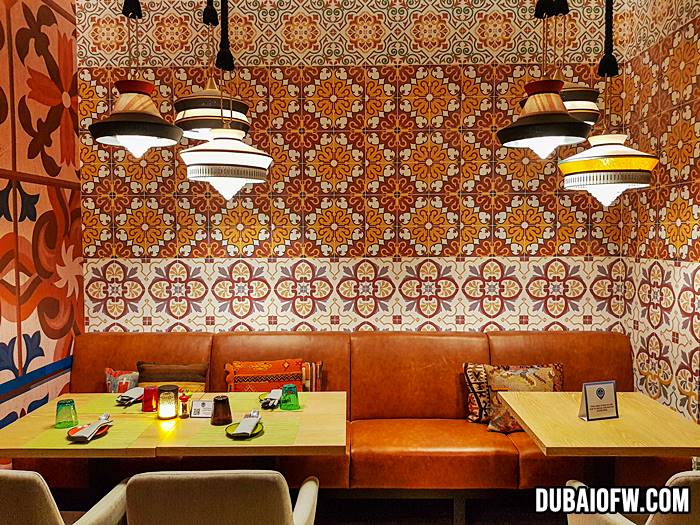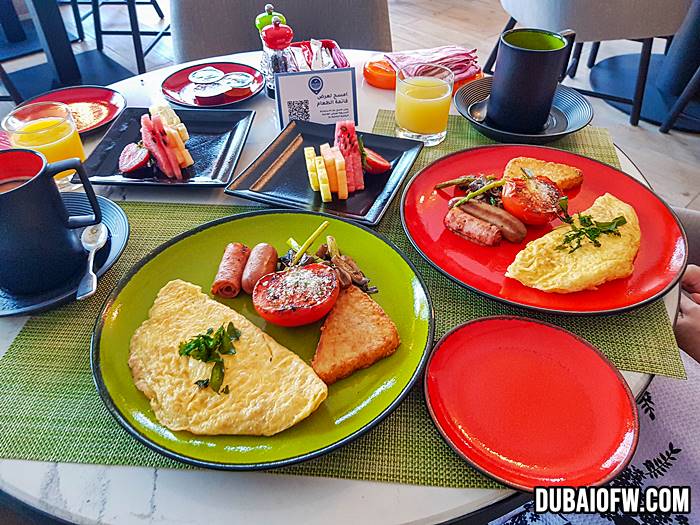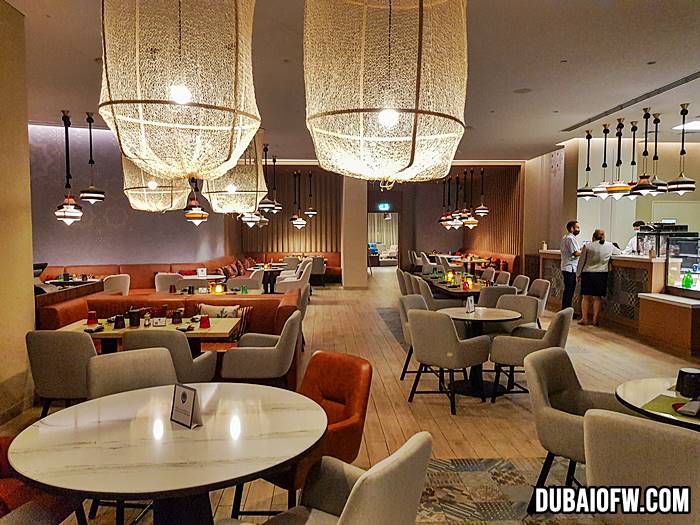 Fun Activities. There's a rooftop swimming pool and fitness centre where you can exercise or simply relax throughout the day. Aparthotel Adagio Deira Dubai also features "Kids Corners," which are filled with books, board games, and other things just for the little ones!
Discounts for Longer Stays. The longer you stay at the hotel, the less you will have to pay. Guests can expect to enjoy 15 to 45-percent discounts, depending on their length of stay. Utilities such as water and electricity are already included; plus, Internet is free!
Check Hotel Prices at Adagio Deira Dubai Here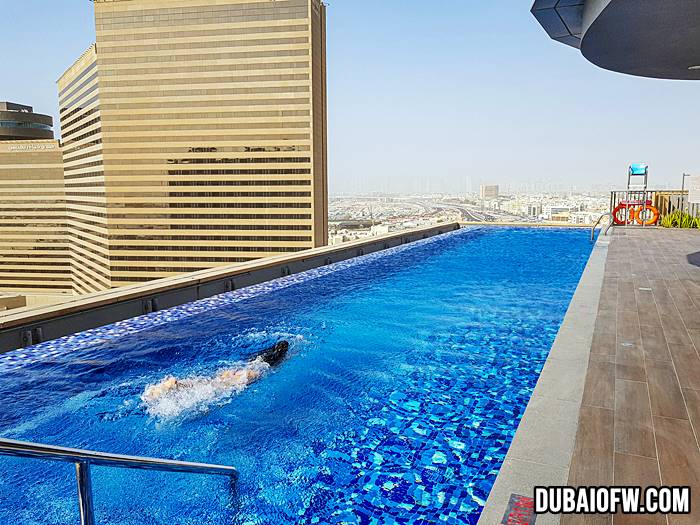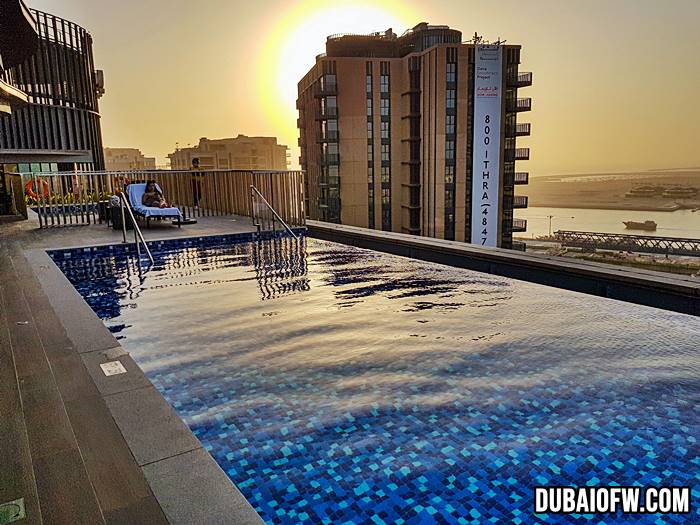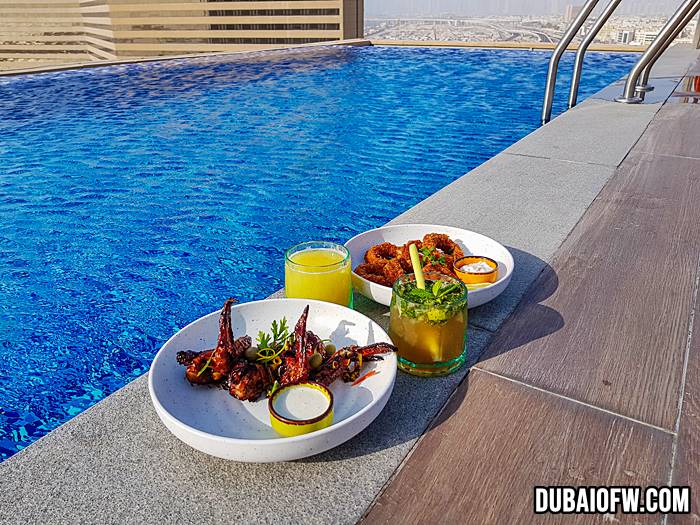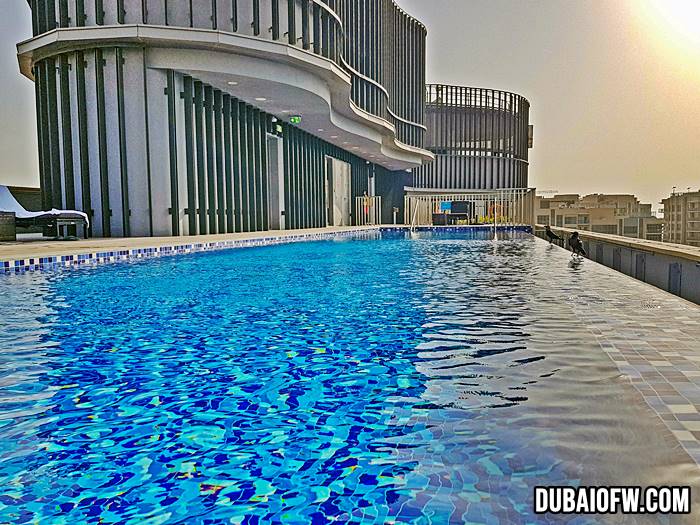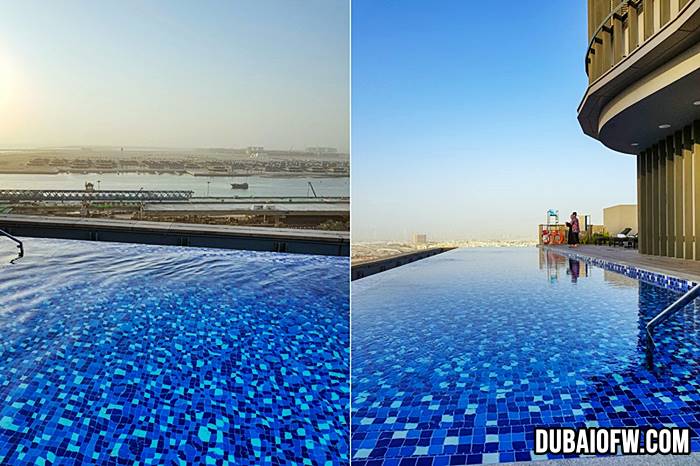 Check Hotel Prices at Adagio Deira Dubai Here
Nearby Attractions
You can look forward to a relaxing "staycation" at Aparthotel Adagio Deira Dubai, though you should certainly take advantage of its nearness to these landmarks and attractions:
Al Fahidi Historical District
Al Seef
Shindagha Historic District
The Boardwalk
Waterfront Market
… and many more!
Check Hotel Prices at Adagio Deira Dubai Here
Video: Aparthotel Adagio Experience
Here's a video to give you a virtual tour of what to expect when you have a staycation in this apartment hotel.
"Everyone is welcome at Aparthotels Adagio; we aim to give you the friendliest urban experience," states this video shared by Aparthotels Adagio on YouTube. Check it out!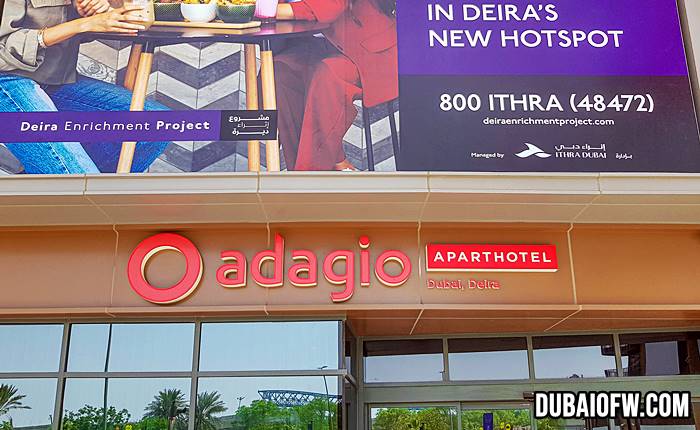 No matter how long you're planning to stay, Aparthotel Adagio Dubai Deira has everything you need! It's suitable for families, professionals, and solo travelers, too. Of course, during your stay, don't miss seeing these
great places
and trying these
fun activities
in Dubai!
Check Hotel Prices at Adagio Deira Dubai Here
Photo Album: Adagio Deira Dubai
Here are some pictures of Adagio Deira to give you an idea what to expect when you stay in this apartment hotel in Deira:
Contact Information
Aparthotel Adagio Dubai Deira – BOOK HERE
Address: 110 Al Khaleej Road, Deira, Dubai, UAE
Telephone: +971 4 233 9333
Email: HA7N6-RE1@accor.com
Website: https://www.adagio-city.com/gb/hotel-a7n6-aparthotel-adagio-dubai-deira.shtml
Facebook: https://www.facebook.com/AparthotelsAdagio
YouTube: https://www.youtube.com/user/AdagioAparthotels
Google Map Location
Aparthotel Adagio Dubai Deira is just a 15-minute drive from the Dubai International Airport. It is situated near many of Dubai's cultural and historic landmarks. Below is the hotel's location on Google Maps, for your reference: