UAE is one of the most sought after job destinations for expats. In terms of the availability of new career opportunities, Dubai is the most prosperous global city in the emirate that ranks higher in the 'top global job destinations'. Hence, this goes without saying that the job seekers face a stiff competition in grabbing the most lucrative job offers in Dubai.
If you've tried applying for various jobs in Dubai but are not getting the responses you hoped, you might be committing errors in the application process. You should check and identify the mistakes that are dragging you away from your dream job.
Job Search Mistakes that can Sabotage Your Career Hunt in the UAE
There are plenty of job opportunities in Dubai in different sectors such as hospitality, automotive, real estate and banking. However, without following the right job search strategy, one cannot land a job successfully. Here we share some alarming and real job search mistakes that trip up your efforts in getting a job.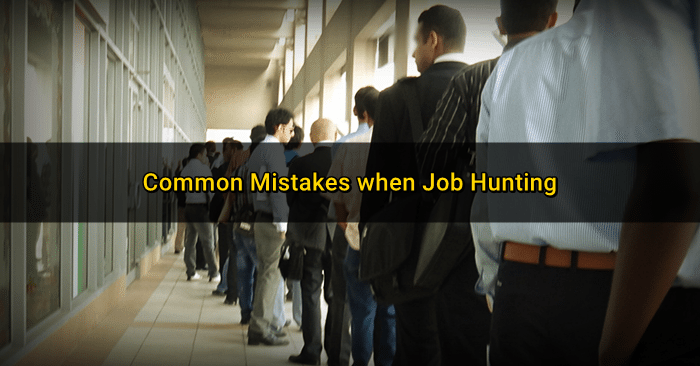 Avoid committing these mistakes…
1. Applying for any random job (especially when you're not qualified)
Too many job seekers make this mistake – applying for jobs they are not eligible for. Sending CV and e-mails to every job opening is the biggest mistake as there is no such rule that applying to the maximum jobs will enhance your chance to get the one! In fact, applying to any random job takes more of your time. The idea is to give quality time to only those jobs that you qualify in terms of qualification, skills and experience required. For instance, there is no point in applying to a job that seeks candidates with fluency in Arabic while you have no knowledge of the foreign language.
2. Falling prey to fake job offers
Many job seekers get caught into fake job promises given by unauthorized employment agencies in Dubai. In the urge of getting a job, people do less research about the employer, job offer, employment laws, and fall prey to agencies that charge high in exchange for guaranteed job and high income.
Related Post: How to Spot Fake Jobs and Scammers in UAE
Even if you wish to rely on such employment agencies, you should be extra cautious to watch out for the genuine ones. Moreover, regional online job portals are other useful options that can help you to apply to jobs in your preferred location, company and job role. Explore the hidden job market by directly uploading your CV on the company's website and even career networking can prove beneficial in finding relevant jobs.
3. Misrepresenting Information on Your CV
Many job seekers never hesitate to fudge their CVs to present the best information, and therefore, include inaccurate information related to education, previous job profile or education. Being dishonest creates a risk of getting caught up at the later stage of your employment, thus creating a situation of mistrust. Hence, always mention the accurate information on your CV.
4. Not building a Career Network
Continuing with the above mentioned idea of career networking, expanding network and building relationships is an important strategy for finding jobs across the globe. In fact, several researches have mentioned that a huge number of jobs are filled through career networking. Taking out time to build connections with old friends, colleagues, alumni, and other people available on online job communities pays leaps and bounds by finding professionals in your preferred industry, location or company.
Career networking involves a golden rule. Many people associate networking with asking everyone about a job only. However, sharing information and finding ways to reciprocate to others' needs is also vital for a successful networking.
5. Lack of Communication
Lack of communication is another major blunder that restricts the path of your successful job search. In this case, the lack of communication includes various factors such as a careless follow-up or giving a late reply to the employer's email. Firstly, it is important not to miss your contact details on CV so that the hiring manager can contact you. Many employers prefer to send an email that requires a prompt reply from your end. At last, sending a 'Thank You' letter post your interview is an important way of ensuring the follow-up.
—————
Keeping these simple, yet important tips play a crucial role in finding your dream job in the UAE. Get ready to speed up your career progression, now!
---
About the Author: Swati Srivastava

Swati Srivastava is an avid writer who loves to pen down her ideas and professional tips for job search, finding your career goal, and working abroad. Currently she is working for Naukrigulf.com. Reach her on LinkedIn/Twitter/G+.
---
Become a Dubai OFW Contributor!
Want to submit a helpful article or share your story/adventures in Dubai? – More Details Here