For today's OFW feature, we are proud to present an interview with Mr. Rico Cardoniga, Founder and Live Segment Host of Tatak Pinoy. He has been living in Dubai for almost 13 years now. Better known as "Kabayan Rico," he is certainly a man of many talents!
At present, Rico is the Ad & Promo Manager for Day To Day Hypermarket. He also happens to be a Vlogger, Emcee/Host, Author, and more. After office hours, he continues to "work" — hosting a live segment for Tatak Pinoy, creating a motivational video to be featured in his Facebook page, Kabayan Rico EMC, or simply serving the Filipino community. He has also published a book, titled "The 12 Habits of Highly Successful OFWs."
Rico's passion for serving the Filipino community has not gone unnoticed. He has been recognized as one of the "100 Most Influential Filipinos in the Gulf" by Illustrado Magazine, received the "New Media Personality" award from The Filipino Times in 2017, and more recently, an award from P.A.C.E. as "Global Inang Bayan Bayani Awardee."
So many things can be said about Rico as a speaker, author, and multi-awarded media personality. In the following interview, he talks about his previous jobs, what he likes about living in Dubai, and his plans for the future. We've also included one of his recent videos. Let's get to know more about Kabayan Rico through this one-on-one OFW interview!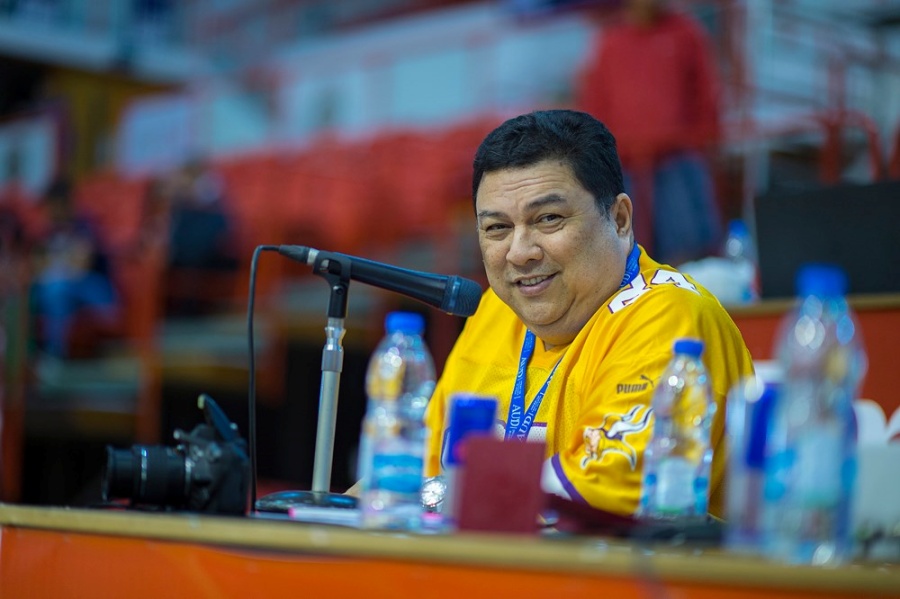 OFW Feature: Rico Cardoniga, Founder of Tatak Pinoy
Name: Rico Cardoniga
Nickname: "Kabayan Rico" / "Day to Day"
Current Profession: Ad & Promo Manager, Day To Day Hypermarket / Founder & Live Segment Host, Tatak Pinoy Loud & Proud
Education: Degree in Accounting, University of San Carlos
Years in Dubai: Almost 13 years
1. Tell us about yourself.
Hi ! I've got an old-fashioned name — ENRICO — but people in the community call me by two different names… Followers of Tatak Pinoy would normally call me as "KABAYAN RICO," but Filipinos from Bahrain, Qatar, Kuwait, Saudi , Oman would call me "DAY TO DAY" because of the TV exposure I got from TFC as the Brand Ambassador of the retail store. I work full-time as the Ad & Promo Manager of Day To Day Hypermarket, and at the same time as live segment host of all the live segments of the Facebook Page – TATAK PINOY LOUD & PROUD — as its founder. Born under the Scorpio sign , year of the Metal Ox (1961). A product of the University of San Carlos with a degree in Accounting but landed in Broadcasting. I've been working here in the UAE for almost 13 years.
2. Why did you come to Dubai?
When recession hit Saipan in 2008, my friend invited me to explore the opportunities in Dubai, so I left the islands called CNMI [Commonwealth of the Northern Mariana Islands] only to be welcomed by another recession. I exited 7 times before I finally landed a job in an events company, made a career shift to the field of Health & Safety after completing a Diploma in Safety & Fire Engineering, but shifted to Ad & Promo.
3. What were your previous jobs?
During my second year in college, I got my "baptism of fire" in the radio industry in an AM Music station in Cebu City. After 6 months, I was offered by the management of DYSS-AM of GMA 7 Cebu to join their roster, then I got a break from DYBU-FM and started 92.3 Killer Bee-FM in 1992 as the Station Manager for 10 years, before working in Saipan for 5 years as the resident DJ of GIG Discotheque.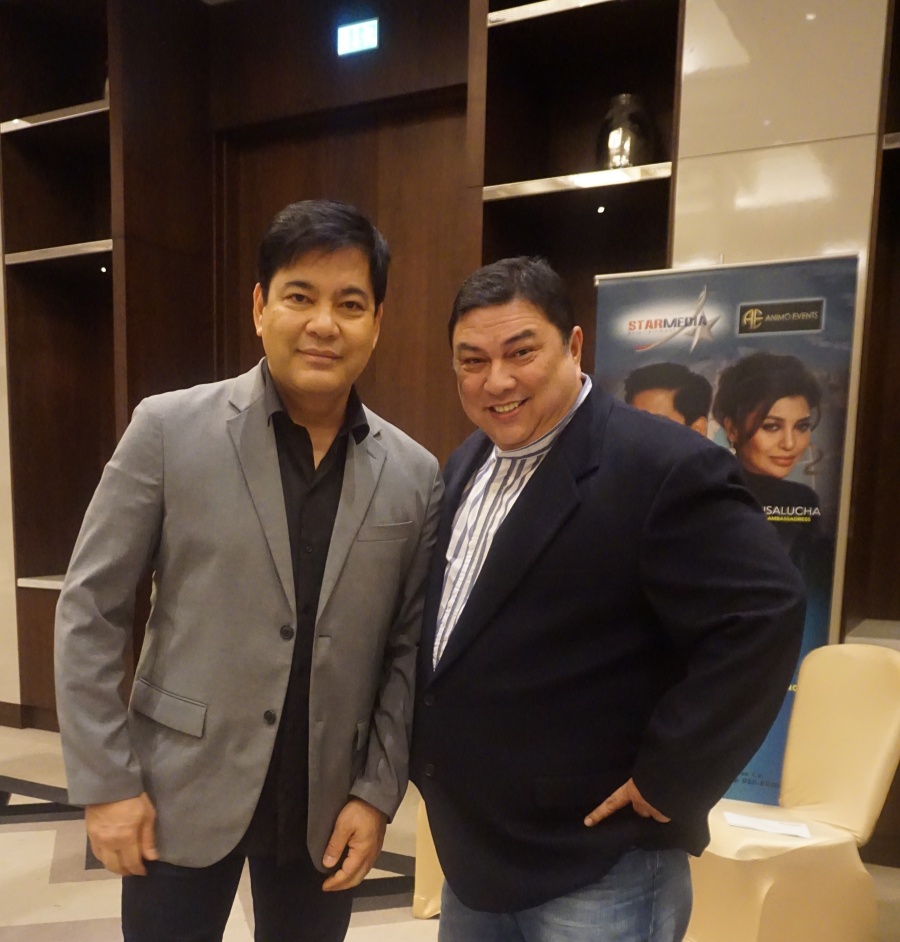 4. How do you find your current job? Are you happy/satisfied with it?
My present job gives me fulfillment, because I'm able to utilize my expertise and skills in broadcasting and advertising, apart from the opportunity to reach out to more people in the community. And also, I'm blessed to have a good boss!
5. Are you able to save in Dubai? Or do you have any investments you wish to share?
In my first 5 years in Dubai, I had a hard time saving because of the previous obligations that I needed to settle. I learned my lessons the hard way. For the past 5 years, I religiously set aside an amount monthly for my savings. Any other extra amount generated from my services as emcee/vlogger, I invested it in buying non-fiction books, which are hard-to-find collections in the areas of leadership, personal branding, management, goal setting, and success, apart from personal development books. I also published my own book last year, titled "THE 12 HABITS OF HIGHLY SUCCESSFUL OFWs."
6. Is it difficult to live in Dubai? What are your struggles? What's life like outside work?
Dubai is a land of opportunities! Although there are restrictions as far as doing part-time jobs, if you know how to do it the right way by following the legal process, you will definitely get a break. My regular working hours at Day to Day is from 9:00AM to 6:00PM. After office hours, I'm always occupied hosting the live segments of TATAK PINOY LOUD & PROUD, aside from creating content for my other Facebook Page — KABAYAN RICO EMC — which is a page for Motivational Videos. With my passion to serve the community thru TATAK PINOY, I was included by Illustrado Magazine as one of the 100 Most Influential Filipinos in the Gulf for 2 years, and awarded by the Filipino Times as the NEW MEDIA PERSONALITY back in 2017. Last year, I received an award from P.A.C.E. as GLOBAL INANG BAYAN BAYANI AWARDEE 2020.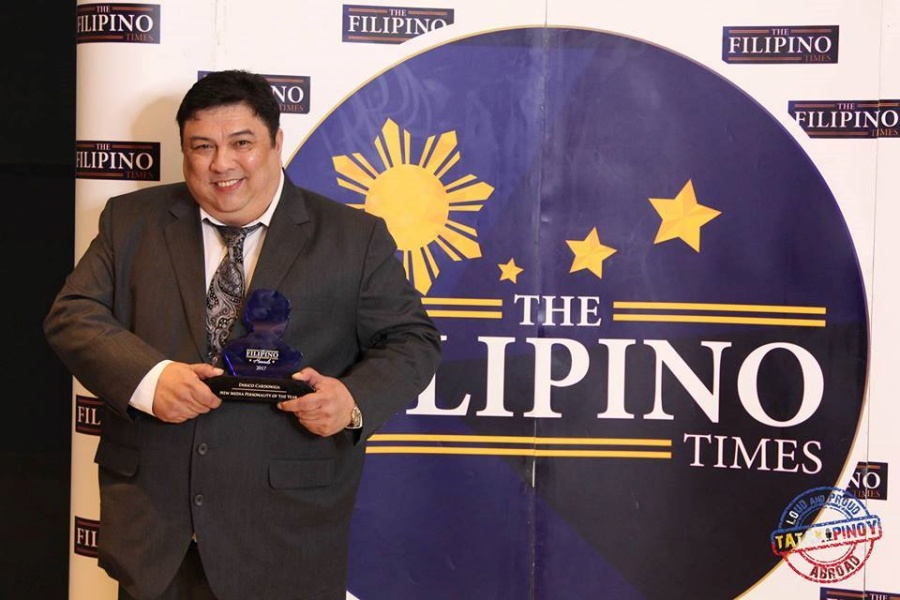 7. What do you like about Dubai?
Dubai is the best place to stay because of the opportunities to excel, no income tax, you will have a greater chance of "sharpening the saw" because of so many learning centers, and the most important thing for me is… I feel SAFE. Even if you take a stroll at 3:00AM early morning, you can walk freely without the fear of getting hurt by somebody. The law is being imposed here and that sets the big difference!
8. What do you NOT Like about Dubai?
The main reason why I quit my job in Health and Safety was because of the hot weather outside, especially during the months of June to August. I really can't stand hot temperatures outside and the humidity as well.
9. What are your plans in your career/family/future?
I would like to settle down in our home country after two years, have my own farm, and put up my own training center. Training people is really my passion!
10. You have any tips for kabayans when working/finding work/living in Dubai?
As "economic refugees" in this side of the world, we should always remember the ultimate reasons (deep reasons why), the driving force why we left our families behind in search for greener pastures in a foreign country. We all came here because of the burning desire to achieve our dreams: building a better house for our families, sending our kids to better schools, traveling to beautiful places, driving your dream car, and establishing a business. However, when we arrive here, we tend to lose our focus. Temptations abound… We quickly adopted the lifestyle change… influenced by peers, associates, and our environment. And that is the reason why many are living from paycheck to paycheck, chasing the elusive dreams, in spite of the fact that we already spent decades of our lives toiling abroad. Let's be reminded of our real intent why we made the big sacrifice of leaving our families behind. My book titled "THE 12 HABITS OF HIGHLY SUCCESSFUL OFWs" will serve as a reminder to all OFWs.
BONUS: Is there anything else you'd like to share with our readers?
I just uploaded a new video, which serves as a reminder for OFWs to prepare for their retirement. Check out the video below, as shared via my Facebook page:
Connect with "Kabayan Rico" on Social Media
To know more about Kabayan Rico and to watch his videos, you may follow and connect with him through these social media channels:
Facebook Pages: Tatak Pinoy Loud & Proud, Kabayan Rico EMC
Instagram: @mismasterric
YouTube Channel: Tatak Pinoy
Website: http://www.enricocardoniga.com/
—————-
*Photos provided by Rico Cardoniga
Are you an expat in Dubai? Do you want to be featured in the website? Send us an email telling us you want to be featured at admin@dubaiOFW.com and we will send you the set of questions! Let's help other Pinoys who want to come to Dubai understand what life in the UAE is like through your story.