Calling all book lovers and lovers of everything about the UAE, don't miss your chance to charge your brain deposits of invaluable information about the Arab culture and mostly the UAE by visiting the recently opened Qasr Al Watan Palace Library in Abu Dhabi.
And while you're at it, be sure to check out the nice places and fun things to do when you're visiting Abu Dhabi – that is if you haven't yet!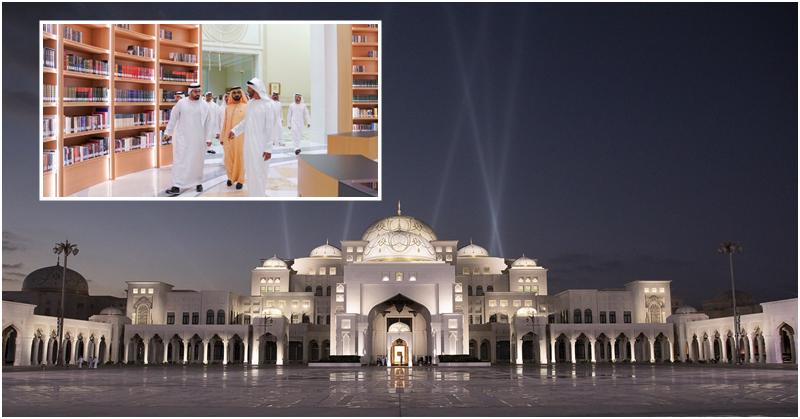 Find Books on Everything About UAE at Qasr Al Watan Palace Library
The new Qasr Al Watan Library, which is housed inside the Qasr Al Watan Palace in the Presidential Palace compound, has been opened to the public since March 11. This marks the all-too important addition of a new major attraction to Abu Dhabi's cultural and tourism assets, as shared in a report by WAM.
Not only will you get an up-close experience of the Presidential Palace, which, by the way, is among a handful of publicly accessible presidential palaces in the world — you may also get your hands on over 50,000 titles on different branches of science, as well as a wide range of well-preserved literature about the UAE, collected for over 35 years.
The library also provides access to references on historical and geographic elements, as well as on the development of the UAE, socially, economically, politically, and culturally.
Moreover, visitors can get an access to an extensive collection of the UAE's legislative material, official and historical documents, as well as documents touching on the history of the region.
The library's collection offers various publications from cultural institutions, research centres, and official bodies, as well as UAE publishers. The collection serves as the foundation for future expansion of the library through more diversified and interactive programmes that will serve public interest, as well as promote the development of the paper and electronic publishing and multimedia industry in the UAE.
ALSO READ: Join Guided Tours at Iconic Mosques in Abu Dhabi Soon