For our latest OFW feature, we interviewed Maricel Lumbab Ibonalo, a 34-year-old Filipina based in Dubai. She currently works as an Accountant Assistant and Customer Service for a money exchange center. She has been living in the UAE for almost 7 years.
In the following interview, Maricel, or simply "Marz" as she is often called by friends, talks about the ups and downs of living abroad. Indeed, she has been through a lot of struggles in life, from being a working student in her younger years to experiencing personal problems in the family, as well. Despite all of these hardships, Marz has remained strong and full of hope; her past trials have made her into the strong woman that she is today!
Like most OFWs, Marz is also focused on providing for her family back home, especially her nephews and nieces. Someday, she would love to start her own family, too. She is also looking forward to starting her own business and building her own home in the Philippines. Keep on reading to learn more about our fellow kabayan, Marz, and her inspiring story!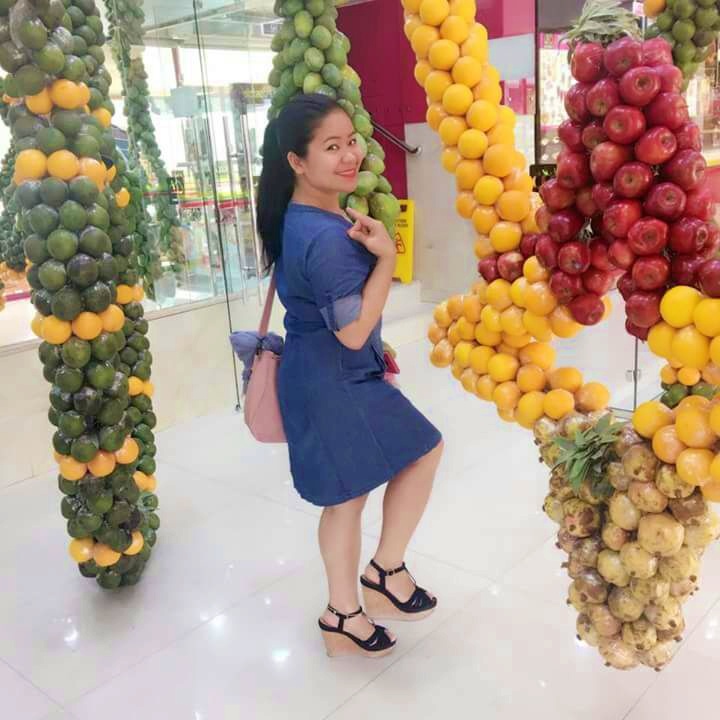 OFW Feature: Marz, Accountant Assistant in a Money Exchange Center
Name: Maricel Lumbab Ibonalo
Nickname: "Marz/Mari"
Age: 34 years old
Current Profession: Account Assistant for a Money Exchange Center
Years in UAE: 7 years
1. Tell us about yourself.
Hello! I am Maricel Lumbab Ibonalo, a pure Cebuana beauty. I am 34 years of age, still single. Most of my friends call me as Marz/Mari for short. I had my late education at the age of 11, and I completed my degree at the age of 25 years old.
From my primary years until college, I was a consistent top student. As a student, I never had the chance to waste a single moment of it out from my studies. My daily routine during those times consists of going only from home to school, doing school activities, and participating/attending activities that are still related to studies. I never had a nightlife as a teenager; instead, I was busy working for my survival.
I am currently working as an Accountant Assistant and Customer Service in one of the financial/exchange houses in the UAE. I have been in the UAE for almost 7 years. I am a self-driven, passionate, goal-oriented, persevering, and well-determined person!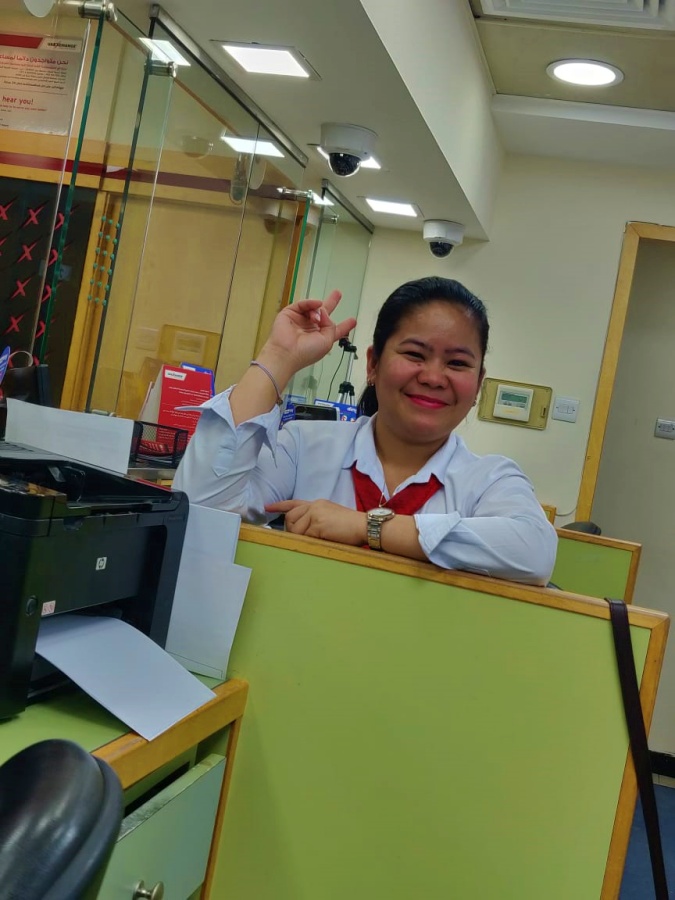 2. Why did you come to Dubai?
Actually, working abroad wasn't my first choice; it only happened when I felt degraded in my first job in the Philippines. Right after I completed my degree, I was in a hurry to get a job.
In God's grace, while I was working as Warehouse in-Charge and Admin Staff in one of the Cherry Mobile Distributors in Cebu area, I challenged myself to give a try to apply for an overseas job.
My first attempt wasn't that successful, even for my second application for Kuwait as an on-call cleaner. For my third time, I visited the Public Employment Service Office (PESO) in our place, and on that day, there was an event involving an interview bound for the UAE, in a fast-food chain company.
Since then, I gained experience working as part of the crew in one of the most popular fast-food chains in the Philippines: Jollibee. I took the opportunity to attend the initial interview.
On that day, I wasn't wearing proper clothes. I mean, I was just passing by to look over the job postings on the board, when one of the staff assigned to that event informed me to grab the chance to put my name on the list while the interview panel was still going on. It was late in the afternoon, and of course, in my eagerness to get a job, I wrote my name on the last page of the sheet.
To make the story short, I passed the overall screening on the interview out of 50 applicants who applied for the said job, as a Team Member for Kuwait Food Company (Americana), which is very popular in the UAE food industry. I came to the UAE on an employment visa last February 2015.
3. What were your previous jobs?
My previous jobs are as follows:
Warehouse In-Charge/Admin Staff – Philippines (2013-2015);
Team Member for Kuwait Food Company (Americana) – UAE (2015-2017);
Front Desk Receptionist for Aramex – Fujairah (March 2017 – July 2017, part-time);
Exhibitor/Counter Staff for Global Village (November 2017 – April 2018, seasonal);
Junior Associate/Sales Consultant Officer for UAE Exchange LLC (October 2018 – December 2020) (I decided to resign due to the company's internal issue, which you may have heard about from the news); and
Accountant Assistant and Customer Service for Naseem Al Barari Exchange (December 2020 – Present).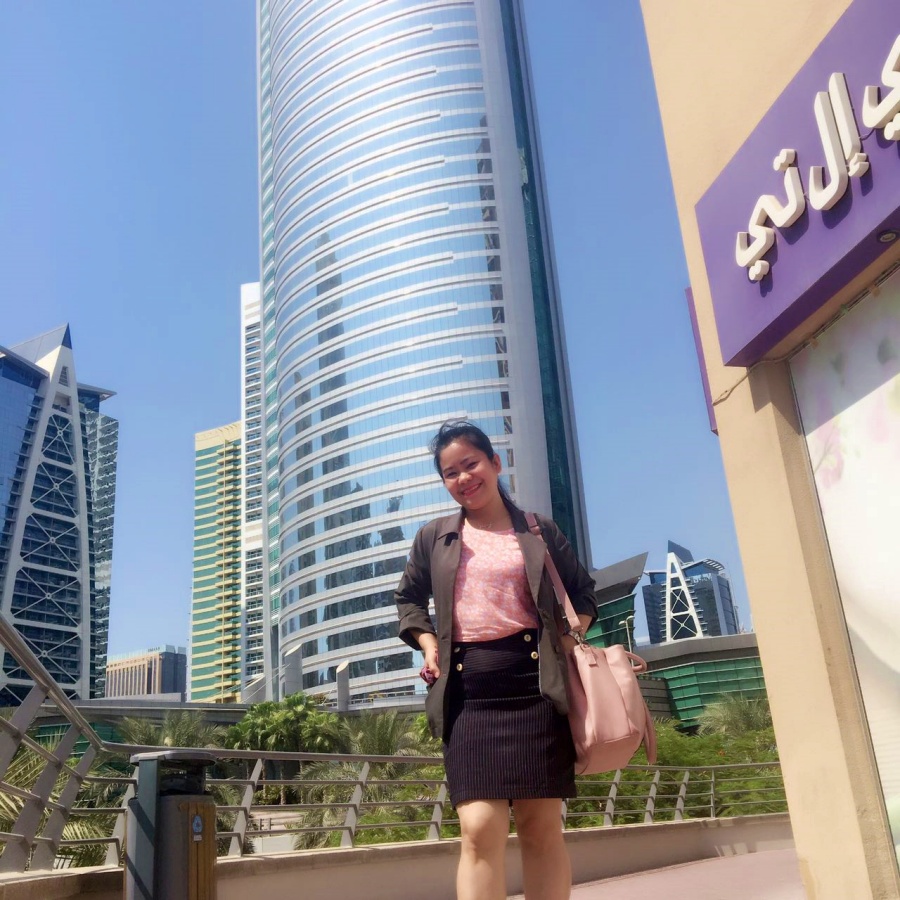 4. How do you find your current job? Are you happy/satisfied with it?
I found this job through connections. Actually, this job is a blessing in disguise… why? Because during the pandemic, I almost lost hope to survive, along with many other workers. Many of us went into depression, anxiety, and unconscious state of mind, thinking about how we would be able to cope with stress.
Until one day, a good friend of mine sent me a job posting, which he saw from a website and told me to just give it a try to send my CV. I did it without hesitation because I was already upset waiting for the previous company to reopen again, but it took a couple of months of waiting with no progress from the management, so I decided to move out from our accommodation and shifted to Dubai, hoping to find a better opportunity. Thus, I got this current job, in God's grace. I am happy with my new environment; no pressure at work and I love what I do, although the salary is a bit less compared to my previous job.
Savings? Life in Dubai is a bit tough compared to other Emirates. In Dubai, the cost of living is quite expensive. Everyone dreams to have a good life for the family back home. Being an OFW, family is our top priority, right? So even we're paid less at work, we accept it for the sake of our family's needs, same as mine too.
I am single but full of responsibilities to fulfill. It's like I am married to responsibilities towards my loved ones. Helping my family, relatives, and friends is my way of investment. I love to help them as much as I can.
6. As a family, is it difficult to live in Dubai? What are your struggles? What's life like outside work?
Yes, it is hard to survive here if you don't have a good job. Talking about struggles, I have so much to say, but I won't make it long here because I don't want anyone who would wipe tears upon reading my testimony, hehe. A slight joke only! But to be honest with you, my life journey isn't that easy compared to other people. I need to work hard for me to survive and make my loved ones stay happy.
I want them to be happy, especially my nieces and nephews. I want them to focus on their studies. I don't want them to suffer the same thing I did before, such as begging for help from my relatives to pursue my studies. Indeed, it was the worst feeling because no one offered help; instead, my aunt wanted me to work for them as a maid.
But instead of accepting her offer, I decided to look for other ways to support my studies, so I was a working student for a year with a friend of mine who had a job as an intern physician near our place. They treated me as a family member; what they ate, I also ate the same way. Sometimes, they gave me an allowance for school aside from the salary I was getting from them monthly.
In short, they have been good to me until now. Later on, during my second term in college, I decided to move out from them since another friend of mine had offered me another light job, which is only to take good care of her grandmother and I visited them during weekends or monthly, and provided their basic needs.
They also treated me fairly, as their part of the family. They were nice to me, which is the opposite treatment I got from my own family. I am the type of person who is full of ups and downs in life, but I never think that it's the end of the world; instead, I feel a little bit strange and challenged on the path I'd been walking on why it's too early for me to witness that kind of life.
Moreover, my life wasn't good enough to talk about, but one thing I could be proud of myself for is that I was able to handle things in the right manner. From bad experiences during childhood days, I never took it negatively; instead, I took it as a challenge for me to be the strongest among my siblings.
In the family, I am the 10th out of 12 siblings. My second and 12th had died a long time ago. They died due to unknown diseases. My parents were just ordinary people residing in the small town of Talisay City, Cebu. Our way of living was through farming. We were trained early to do the household chores and most of our time was spent on the farm.
We were not even allowed to take our meals if we didn't finish the tasks given by our father. My father was totally different from others; for us, he's the worst father… We could not eat the food he is eating, most of the time we ate only root crops, but for him, our mother used to cook delicious dishes. We were raised differently; most of my siblings left our village early because of our father's maltreatment. It was like we were living in hell. Lots of bad things happened to us during our childhood days. I had witnessed things that a child should have not experienced.
During my 7 years in the UAE, I'd been struggling too. I started my job here as a team member, which only received less salary for a 24-month contract. I could not provide for the needs of my family and for myself, either.
I went through 6 months of adjustment for food to take, sleeping mode, work environment, and the weather itself. It took me a couple of months to adjust to the situation. I even suffered insomnia due to the workload I had experienced. Long hours of work, less time to sleep.
When my contract was about to end, I decided not to renew, even if the management did their best to convince me but I refused to do so. Though I was aware to look for a job here during those times yet I gave my best. For almost one year I struggled to get a good job until I was hired in an Exchange company.
I thought I could finally fulfill all my plans in life, but everything was falling apart again when my company had encountered internal issues. I won't elaborate what it is but somehow, that kind of situation taught me a lesson, not to be too confident with the job you're in right now. It's good to keep a little amount from your salary for emergency purposes.
In short, I am one of those who suffered trauma or child abuse, but all of those things made me the strong person I am today. A woman without fears but God only. For all, I've done in the past and until now, only God is there to give me strength and hope to go on in life.
One of the most valuable lessons I learned from the past is that I shouldn't be too hard on myself. Whatever may happen will happen, by the will of God. I'll just go with the flow and enjoy life. Life is too short to be wasted on things that are stopping or holding me back in the past. I'll just stay quiet and be calm as much as I can.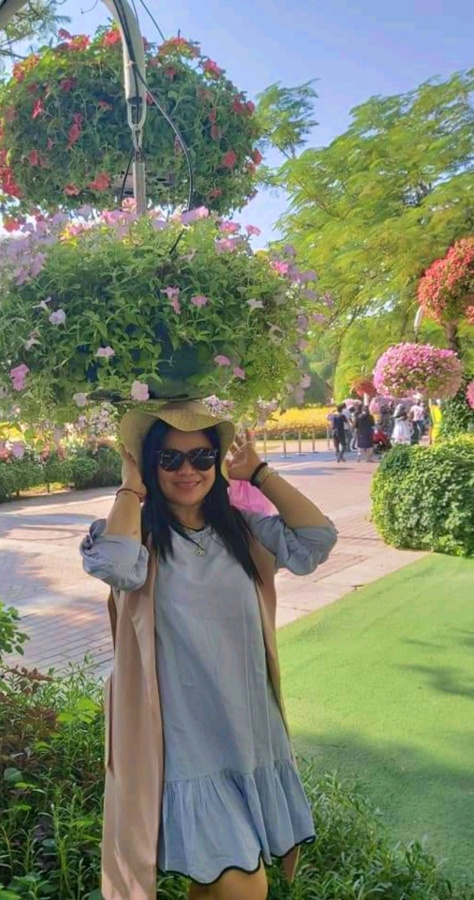 7. What do you like about Dubai?
The things I really love about Dubai are those places which I never thought I could witness or experience. Lots of beautiful spots to enjoy even if you're alone. Mostly, I enjoy going to the Dubai Mall, Dubai Miracle Garden, Dubai Global Village, etc. For me, the UAE is the safest place to stay in.
8. What do you NOT Like about Dubai?
Usually, I don't like the noise, crowds, and the hot temperature during summer.
9. What are your plans for your career/family/future?
I have lots of plans. Of course, for myself… I've been longing to have my own house back home. Just a simple house; for me, that's a great fulfillment. I also want to support the needs of my nieces and nephews in their studies. And if given a chance, I'd love to build my own family… kids and a good husband, too.
I am still hoping that one day it will come to reality, hahaha. Seriously, I dream to build my own house and put up a small business like a rice field or a convenience store soon.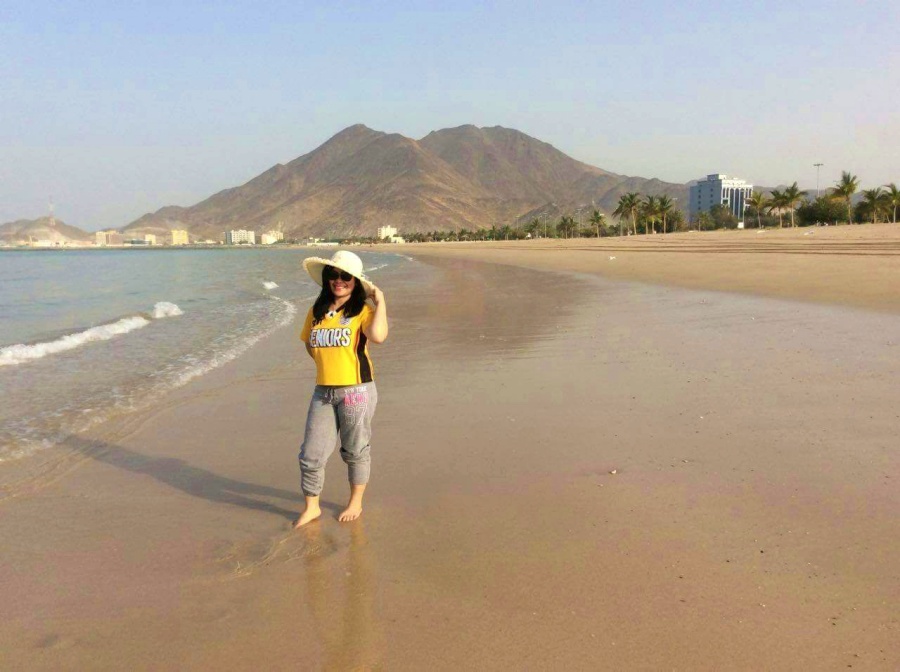 10. You have any tips for kabayans when working/finding work/living in Dubai?
To all my fellow OFWs around the globe, never lose hope in achieving your dreams and goals in life. We might encounter lots of challenges along the way, but it doesn't mean that we are weak.
Instead, let us prove to ourselves that we are ready to face any obstacles that will come to us. For people like us, we are brave, persevering, and goal-oriented. We Filipinos are known to be talented and skilled internationally, especially in hospitality.
Forgive those who ask for forgiveness. Learn to forget the pain of the past. And be yourself. Stay healthy and safe! As for me, I will do my best to help as much as I can. I love my family, relatives, and friends.
————–
*Photos provided by Marz
Are you an expat in Dubai? Do you want to be featured in the website? Send us an email telling us you want to be featured at admin@dubaiOFW.com and we will send you the set of questions! Let's help other Pinoys who want to come to Dubai understand what life in the UAE is like through your story.