This month (July 2021), the Philippine government will launch a campaign to secure repatriation planes for stranded overseas Filipino workers (OFWs) in the UAE through the Department of Foreign Affairs.
READ ALSO: How to Renew Philippine Passport at PCG Dubai, UAE
In accordance with this, the Joint Advisory of the Philippine Embassy in the UAE and the Philippine Consulate General in Dubai and the Northern Emirates has defined four types of repatriation flights. OFWs are also advised not to go home and use the repatriation flights if this is NOT necessary.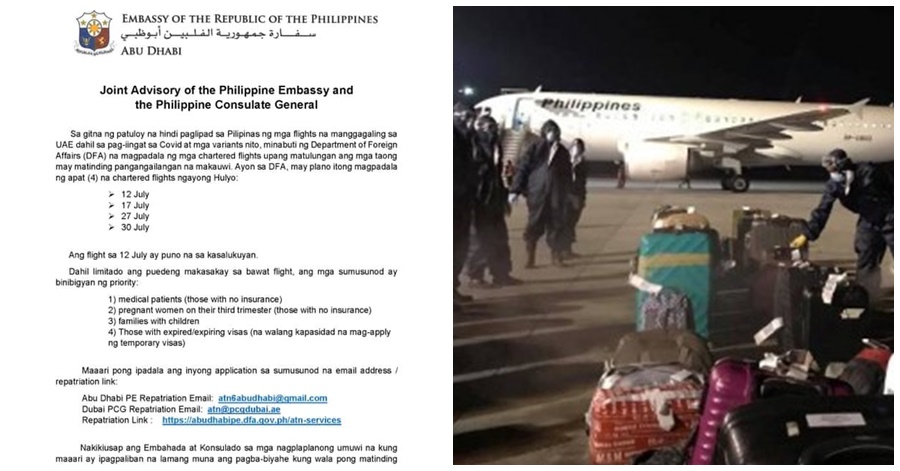 PH Gov't Announces Categories for OFW Repatriation Flights for July 2021
In a statement, the Philippine Embassy in the UAE urged Filipinos who plan to come back home but have no urgent matters to deal with in the Philippines, to defer traveling for now because there are not enough chartered flights for repatriation.
"Nakikiusap ang Embahada at Konsulado sa mga nagpaplanong umuwi na kung maaari ay ipagpaliban na lamang muna ang pagba-biyahe kung wala pong matinding pangangailangan maka-uwi," the joint statement read.
Earlier, Philippine Consul General Paul Raymond Cortes stated that the Philippine government will charter more flights based on quarantine facility availability.
There will be 4 repatriation flight schedules as per DFA announcement:
July 12
July 17
July 27
July 30
Based on the categories, these are the following passengers who will be given priority for the repatriation flights:
medical patients (those with no insurance)
pregnant women on their 3rd trimester (those with no insurance)
families with children
those with expired/expiring UAE visas (with no capacity to apply for temporary visas)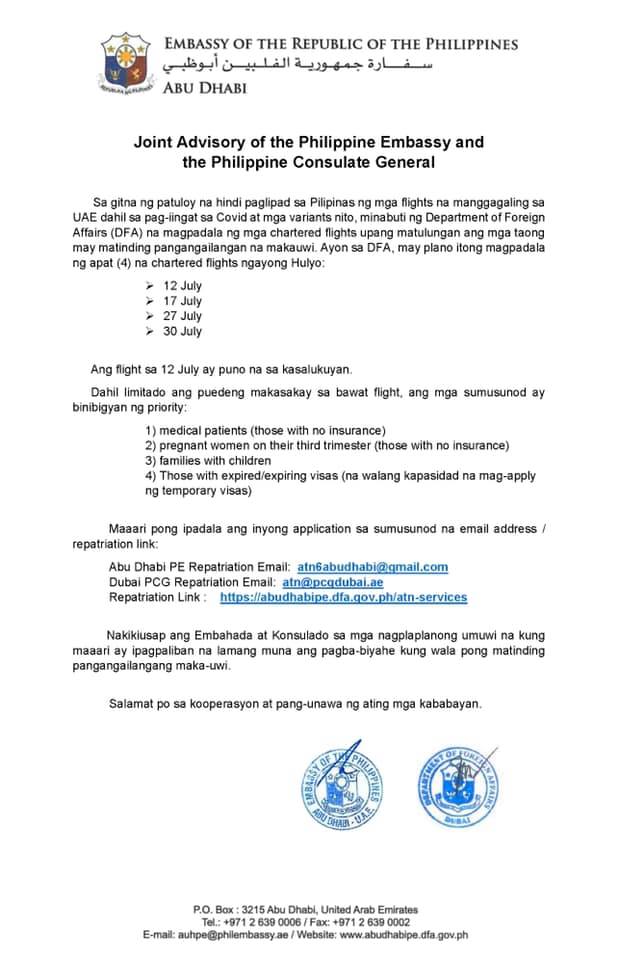 How to Apply for Repatriation Flights
Send an email for the application of the repatriation flights via the following channels:
Below is the Facebook post advisor from the Philippine Embassy in UAE:
In response to the spread of the extremely contagious Delta version of COVID-19 in the region, the Philippines implemented a travel ban in the UAE, India, Pakistan, Bangladesh, Sri Lanka, Nepal, and Oman, preventing most Filipinos from the nation from coming home.
READ NEXT: Repatriated OFW from UAE Starts New Business in the Philippines