For Filipinos currently living in the Dubai and wish to get married, the following documents must be submitted to the Philippine Consulate General Embassy located in Al Qusais. Below are the steps and requirements to accomplish in different scenarios.
Note: Only Filipino Citizens (both parties) can be married at the Consulate General.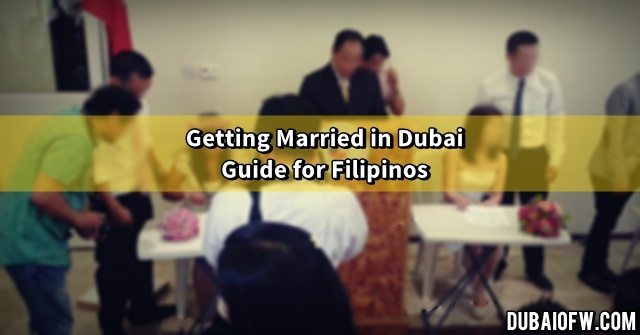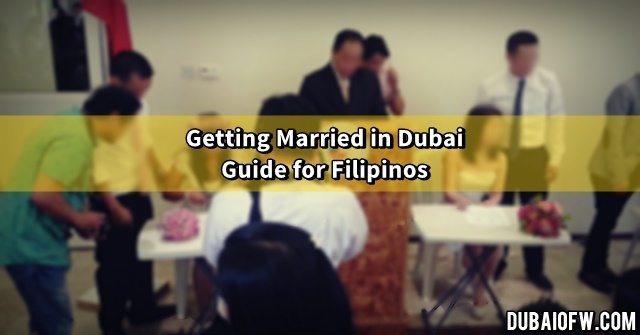 Requirements for Filipino Marriage at the Philippine Embassy in Dubai
General Procedure & Requirements:
Submit duly filled out forms and other requirements specified in Case A to Marriage Section.
Proceed to the Cashier for payment.
A date of marriage shall be given to Filipino prospective couples.
Return on given date of marriage with at least two (2) witnesses and original receipt. Proceed to Marriage Section.
Report for Marriage Fee: AED 340
Important Reminders:
If one of the contracting party was previously married, submit original duly authenticated/DFA-authenticated Annotated Marriage Contract, Finality of Dissolution of Marriage, and amended passport.
The Marriage Section is open from Sunday to Thursday except holidays (Both Philippines and UAE). No processing/application on Thursday to give way to solemnization of marriage.
All forms must be computerized / typewritten in Block Format.
A. If both parties are Filipino citizen, you need to submit the following to the marriage section of Consulate:
Signed marriage contract
Report of Marriage
Marriage License
Passport of contracting parties
B. If one of the contracting party is not a Filipino citizen, you need to do the following:
Fill out Report of Marriage Form.
Submit one (1) Original and five (5) Photocopies of "English Translated Marriage Contract" duly attested by Ministry of Justice and Ministry of Foreign Affairs, Dubai at Marriage Section Marriage Section.
Submit five (5) color photos and five (5) passport color copies of both parties.
Pay appropriate Courier Fee.
Proceed to Cashier for payment.
Transaction complete. Wait for delivery of document via courier.
Important Reminder: If marriage was not reported within 6 months from the date of marriage, you  need to submit and Affidavit of Delayed Registration (five copies) Additional 100AED.
————————————————————–
Different Scenarios of Reporting Marriage in Dubai Consulate General
Requirements in reporting for marriage may vary depending on the situation. Below are the cases and their requirements:
For Filipinos Planning to Get Married in the Consulate General's Premises, you need to accomplish the following:
Marriage Application Form for License
Joint Affidavit of Witnesses Form
Marriage Announcement Form
Required Enclosures
Original DFA-Authenticated NSO Certificate of Non-Marriage (CENOMAR), and Original DFA-Authenticated NSO Birth Certificate Note: (Cenomar is valid for 6 months from the date of issuaces and it must be "For Marriage Purposes")
Passport Copies and Visa Copies of Groom, Bride, (2) Witnesses
(2) color copies each recent passport-size photos of bride and groom
Original DFA-Authenticated Advice of Parents for applicants aged 21-25
Original DFA-Authenticated Consent of Parents for applicants aged 18-21
For Filipinos Planning To Get Married In Other Venues Recognized by the UAE Government
(2) Marriage Application Forms for Certificate of Legal Capacity to Contract Marriage (LCCM)
(1) Joint Affidavit Form
(1) Marriage Announcement Form
(1) Report of Marriage Form [properly filled up, clear , complete and legibly]
Required Enclosures
Original DFA-Authenticated NSO Certificate of Non-Marriage (CENOMAR), and Original DFA-Authenticated NSO Birth Certificate
Passport Copies and Visa copies of Groom, Bride, (2) Witnesses
(2) pcs. of each recent color passport-size photos of bride and groom
Original DFA-Authenticated Advice of Parents for applicants aged 21-25
Original DFA-Authenticated Consent of Parents for applicants aged 18-21
For married Filipino Muslim males, Original DFA-authenticated Consent of First Wife
For a Filipino Planning To Marry a Foreigner (Note: Only Filipinos can be married at the Philippine Consulate General)
(2) Marriage Application Forms or Certificate of Legal Capacity to Contract Marriage
(1) Joint Affidavit Form
(1) Marriage Announcement Form
(1) Report of Marriage Form [fill up clearly & legibly]
————————————————————————————
Required Enclosures
For the Filipino Applicant
Original DFA-Authenticated NSO Certificate of Non-Marriage (CENOMAR) and Original DFA-Authenticated NSO Birth Certificate
Passport Copies and Visa copies of Groom, Bride, (2) Witnesses
(2) pcs. each recent color passport-size photos of bride and groom
Original DFA-Authenticated Advice of Parents for applicants aged 21-25
Original DFA-Authenticated Consent of Parents for applicants aged 18-21
For the Foreign Applicant
Original Certificate of Civil Status from the Applicant's Embassy or Consulate in the UAE
If already married Muslim [for Males only], written original Consent of First Wife authenticated by applicant's Embassy or Consulate in the UAE
FOR UAE NATIONALS ONLY: Written consent from parents notarized by a local lawyer and, if already married, written Consent by First Wife, also notarized by a local lawyer
(2) new passport-size color photos and (2) color copies of valid passport
Certificate of Good Moral Character from the UAE Police
Original Certificate of No Objection to Marry from the employer TO INCLUDE information on Salary, years of service or employment
Joint Affidavit of (2) witnesses of the same nationality as applicant