In case you are wondering how you can pay your RTA Dubai traffic fines online, we have created the step-by-step guide in order to help you. We have gone through this process ourselves as we also have some fines to pay.
Related Post: How to Get a Driving License in Dubai
Please be advised that you will need to settle your fines before you renew your car license registration. Also, from time to time, the government tends to offer traffic fine discounts so it is best to take advantage of the discount when it becomes available.
Here's a video tutorial to follow a step by step process when you visit the RTA website online:
In case you don't want to watch the video above, you may also check the detailed procedure below with screenshots. We hope that you find this step by step process helpful as you settle your traffic fines online.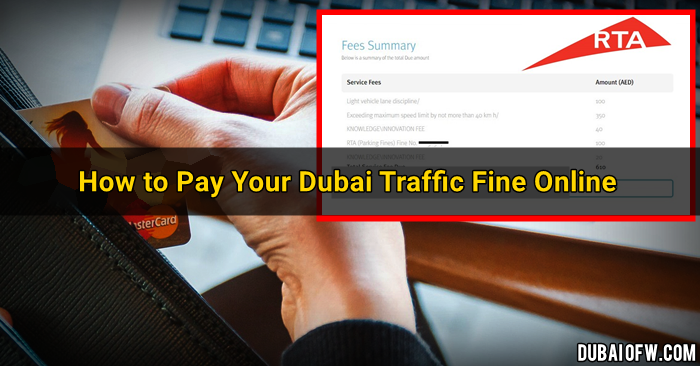 The government has made it convenient for us because there are many options to pay your traffic fines, such as through kiosks, banks, etc. But in this scenario we will look into how you can go online to the official website of RTA (Roads & Transport Authority) to search for your fines and that pay them right away.
Step by Step Guide to Paying your RTA Dubai Traffic Fines Online
The RTA website is actually pretty straightforward, but just in case you need some more assistance, below is the process with some screenshots.
Step 1: Go to this website: https://traffic.rta.ae and search for your Fines by entering your car details (plate number, license number, etc). In our case, we chose option one as it was much easier for us. Type the verification code and click "Search"
Step 2: A page with your list of Fines associated with your vehicle will show up. You can select all to pay all your fines, or choose the ones you want to pay first (depending on your budget). Click "Continue"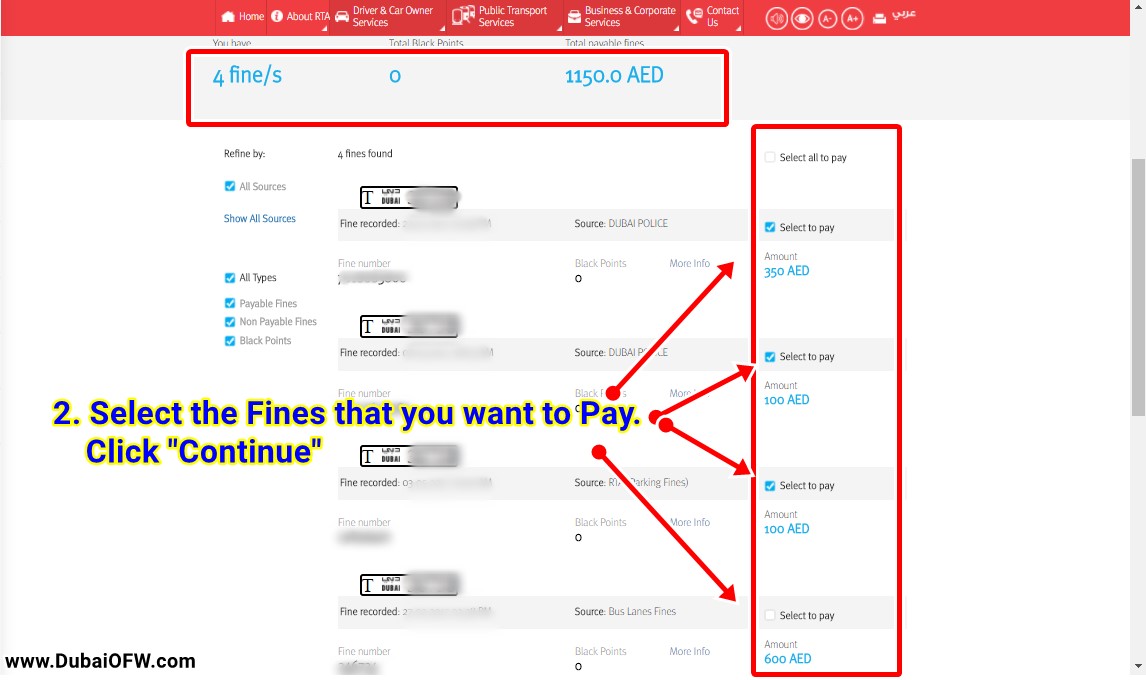 Step 3: Enter your Traffic File Number and Birth year. There will be a pop-up window that will require you to verify that you are the owner of the car you're about to pay. The Traffic File Number can be found in your vehicle license registration card (the yellow or gold card) under the 'T.C. number'. Click the "Confirm" button.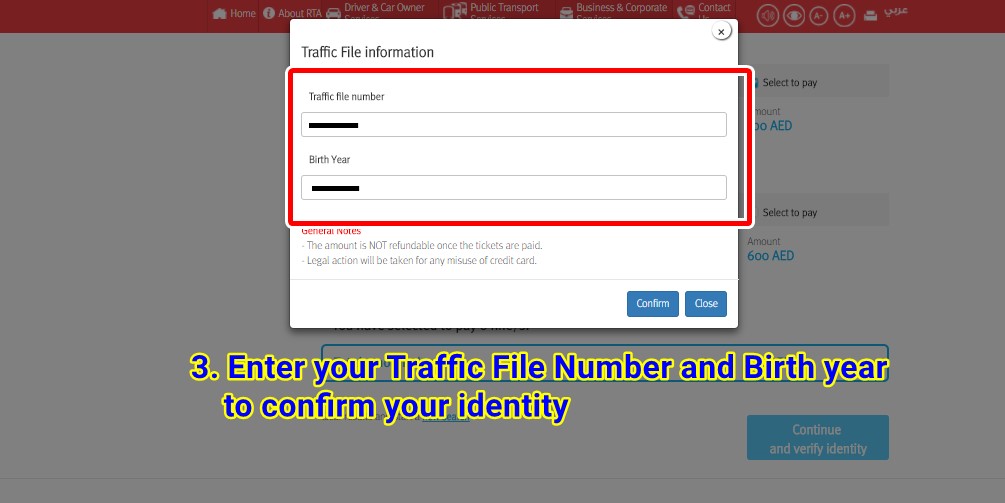 Step 4: Review the summary of your Fees to pay. Click the "E-Payment" method to pay online and then cilck the "Pay" button. Please be advised that there are additional fees on top of the actual Fines. These are categorized under "Knowledge/Innovation fee" which is currently 20 Dirhams per Fine.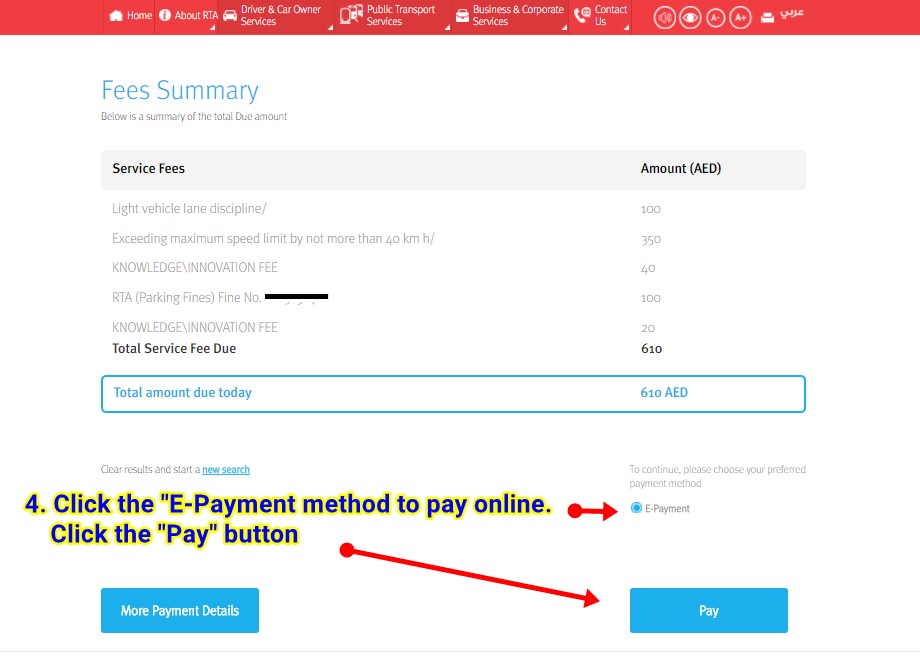 Step 5: Choose your payment method, contact information and click the "Pay" button.The page will take you to a Smart payment gateway by the Smart Dubai app "Dubai Pay" s you can enter your credit card/debit card information. 
Step 6: Enter your card payment details and then click the "Pay" button.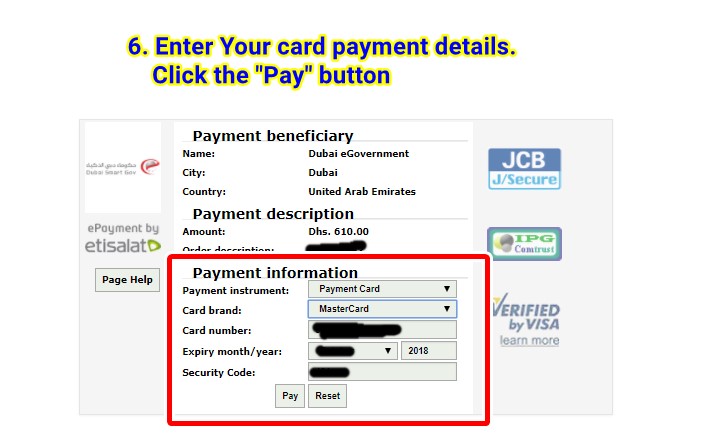 Depending on your chosen payment method, your bank may require you to verify your transaction. In our case, I used my RAKBANK debit card for the payment. It directed me to a page where a code password is sent to me via my mobile number so I can enter the password to verify the transaction.
Step 7: Congratulations your payment has been submitted. A new page will show up confirming the successful process of the payment. Please keep the request reference number as proof that you have successfully processed the payment. This will also be used in case you have any issues in the future.
So thats' it. Congratulations and thank you for going over our procedure. After you're gone through the process outlined above you have done successfully paid your RTA fines. 
We hope that this serves as a reminder for us to follow traffic rules and to help us become more responsible when driving on the road for more information you can also visit this link for a list of traffic violations fines in Dubai.