Looking for jobs in Dubai can be a daunting task especially to first timers. You may not know where to start, and you can be overwhelmed by the sheer number of job openings available.
Also Read: How to Spot Job Scammers and Fake Jobs in the UAE
Indeed, you need all the help you can get when your starting out your Dubai job hunt. Fortunately, there are many kabayans who are willing to help. There are some who use social media platforms to provide advice, share job openings, and more. In this article, one OFW shares her tips to newbies who are looking forward to getting that dream job soon.
Disclaimer: The information posted here is based on the personal experiences shared by the OFW in the video below. Please let this post serve as a guide only. If you have specific questions, you may ask the OFW by commenting on their videos on their accounts.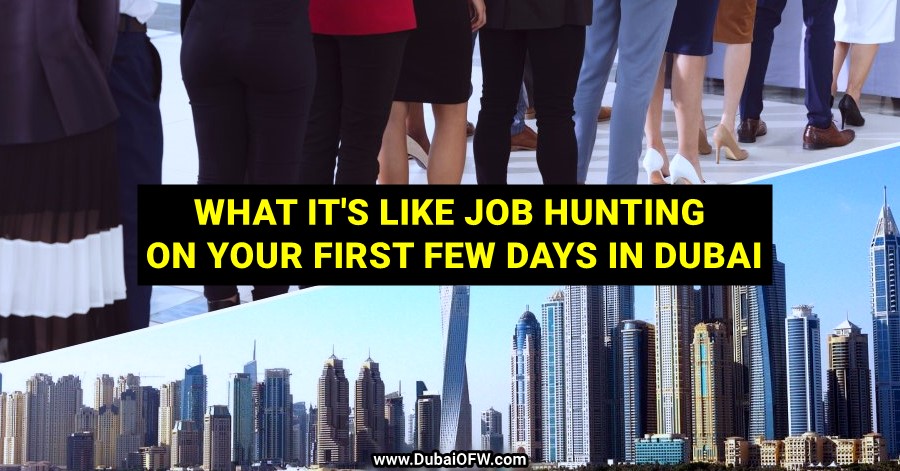 7 Tips for Surviving Your First Few Days of Dubai Job Hunting
Let it be known to everyone that working while on a tourist visa is illegal. While there may instances wherein many visitors have found a job while arriving as tourists, it is important that you should convert your tourist visa into an employment visa before you report to work. But let's take a step back since this topic is about searching for employment.
Ghiebell Reyes, an OFW YouTuber from Dubai, shares the following tips for finding a job in Dubai.
Ghiebell shares the following tips for first timers; those who are already in Dubai or those who are just coming.
1. Submit CVs/Resumes before arriving in Dubai
While you're still in the Philippines, start writing and submitting CVs to company's two to three weeks before your flight.
Time is of the essence. Usually, companies take a day to a full week before they can call you for a job interview.
You only have three months to look for a job. So make the most of each day.
2. You're not on vacation
On your first day in Dubai, you will probably go out and visit the malls and popular tourist destinations.
That's okay, but remember that you're not on vacation. It would be awful if you haven't applied for jobs yet and a week has already passed.
Start seriously looking for jobs after two days of being in Dubai. Focus on looking for jobs.
Remember: your ultimate goal is to get hired and acquire a visa. Once you already have a visa, then you can visit the tourist places in Dubai any time you want.
3. The best online websites for finding jobs in Dubai:
According to Ghiebell, these are the three best websites for finding jobs in Dubai:
Create your online CVs in these websites and start sending emails to potential employers.
While you can see categories of jobs in these sites, Ghiebell suggests that at the beginning, don't be choosy over which jobs you want to apply in.
4. Send CVs online in the early morning
Ghiebell suggests that the best time to apply online is during the early morning.
That's because when the office you are applying for opens, and the HR manager opens their email, your email will be near the top of the list. It won't get lost in the middle of other email applications.
5. Join Facebook Groups
The most popular Facebook group for Filipinos looking for jobs in Dubai is M2M Jobs.
In these groups, there are many kabayans who are willing to help other kabayans in their job search.
They share job hiring information. Some even take photos of a job hiring sign and post in it in the group for others to see.
6. On answering calls
During the interview, when someone calls you, always keep your ballpen and paper ready.
You will have to write the important details; the name of the company, the company number, address, the job vacancy.
Some companies, after calling you, also send you an email which contains all the important details.
7. Check the background of the company you are applying for
Do your homework and search a little bit about the company you are applying in. They might ask you questions related to the company.
Some of these questions include:
why are you applying for this company,
what do you know about this company, and more.
You can impress the employers if you know these important details.
During interviews, you should bring the following:
Passport
Tourist Visa
Photos – while this is optional, there are many companies that provide offer letters on the same day of application. You will be asked to submit requirements during that same day, so it pays to be ready.
There you have it. These are just some of the many tips and scenarios when it comes to job hunting in Dubai for the first time. If this article applies to you, then we wish you all the best and may you find the right job for you soon.