His Highness, Sheikh Mohammed bin Rashid Al Maktoum, Vice President and Prime Minister of the UAE and Ruler of Dubai, commended the relief efforts which have gathered Emirati and Filipino volunteers together in in supporting and providing relief assistance to thousands of victims displaced by Taal Volcano's eruption.
Also Read: IN PHOTOS: Filipinos Evacuated from Towns in Taal Eruption
Last week, the Crown Prince of Abu Dhabi, posted that the UAE is willing provide all support and assistance for the victims of Taal Volcano.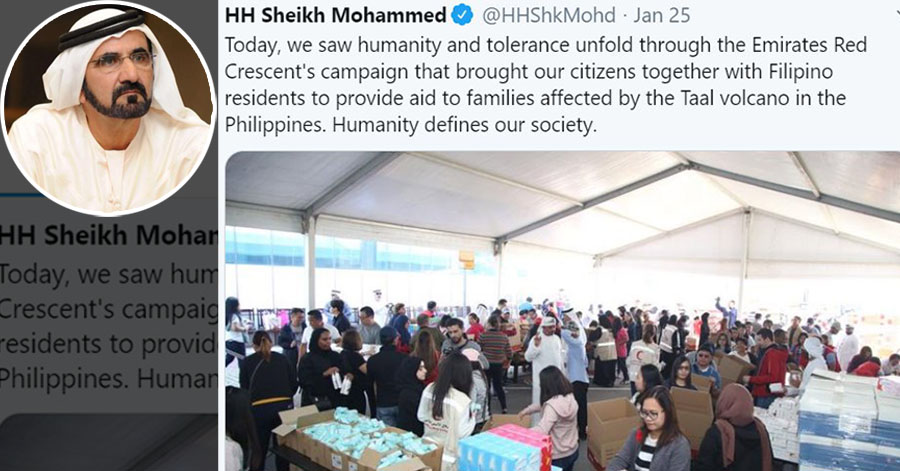 His Highness Sheikh Mohammed bin Rashid Al Maktoum Highlights Emirati and Filipino volunteers
The UAE, led by the direction of the Emirates Red Crescent, immediately coordinated with the Philippine Embassy in UAE to facilitate the distribution of relief goods.
The Tweet reads:
Today, we saw humanity and tolerance unfold through the Emirates Red Crescent's campaign that brought our citizens together with Filipino residents to provide aid to families affected by the Taal volcano in the Philippines. Humanity defines our society.
Below is the Twitter Post:
Today, we saw humanity and tolerance unfold through the Emirates Red Crescent's campaign that brought our citizens together with Filipino residents to provide aid to families affected by the Taal volcano in the Philippines. Humanity defines our society. pic.twitter.com/BiF24HvCd1

— HH Sheikh Mohammed (@HHShkMohd) January 25, 2020