Before you hurriedly make visa arrangements for you to move into Dubai one needs to do a lot of studying about the country of UAE, location, culture, lifestyle, and most importantly the costs.
Dubai is one of the young and vibrant cities I know where there's a plethora of people from various walks of life who come here longing to make some money for their living. But the big question mark is whether you can survive in the long run?
Note: The information presented here is based on one couple's monthly expenses living in Dubai. It may differ from one person to another depending on our needs. But let these figures serve as a guide for those who are thinking about living in Dubai in the future.
Understanding your Monthly Expenses Before Deciding to Work Abroad
Dubai offers good opportunities for you to make it big, given that this is young city. Some of them include the following:
1. Dubai's status as the meeting point of global businesses makes it a unique place to live and work.
2. The combination of east and west gives residents the opportunity to meet people from around the world enjoy a vast variety of shops and entertainment destinations, as well as earn a lucrative salary while also unearthing a rich culture and history.
3. Job Opportunities are available but you need to ensure that you're on the right track and contacting the right channels so your job hunt should be strong with good contacts.
On the other hand, before taking that leap and deciding if working abroad is for you, below are some items you have to think about as part of your monthly budget.
1. Paying rents to the landlords is the biggest burden that most of us have.
2. Credit cards expenses (optional)
3. Car Loans and Car Insurance
4. Personal Loans
5. Transportation expenses.
6. Groceries and food expenses
7. Clothes/Apparel
The situation now is that most of us would love to clear the above expenses as we do not want to take the risk of being bankrupt or insecure due to loss of job.
If you are a single expat/bachelor, then you might agree to sacrifice some comfort and be happily confined in a little bed space living in bunk beds and paying a little amount of money for sharing. But when you have a family with children to raise, managing budgets does get on to your nerve.
My Story
I am a secular Indian expat I've been residing in the UAE for almost 36 years. My years of experience in the hustle and bustle that is Dubai, I have witnessed and lived through both the old and the new Dubai.
When I was a student I never even thought for myself about money as those days, life was just simple and peaceful. I had to only sit and rely on textbooks with no internet or smartphones. So I was stress-free as school fees, tuition, and transportation fees were paid by my parents.
However, when I started working, it's a completely different story altogether especially with the city getting very demanding and challenging.
IF you're lucky to live with your parents and keep working, then you are able to save money. Some families, the parents still keep paying the expenses while their children keep working and paying for their college fees.
Husband and Wife Working to Support the Family
Due to this, in one family we see both the couples working to make both ends meet. Some people are very smart in managing their budget as every penny counts.
They don't call but give missed calls, they even try to carpool to save their petrol expenses although they may be driving a vehicle, and then the Salik, traffic fines, shop once a year so it's a roller-coaster.
Ideally those who earn a decent salary are able to save.
Expats Leaving Families Behind
It is common for families to send their children back in their home countries due to the high costs and expenses for education. Many married men have left their families back home as they seek greener pastures in the UAE.
Men tend to stay in shared accommodation and budgeting their monthly expenses in order to make both ends meet, which also includes sending money back home to their loved ones. So the question here is what do we have as savings?
Some expats are lucky to find a job with good benefits from well-established companies. Some of these additional benefits from these companies include petrol, salik, room/accommodation, even kid's education, depending on their salary grade. But not everyone is fortunate. 
With the ease in splurging and the convenience available to every expat, each of us has to think wisely and just avoid temptations of shopping and wasting money on unnecessary items.
Uncertainty of Employment
In the midst of the ongoing challenges, the current situation of employees is quite hard. Most of us are in a panic situation as we go through tremendous stress and depression, thinking how things are going to turn out over the next few months.
As the world gets competitive and challenging, many companies are asking employees to take unpaid leaves. There is hardly a family that is not hit by this crisis.
The past few years have become unbearable for many employees who don't even have a job and many are clueless as to how long this situation will continue.
Overpopulation is not a hindrance. I have friends who have been here for a year and have gone back with no job which is something really shocking despite the number of years of work experience they have.
Where are the jobs these days? What's worst is those working are not paid for months? They have families to look after, loans and other expenses to meet up. It's a tough world out here with people getting ahead and taking part in a race.
Money Measures
So how do we try avoid getting trapped into debt and maximize our time in Dubai?
Avoid temptation and cravings for unnecessary items.
Avoid spending on garments, footwear, brand new cars, furniture, and the latest smartphones.
Manage your budget with your limits.
Avoid the use of credit cards as bank employees and sales clerks will loot you to grab classy and colorful looking credit cards with breathtaking benefits. Once you start using the card without knowing the terms and conditions you will land yourself in deep trouble.
Most of us are food lovers so although we will be tempted to taste that delicious and tantalizing dishes from hotels and restaurants its always healthy to make homemade food and for a change and only dine in a restaurant once a week.
Each of us has our own lifestyle so maybe a little revision to it goes a long way to enjoy life in Dubai to the fullest and live happily and peacefully. Good luck to all the newcomers.
---
About the Author: Mathew Litty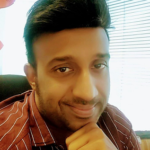 I am Mathew Litty hailing from the South of India, but have been raised in Dubai all my life (36 years). I have completed my graduation in Journalism and have been working in Dubai for 16 years.  I love composing write-ups,  lifestyle stories, community reports, etc. Living in a cosmopolitan city there are lots happening out here and I always love to explore the latest be it personal and business life.
---
Want to become a Contributor?
Want to share an experience? Share your everyday stories, food trips, travel, photo stories, or tips in Dubai to our growing community. More information here – Become a Dubai OFW Contributor!